China Says War Drills Show There Is 'No Way Out' for Taiwan
China has said its recent live-fire exercises in the tense South China Sea were a warning to Taiwan, threatening to unify the self-ruled island with the mainland by force if necessary.
Chinese President Xi Jinping has intensified his country's military posture around the island nation of Taiwan, hosting a historic naval parade and other large displays of firepower in recent weeks. An Fengshan, a spokesman for China's Taiwan Affairs Office of the State Council, said Wednesday that these measures were intended as a message to Taiwanese officials who consider their autonomous government to be entirely independent of the leadership in Beijing.
"It is a strong warning against the 'Taiwan independence' separatist forces and their activities," An said during a press conference. "It shows our determination and ability to safeguard national sovereignty and territorial integrity.
"We have the resolve, confidence and ability to safeguard our national sovereignty and territorial integrity and contain 'Taiwan independence' separatist activities in any form. There is no way out for 'Taiwan independence,'" he added.
On Tuesday, the state-run Chinese Global Television Network broadcast footage of Chinese Z-9 anti-submarine helicopters departing a naval flotilla to conduct anti-ship drills in the South China Sea. Chinese military expert and commentator Song Zhongping told official Communist Party outlet The Global Times that the maneuvers, which took place Friday, were designed to better prepare China to face off with Taiwan and other countries, who may attempt to take down Chinese warships with high-speed gunboats should conflict break out.
Related: U.S. is Asia's Strongest Power, But China is Catching Up and Russia is Helping
That same day the drills were taking place, China dispatched its Russia-built Sukhoi Su-35 jets to join Xian H-6K bombers, Shenyang J-11 jets and KJ-2000 early warning aircraft for the first time over the Bashi Channel that divides Taiwan and the Philippines, according to the Chinese Defense Ministry. Two groups of bombers circled the island as part of the exercises.
These developments follow last month's explosive drills targeting Taiwanese independence aspirations and the largest naval parade in Chinese history. Xi Jinping himself made a surprise visit to the event, expressing the "urgent" need to revamp his country's navy. A comprehensive index released last week by the Lowy Institute found China to be the second most powerful military force in Asia, but its expanding foothold has been met with serious challenges by its top competitor, the U.S.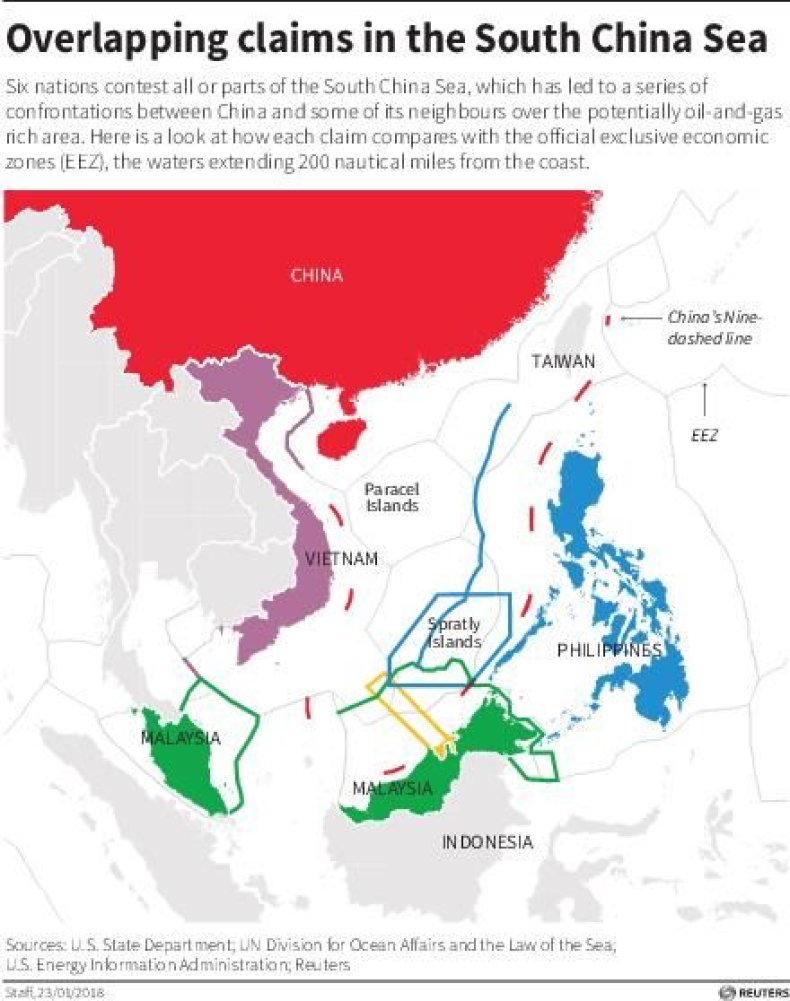 U.S. military officials have branded China's maritime military presence to be a threat to Washington's interests. Navy Admiral Philip S. Davidson, the nominee for head of U.S. Pacific Command, told the Senate Armed Services Committee last month that "China is now capable of controlling the South China Sea in all scenarios short of war with the United States."
Since 1972, the U.S. has recognized the Communist-led government in Beijing as the sole representative of China, but Washington has maintained informal ties with Taiwan. President Donald Trump expanded this relationship when he signed the Taiwan Travel Act during the height of a trade conflict with China in March, outraging Xi and his government.