China Accuses U.K. of Interfering in Its Internal Affairs
China's ambassador to the U.K. has hit back at Britain's claim that his country has failed to fulfill its international obligations and accused it of "interfering in China's internal affairs".
Ambassador Liu Xiaoming made the comments after China passed a new security law for Hong Kong which criminalizes secession, subversion, terrorism, and collusion with foreign powers and which has seen widespread protests in Hong Kong, with opponents claiming it undermines democratic freedoms.
After Beijing passed the law, Boris Johnson said China was in "clear and serious" violation of its treaty with Britain and undermined Hong Kong's autonomy.
A former British colony, Hong Kong was handed back to China in 1997 following a 1984 agreement between China and Britain, under the understanding that Hong Kong would be governed under the principle of "one country, two systems", where it would enjoy "a high degree of autonomy, except in foreign and defense affairs" for 50 years.
Hong Kong has its own legal system, and rights including freedom of assembly and free speech are protected.
Ambassador Liu said: "China has never interfered in the internal affairs of another country including the U.K. and we hope the U.K. will abide by this principle."
The ambassador also accused the U.K. of being irresponsible in the way it handled the security law affecting Hong Kong and warned that Britain would face consequences if it continued its interference in what China deems its internal affairs.
He said: "The U.K. government keeps making irresponsible remarks on Hong Kong affairs" during an online media conference.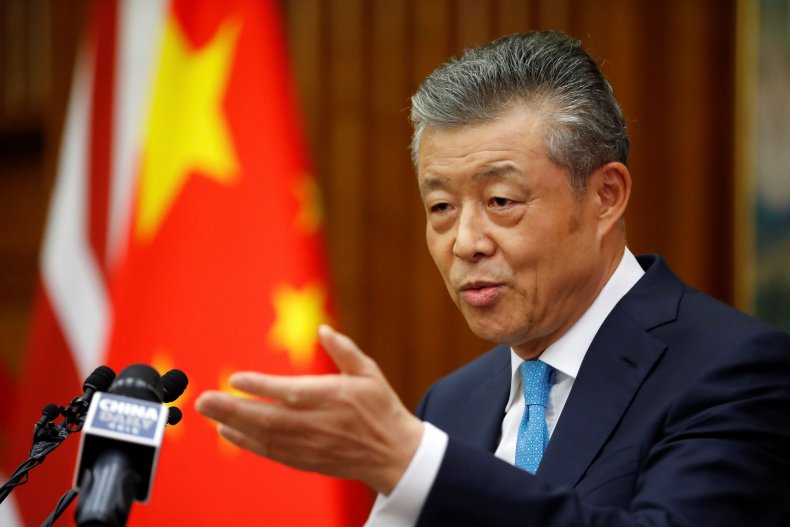 Ambassador Liu also proclaimed that China would end chaos and restore order in Hong Kong following months of protests by those who saw China as undermining Hong Kong's autonomy.
He said: "We want to be your friend. We want to be your partner.
"But if you want to make China a hostile country, you will have to bear the consequences."
In a defiant tone, the ambassador said that Britain knew Hong Kong was no longer a colony and had returned to China.
He said: "The U.K. side knows well that Hong Kong is no longer under its colonial rule and that Hong Kong has returned to China and is now part of China.
"The U.K. has no sovereignty, jurisdiction or right of supervision over Hong Kong after handover."
Last week Foreign Secretary Dominic Raab told parliament that Beijing's legislation which had been imposed on Hong Kong constituted "a clear and serious breach of the Joint Declaration."
Raab said that the legislation contained a number of measures that directly threatened the freedoms and rights which had been protected by the Joint Declaration.
He said: "China has broken its promise to the people of Hong Kong under its own laws. China has breached its international obligations to the United Kingdom under the Joint Declaration."