U.K. Government Summons Chinese Ambassador After Expulsion of Hong Kong MPs
The U.K. government has summoned China's ambassador to express its "deep concern" after the expulsion of four opposition MPs from Hong Kong's parliament on the orders of Beijing.
Kwok Ka-ki, Alvin Yeung, Dennis Kwok and Kenneth Leung were all accused of endangering national security.
It is the latest move in what Boris Johnson's government says is an attempt by China to silence voices critical of Beijing's policies, as diplomatic tensions between the two countries continue to rise. The latest incident comes after China passed a controversial national security law that gives Beijing unprecedented powers over Hong Kong.
The law, which was passed in June, lays out penalties as severe as life imprisonment for the crimes of secession, subversion, terrorism and collusion with foreign forces.
Human rights activists say the law prevents criticism of China and also undermines the autonomy of Hong Kong which was agreed to when it was handed back to China by Britain under the "one country two systems" agreement in 1997. Following the expulsion of the opposition MPs, U.K. Foreign Secretary Dominic Raab said: "Beijing's imposition of new rules to disqualify elected legislators in Hong Kong constitutes a clear breach of the legally binding Sino-British Joint Declaration.
"China has once again broken its promises and undermined Hong Kong's high degree of autonomy. The UK will stand up for the people of Hong Kong, and call out violations of their rights and freedoms. With our international partners, we will hold China to the obligations it freely assumed under international law."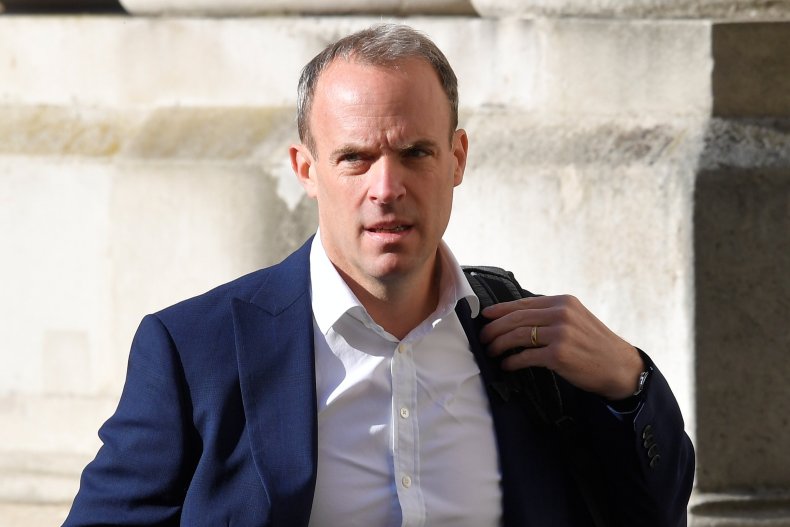 Relations between China and the U.K. have been further strained after Prime Minister Boris Johnson offered three million Hong Kong residents the chance to settle in the U.K. and apply for citizenship in response to the security law which he said undermined Hong Kong's autonomy.
It comes as U.S. Secretary of State Mike Pompeo announced sanctions on four more Chinese officials accused of curbing freedoms in Hong Kong. Announcing the measures, Pompeo tweeted: "Today we are taking action against four Chinese and Hong Kong-based officials in connection with policies and actions that have undermined Hong Kong's autonomy, eroded the rule of law, and stifled dissent through politically motivated arrests."
China remains one of the few countries in the world that hasn't called President-elect Joe Biden to congratulate him on his election win. At the Chinese Foreign Ministry's daily press conference on November 9, spokesperson Wang Wenbin was asked whether China congratulated Biden on his win.
Wenbin said: "We noticed that Mr. Biden has declared election victory. We understand the presidential election result will be determined following the U.S. laws and procedures."