China Threatens U.S. With 'Stern' Retaliation Over Hong Kong Sanctions
China has vowed it will hit back against U.S. sanctions of its lawmakers following Beijing's clampdown on freedoms in Hong Kong.
Secretary of State Mike Pompeo said 14 vice chairs of the standing committee of the National People's Congress (NPC) would face asset freezes and travel bans, accusing Beijing of an "unrelenting assault against Hong Kong's democratic processes."
In June, Beijing passed a security law that aims to stop and punish acts deemed as subversion of state power, terrorism and foreign interference. Critics fear it will suppress dissent in the semi-autonomous territory, where Beijing is continuing a crackdown on political dissidents.
Pompeo said that the actions of the National People's Congress Standing Committee (NPCSC) "have effectively neutered the ability of the people of Hong Kong to choose their elected representatives in keeping with the Joint Declaration and Basic Law."
Among those targeted by the outgoing Trump administration were Wang Chen, NPC vice-chairman, and Cao Jianming, chief prosecutor of the government's Supreme People's Procuratorate.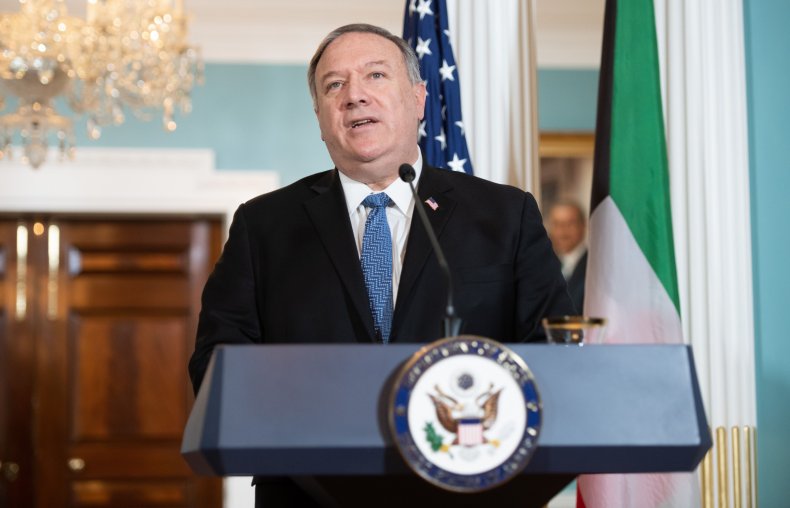 However, committee chairman Li Zhanshu, who is sometimes referred to as President Xi Jinping's right-hand man, was not among those sanctioned.
On Tuesday, China's foreign ministry spokesperson Hua Chunying told a press conference there would be "stern and forceful" countermeasures to the U.S. actions.
She said the sanctions "revealed the U.S. side's dangerous intentions to interfere in Chinese domestic affairs, destabilize Hong Kong and obstruct China's stability and development."
Hua added that China "strongly urges the U.S. side to immediately withdraw the erroneous decision," according to the news outlet Caixin. In a tweet, she dubbed the U.S. move as a "serious violation of basic norms of international relations," although she did not specify what measures China would take.
The ruling Chinese Communist Party (CCP) is likely to wait for the Trump administration to leave, said Zhiqun Zhu, professor of political science and international relations at Bucknell University in Lewisburg, Pennsylvania.
"Beijing is concerned that Trump and Pompeo will smash a pot into pieces just because it's cracked. Any retaliation now from Beijing may goad Trump and Pompeo to do more to further damage the U.S.-China relationship before they depart," Zhu told Newsweek.
"They are obviously going berserk and do not care about the future of the relationship, but many in China and in the Biden team care," he added.
In a ramping up of rhetoric against Beijing, Pompeo announced last week that he had "terminated" China-funded exchange programs in the U.S., which included the Policymakers Educational China Trip Programme and the U.S.-China Friendship Programme.
On Monday, the House of Representatives voted unanimously to make it easier for residents of Hong Kong to live in the U.S., following similar steps taken by the U.K and Canada.
The graphic below from Statista offers a snapshot of the demographic of those protesting in Hong Kong last year.