Is Hong Kong Separate to China? Five Instances That Show Beijing's Creeping Authoritarianism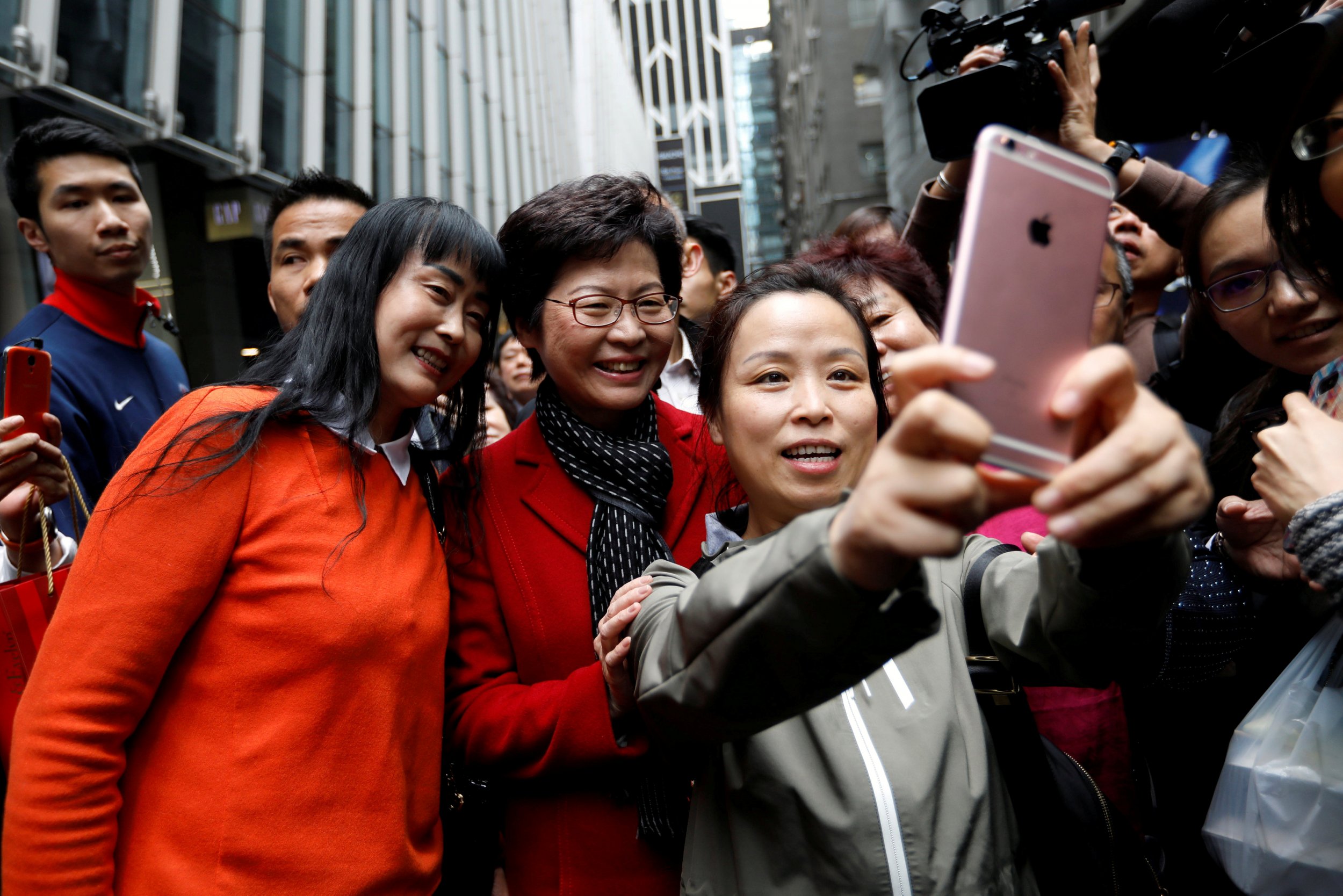 On July 1, Hong Kong will get a new leader. Carrie Lam will take over from CY Leung as Hong Kong's Chief Executive after winning a March election with 777 of the voting committee's 1,194 ballots—or 0.1 percent of the population. Beijing openly and widely supported Lam in the election, though Hong Kong is an administrative region of China, with its own government. Activists in Hong Kong fear growing influence from Beijing in the region, though in a BBC interview Wednesday, Carrie Lam said she was not a "puppet of China."
"I know perception is important, but to say that I am just a puppet, that I won this election because of pro-Beijing forces, is a failure to acknowledge what I have done in Hong Kong over the last 36 years for the people of Hong Kong," she told the BBC.
Here are five times the relationship between the two has proved controversial.
Election meddling
In November last year, China prevented Yau Wai-ching and Baggio Leung from taking office in the legislative council, after they misread their speeches and demanded full sovereignty for Hong Kong. They held up a "Hong Kong is not China" flag during the ceremony, and, in retaliation, Chinese officials described the pair as a "threat to China's security", and banned them from entering the council.
Kidnapping
In January 2017, China's security forces abducted one of the country's richest businessmen, Xiao Jianhua, from his hotel room in Hong Kong. China's undercover policemen bundled him into a sheet and took him away in a wheelchair. Given that China's police should not be active in Hong Kong, the abduction showed the extent of Beijing's changing attitude to its role.
Censorship
In 2015, Chinese authorities kidnapped book publisher Lee Bo and four of his colleagues from Hong Kong, after they had produced books about China's leadership that were banned on the mainland. Bo promised authorities he would stop selling the books, and was returned home in March 2016.
Corporate control
TVB is Hong Kong's biggest and most influential broadcaster, and, as part of the 1997 agreement when Britain handed the territory over to China, Beijing agreed that the network would continue to operate in Hong Kong and be independent to China. However, the Hong Kong media regulator suggested in May that TVB may be controlled by mainland China.The holding company of TVB is run by Young Lion, whose partner is CMC, headed up by Li Ruigang, one of China's most powerful media executives.
Political freedom
Hong Kong is meant to have elections independent of China under the "one state (China), two systems" (Beijing and Hong Kong) policy. However in 2014, Beijing ruled that a committee of Hong Kongers would be able to vote for their chief executive, but only two or three candidates could stand and they would need majority support from a China-facing committee. This caused huge protests, during which many people got injured and police arrested 78 people.