Scathing China Human Rights Report Denounces U.S. Immigration Policy for 'White Supremacy'
A Chinese state-backed research institution has released a report criticizing the United States' record on immigration policy, alleging widespread abuses as well as a xenophobic mentality favorable to white people.
The China Society for Human Rights Studies released a paper Thursday called "Serious Discrimination Against and Cruel Treatment of Immigrants Fully Expose Hypocrisy of 'U.S.-Style Human Rights.'" The 21-page document sought to expose a trend showing "religious, cultural, and racial discrimination against immigrants has kept developing and become increasingly intense" in the U.S. despite it being "a nation mainly composed of immigrants and their descendants."
"The U.S. government regards illegal immigrants as troublemakers who rob U.S. citizens of their jobs and disrupt their lifestyle," the report said.
"To prevent them from entering and moving around the country, the U.S. government has adopted unprecedentedly severe measures and law-enforcement actions, including excessive use of force, large-scale arrests, forced separation from family members, and arbitrary deportations. Abuses of human rights of migrants and refugees have occurred frequently," it said.
The report singled out policies adopted or expanded under President Donald Trump's administration. The president has consistently expressed a hardline view toward immigration, attributed, the report said, to the fact "the United States essentially pursues white (Anglo-Saxon) supremacy."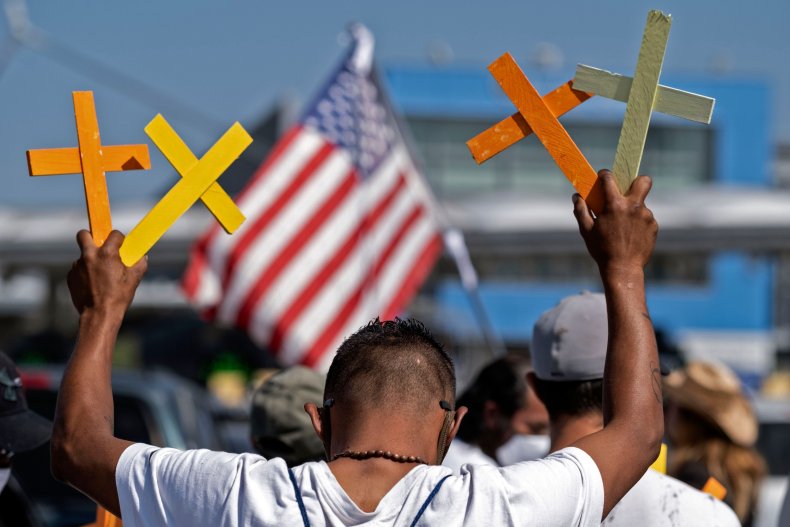 The report specifically highlighted the implementation of travel restrictions on Muslim-majority countries, "overcrowded and insanitary" detainment centers as well as "ineffective anti-pandemic efforts" that allowed migrants both in detention in the U.S. and deported abroad to become infected with COVID-19.
The research institute also tied the domestic issues plaguing certain Latin American countries from which migrants were fleeing to the Cold War-era U.S. intervention that contributed to the destabilization of the region in the 1980s. "Therefore the Central American immigrants moving towards the US border are trying to escape a 'hell' that the U.S. has helped to create," the report said, borrowing a term used in a December 2018 article by The Guardian.
"The reality of severe discrimination against and cruel treatment of immigrants has completely exposed the hypocrisy of the so-called "defender of human rights,'" the authors of the report said.
Washington also has accused Beijing of widespread human rights abuses. Secretary of State Mike Pompeo pointed out to reporters Wednesday that the release of the Chinese paper coincided with the fifth anniversary of the so-called "709" crackdown. The ruling Chinese Communist Party in 2015 "launched a nationwide offensive targeting hundreds of defense lawyers and human rights defenders for detention, interrogation, and politically motivated criminal charges," Pompeo said in a statement.
Pompeo has increasingly lashed out at China as ties between the two nations deteriorated over economic and geopolitical issues as well as differing narratives over their handling of the novel coronavirus. The top U.S. diplomat has accused Beijing of political repression that he said has extended to semi-autonomous Hong Kong as a result of a new national security law and has also charged Chinese authorities with racially-charged policies as well.
Among the most frequent human-rights abuse accusations voiced by the U.S. is that China has detained up to 2 million people, mostly members of the majority-Muslim Uighur community, in "concentration camp"-like facilities in the northeast province of Xinjiang. "Beijing describes Xinjiang's internment camps as vocational training camps. New reports of forced abortions and sterilizations add to a body of evidence that contradicts that," Pompeo told reporters Wednesday.
On Thursday, he also rolled out sanctions against three senior Chinese Communist Party officials in Xinjiang "for gross violations of human rights."
Both the State Department and China's State Information Council release annual reports criticizing one another's record on human rights. The latest Chinese government report, released in March, began with a quote from Pompeo himself: "We lied, we cheated, we stole ... It reminds you of the glory of the American experiment."
United Nations experts have called on both nations to respect the human rights of their citizens, though the Trump administration has left the U.N. Human Rights Council in 2018 alleging the organization allowed too much influence for autocratic abusers and unfairly treated Israel.