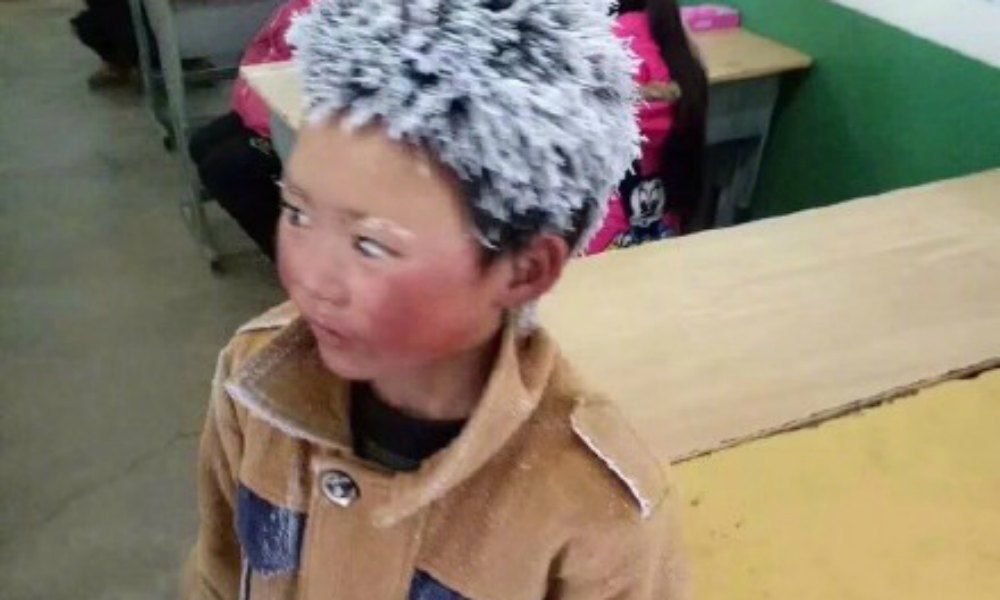 A Chinese boy dubbed "Ice Boy" on social media raised more than $300,000 in donations after photos were shared to social media of him arriving at school in Yunnan with rosy cheeks, swollen feet and frosted hair.
Wang Fuman, a 8-year-old student at Zhuangshanbao primary school, sparked poverty debates across China when his school principal in Ludian County shared a photo of him arriving to school after walking for an hour in -22F degrees, local newspapers reported.
Wang treks 2.8 miles to get to school every morning. In addition to the frozen hair and rosy cheeks, his hands and feet were swollen to double their size after his journey on Monday, reported Xinhua, a state-run news agency.
Despite his harrowing journey, Wang was in good spirits when he arrived at school and even cracked a few jokes with his classmates. In the back of the photo, several students can be seen laughing at him as he poses dressed in a thin jacket.
"It was the first day of the final exam, but when entering the classroom he pulled face, and everyone was amused," said Fu Heng, the school's headmaster.
The school confirmed that the boy's parents are both manual laborers who work in a different city. In their absence, Wang's siblings have assumed care of him.
Soon after Wang's story was shared online, Chinese social media platform Weibo exploded with comments and posts using the new hashtag #IceBoy to donate money and clothes to the boy.
Local authorities donated $15,370 to the Zhuangshanbao primary school, reported state broadcaster CCTV. In addition, $77 and 144 pieces of winter clothing were given to each of the 81 students at the school, the South China Morning Post reported.
In a statement today, the Yunnan Youth Development Foundation announced that it has received $333,861 in donations after launching a campaign to help the impoverished youths in the province. The Communist state-run foundation said it will announce its plan for the donation money on the organization's official Weibo and the WeChat site in due time.