China Increasing Military Capability at 'Serious and Sustained Rate,' Top U.S. General Says
Army General Mark Milley, chair of the Joint Chiefs of Staff, warned on Thursday that China's military is rapidly expanding its capabilities, saying that the U.S. must take steps to ensure that it maintains a competitive advantage moving forward.
Milley, who has served as the chair of the Joint Chiefs of Staff since September 2019, made the assessment during a Senate Armed Services Committee hearing on Thursday. The top U.S. general cautioned that the Chinese military has been building its capabilities at "a very serious and sustained rate," Reuters first reported.
"We must ensure that we retain our competitive and technological edge," Milley said.
The top general's remarks came as Secretary of Defense Lloyd Austin and President Joe Biden have raised similar concerns about China's growing military prominence and influence throughout the world. Austin described China's behavior as "increasingly assertive," defending Biden's proposed $715 billion military budget for the 2022 fiscal year, according to Bloomberg.
"The request is driven by our recognition that our competitors—especially China—continue to advance their capabilities," Austin said during the Senate committee hearing on Thursday. "We must out-pace those advances to remain a credible deterrent to conflict around the world," he warned.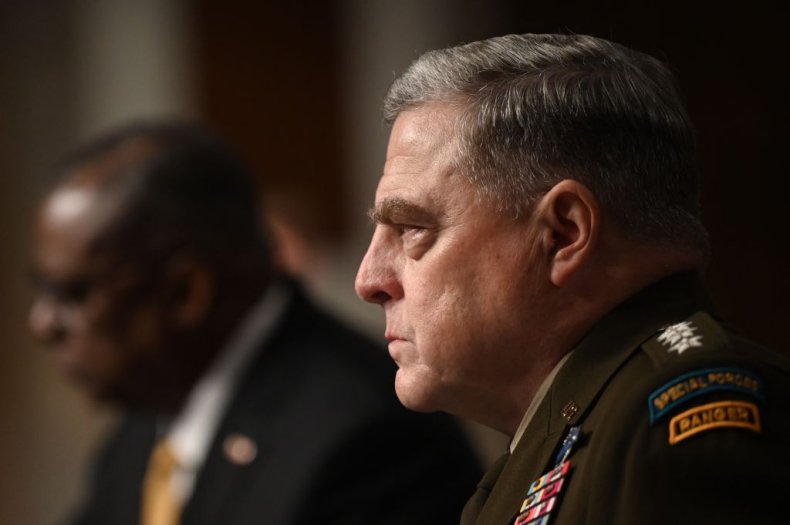 Although Republicans and former President Donald Trump have repeatedly attacked Biden for being "weak" when it comes to China, the new administration has largely maintained the same policies of the prior White House. Last week, Biden signed an executive order to enhance and extend a Trump-era ban on investments with certain Chinese companies tied to the East Asian nation's military-industrial complex and surveillance industry. The blacklist includes 59 Chinese companies, barring American individuals or companies from engaging in business with them.
Biden has pointed to China's increasing influence and rapid development to push Congress to support his large infrastructure spending proposal as well. In February, the president argued that China would "eat our lunch" if the U.S. doesn't step up investment.
"They're investing a lot of money, they're investing billions of dollars and dealing with a whole range of issues that relate to transportation, the environment and a whole range of other things," the president said.
He added: "They're going to, you know, if we don't get moving, they're going to eat our lunch."
Chinese officials have repeatedly pushed back against the tough rhetoric coming from top U.S. officials.
"At a time when the world is entering a period of turbulence and change, the practice of treating China as an 'imaginary enemy' at every turn is against the general trend of the world, unpopular around the world and doomed to fail," China's Foreign Affairs Committee of the National People's Congress said in a statement this week.
Newsweek reached out to the Chinese embassy in Washington, D.C. for comment, but did not immediately receive a response.