China, India Aim for Peace But Keep Edging Toward Conflict at Border
China and India have publicly sought peace at their mountainous, contested border, but the two sides continue to edge toward dangerous conflict as they exchange blows, blame, and even the first gunshots to be fired over their feud in nearly half a century.
Chinese People's Liberation Army Western Command Theater spokesperson Senior Colonel Zhang Shuili first announced Monday that Chinese troops were "forced to take countermeasures to stabilize the situation" after Indian soldiers "illegally" crossed the Line of Actual Control near Pangong Lake that forms the de facto divide between India-administered Ladakh and China-administered Aksai Chin. Notably, Zhang said Indian personnel fired warning shots, marking the first such incident in 45 years.
"We demand the Indian side to immediately stop dangerous actions, withdraw cross-line troops right away, strictly restrain its frontline troops, earnestly investigate and punish the personnel who fired shots, and guarantee against the occurrence of similar incidents," Zhang said.
But in a statement sent to Newsweek the following day, the Indian Army said "it is the PLA that has been blatantly violating agreements and carrying out aggressive maneuvers, while engagement at the military, diplomatic and political level is in progress."
As for Monday's incident, the statement said "it was the PLA troops who were attempting to close-in with one of our forward positions along the LAC and when dissuaded by our own troops, PLA troops fired a few rounds in the air in an attempt to intimidate our own troops."
Accusing the Chinese armed forces of trying to "mislead their domestic and international audience" with their message, the Indian Army said it "is committed to maintaining peace and tranquility" while at the same time being "determined to protect national integrity and sovereignty at all costs."
Chinese Foreign Ministry spokesperson Zhao Lijian also called for peace, but rejected the assertion that China's troops were at fault during a press conference Tuesday in Beijing.
"It was the Indian side that first opened fire at and threatened the Chinese border troopers. The tranquility of the border areas was for the first time since 1975 pieced through by the gunshots," he said. "China has been reiterating that the two sides should seek to resolve issues through peaceful consultation and dialogue. Confrontation does no one good."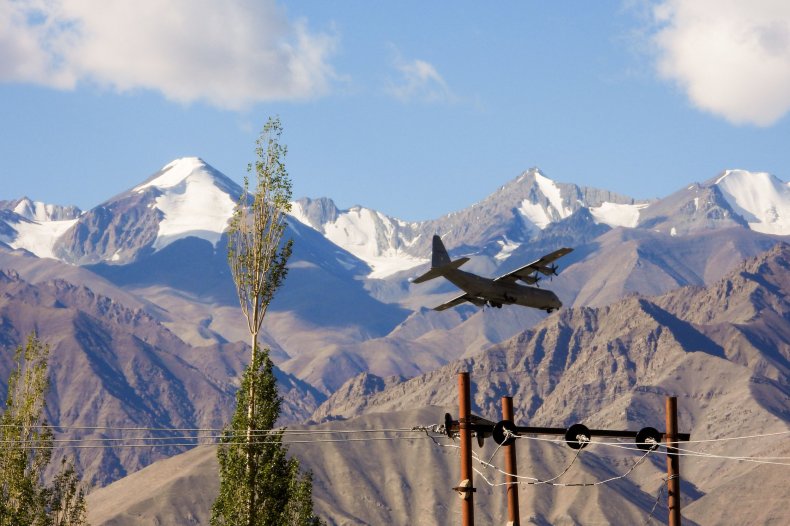 The LAC has long been a sore spot for nuclear-armed rising Asia powers China and India, who tussled in 2017 over another border stretch further east. The latest four-month spat turned deadly in June, however, after skirmishes left at least 20 Indians dead and a yet unknown number of Chinese personnel.
As officials in Beijing and New Delhi emphasized they were in talks to resolve the conflict, blood was apparently shed again last week with the death of an ethnic Tibetan soldier operating on behalf of India's paramilitary frontier forces in what's been reported as a mine blast.
"Company officer Nyima Tenzin died while in the duty of India," Lhagyari Namgyal Dolkar, a member of the India-based, exiled Tibet Parliament, told Newsweek.
The Indian Army has declined to comment on the matter, but spokesperson Colonel Aman Anand earlier told Newsweek there were "no physical clashes" involved in last week's tense counters between Chinese and Indian forces, both of whom have accused one another of crossing the LAC. With news of a Tibetan soldier's death, China has also raised suspicions linking historic support for separatism there by India and the United States.
Washington has blamed the border woes squarely on Beijing, a top global competitor that President Donald Trump's administration has sought to isolate.
"You watch what's happening between India and China today where the Chinese Communist Party's moved more soldiers to that border, more forces to that border any time since the early 1960s," Secretary of State Mike Pompeo told the Hugh Hewitt show on Friday, "causing huge problems for other countries in Southeast Asia and their ability to simply exercise their basic rights inside their own economic zones."
Vice President Mike Pence and Deputy Secretary of State Stephen Biegun also voiced support for New Delhi at the U.S.-India Strategic Partnership Forum, which held high-level talks last week coinciding with the China-India border confrontations.
But rather than look to the U.S. for mediation, China and India have turned to their mutual partner Russia for support.
Moscow hosted the defense chiefs of both countries Friday as part of meetings surrounding the Shanghai Cooperation Organization, a six-member group including all three countries. Both Chinese Defense Minister General Wei Fenghe and Indian Defense Minister Rajnath Singh agreed to defuse tensions, and both countries' top diplomats were set to meet in Russia on Wednesday.
But as the meeting neared, heated rhetoric continued to set a troubled tone for efforts to find common ground.
The Indian Foreign Ministry released a statement Tuesday accusing China's official China Daily outlet and Chinese Communist Party-affiliated Global Times of fabricating comments made by Indian National Security Adviser Ajit Doval. The statement did not refer to the remarks it said were "completely false and are not based in facts," but the China Daily reported Friday that Doval envisioned "a long-drawn standoff" between India and China.