China and India's Quiet Border Fight Threatens to Expand Conflict Through Asia
Skirmishes between China and India along their contested border this month has ignited new tensions among the world's two largest populations and sparked fears of a wider conflict between the two major nuclear-armed powers in Asia.
Officials from both sides have remained largely silent on the territorial dispute, with media outlets driving public awareness of the situation. Indian army chief General Manoj Mukund Naravane acknowledged in a statement that at least two rounds of unarmed clashes earlier this month in the northern Ladakh region and further east in the pass of Naku La that ties India's Sikkim with China's Tibet, reportedly resulting in injuries on both sides, according to several Indian news outlets.
Two more confrontations occurred by Ladakh's Galwan valley and in Demchok in recent weeks as both sides built up troops, according to some Indian media. A day after outgoing Principal Deputy Assistant Secretary of State for South and Central Asian Affairs Alice Wells described "provocations and disturbing behavior by China" at the bordering areas, Beijing lashed out at the U.S. official "talking nonsense."
"The Chinese border troops are committed to upholding China's territorial and sovereignty security, responding resolutely to India's trespassing and infringing activities, and maintaining peace and tranquility in the China-India border areas," Chinese Foreign Ministry spokesperson Zhao Lijian told reporters on May 21.
The Indian side hit back soon after, with Foreign Ministry spokesperson Anurag Srivastava calling such portrayals "not accurate" and arguing that all Indian activities were taking place within the country's sovereign territory. "In fact, it is the Chinese side that has recently undertaken activity hindering India's normal patrolling patterns," he told a separate press briefing that same day.
Both men said Beijing and New Delhi were in contact over the situation via diplomatic channels but the two sides have continued to engage in hostile rhetoric over a decades-old dispute they threatened to revitalize.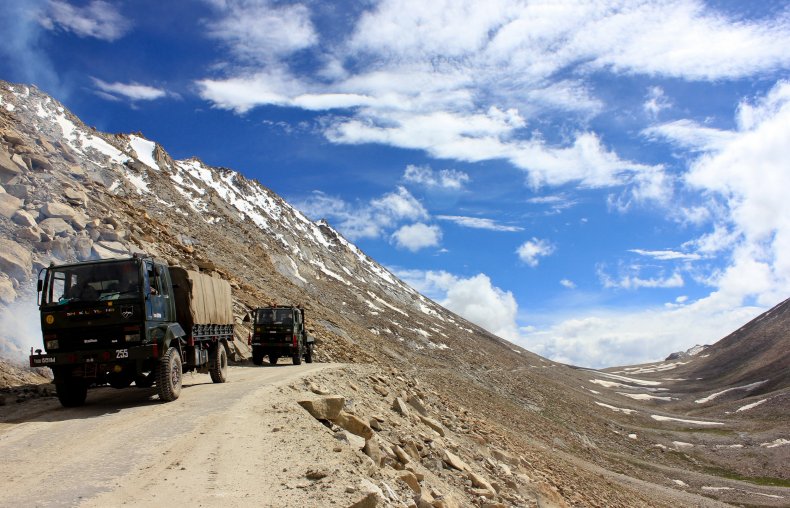 China and India fought a brief but bloody border war in 1962, ending in a ceasefire that established the Line of Actual Control demarcating the boundary between lands controlled by the two countries. Another deadly exchange took place five years later and frictions have persisted, boiling over into a hand-to-hand brawl in summer 2017.
That incident came shortly after China built a road near the Doklam or Donglang plateau and valley claimed by both the People's Republic and Bhutan, a tiny Himalayan kingdom friendly with India. Ahead of the latest dust-up this month, India began paving a road near the disputed Pangong Tso Lake in Ladakh, one of several moves Chinese state media has warned could provoke a conflict even more serious than their last three years ago.
"If India failed to stop such provocations as soon as possible, it will impact on Beijing—New Delhi ties—and may even exceed the sort of intensity of the Doklam standoff," Long Xingchun, a senior research fellow at Beijing Foreign Studies University's Academy of Regional and Global Governance and president of Chengdu Institute of World Affairs said in an op-ed published Sunday by the ruling Chinese Communist Party's Global Times tabloid.
Rising nationalist strategies adopted by both nations have soured ties with neighbors. While Beijing has asserted its vast claims to the South China Sea, New Delhi has consolidated control over semi-autonomous Kashmir, including Ladakh.
The moves, the result of changes made to the Indian constitution in August, infuriated rival Pakistan and also angered China. Islamabad and Beijing have shored up economic, political and defense ties of their own, putting new pressure on New Delhi, especially as relations between India and Pakistan bottomed out over a major escalation in cross-border violence last February.
But India's recent roadbuilding has also incited furor from yet another neighbor, Nepal. Like Bhutan, Nepal is a small Himalayan state located along the Sino-Indian border but Kathmandu has its own territorial disputes with New Delhi, which earlier this month inaugurated a new route to China running through land claimed by Communist-led Nepal.
India's Navarane argued last week that Kathmandu's protests may be at the "behest of someone else" in a likely indirect reference to China, though Nepalese Defense Minister Ishwar Pokhrel rejected this "insulting statement" during a May 22 interview with the local, government-owned newspaper The Rising Nepal.
Washington has cautioned regional governments such as Kathmandu and Islamabad against growing too close to Beijing over what the White House considers to be predatory Chinese practices in international relations, a sentiment frequently dismissed by Chinese officials. President Donald Trump has, on the other hand, developed close ties to Indian Prime Minister Narendra Modi as their relationship with Chinese President Xi Jinping faces a severe test over differing geopolitical goals.
Xi called on his military to step up its combat preparedness Tuesday at a plenary session with a delegation of the People's Liberation Army and People's Armed Police Force. Modi, for his part, was reported by Indian media to have met Tuesday with top military and security officials over the situation at the border with China.
Newsweek has contacted both Beijing and New Delhi's embassies in Washington for comment but neither responded in time for publication.