China Insists Shaking Skyscraper is Safe as Building Continues to Wobble
A 1,000-foot skyscraper in southern China was evacuated for a second time in three days after occupants on different floors reported shaking, a local media outlet said on Thursday.
The landmark 72-story SEG Plaza in Shenzhen, Guangdong province, was featured in scenes of mass panic on Tuesday after reports of shaking and swaying led hundreds to flee the vicinity, which is part of the Huaqiangbei shopping area in Futian District.
Chengdu-based news portal The Cover said occupants on floors 35, 55 and 60 reported renewed shaking at just after 12:30 p.m. local time on Thursday. The report, which carried short videos showing water sloshing around a teapot and fishbowl, said tenants were asked to evacuate.
After the initial incident on Tuesday, the municipal government said a preliminary safety inspection had determined the structure to be sound, but the precise cause of the wobbling was still being investigated.
The shaking was not linked to an earthquake as monitoring stations had not detected any seismic activity nearby, the notice said.
Store owners working in the top 10 floors at the SEG Electronics Market were allowed back into the building on Wednesday, as were staff employed in offices further up the high-rise, but customers continued to be kept out as a precaution.
Local media outlets said minor shaking was reported on the day as well, but no order was given to clear the building.
The U.S. Consulate in Guangzhou, about 85 miles northwest of Shenzhen, has advised American citizens to avoid the building and its surrounding area. Its notice cited a "lack of risk assessment information."
On Wednesday, the Shenzhen government said an evaluation commissioned by the city's Housing and Construction Bureau found SEG Plaza's main structure to be safe. The skyscraper's vibration frequency, inclination and settlement were all within the standard range, and testing showed no anomalies.
The assessment was not able to identify the cause of the shaking.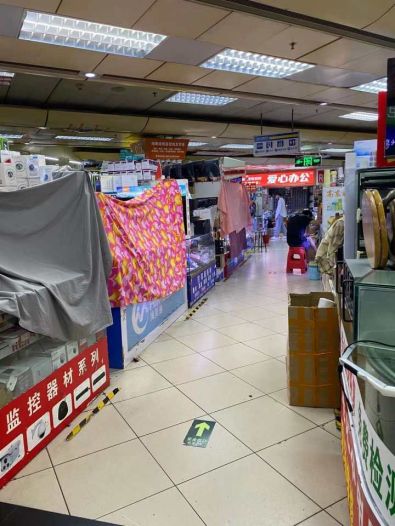 According to Wuhan's Jimu News, a leaked internal document listed three possible causes for the shaking: wind, the operations of two subway lines below the building, and temperature. The temperature variation this week was measured at 8 C (14.4 F) and may have affected the steel structure, the report said.
The provincial Department of Emergency Management, which confirmed the veracity of the document, told Jimu News that further evaluations were still ongoing.
On Weibo, China's Twitter-like social media website, the preliminary findings were met with skepticism, with many arguing that other skyscrapers are also subject to the same conditions.
Shenzhen's Emergency Management Bureau is yet to comment to Thursday's reports of shaking.
This article has been updated to reflect the correct Fahrenheit temperature range.