China Says U.S. War with Iran Is 'The Last Thing We Want to See'
China has called for calm on all sides as the U.S. blamed Iran for attacks on commercial tankers in a strategic waterway near the Persian Gulf.
Iranian President Hassan Rouhani met Friday with Chinese President Xi Jinping on the sidelines of the Shanghai Cooperation Organization summit in the Kyrgyz capital of Bishkek and the two discussed rising regional tensions amid other topics.
Following their meeting, Chinese Foreign Ministry spokesperson Geng Shuang told reporters in Beijing that "a war in the Gulf region in the Middle East is the last thing we want to see, which is neither in the interests of any party nor serves the shared interests of the international community."
"China is concerned over the tensions in the Gulf region in the Middle East," Geng said. "We hope relevant parties will properly resolve differences through dialogue and negotiation, jointly uphold peace, stability and development, which is in the interests of regional countries and the international community."
He further added that "China maintains normal cooperation with the Gulf states, including cooperation on energy," a sector in which Washington has particularly attempted to sever Tehran's trade ties abroad. However, Geng warned that his country "firmly opposes unilateral sanction and the so-called long-arm jurisdiction," and was "working to play our role and contribute to upholding peace and stability in the Gulf region."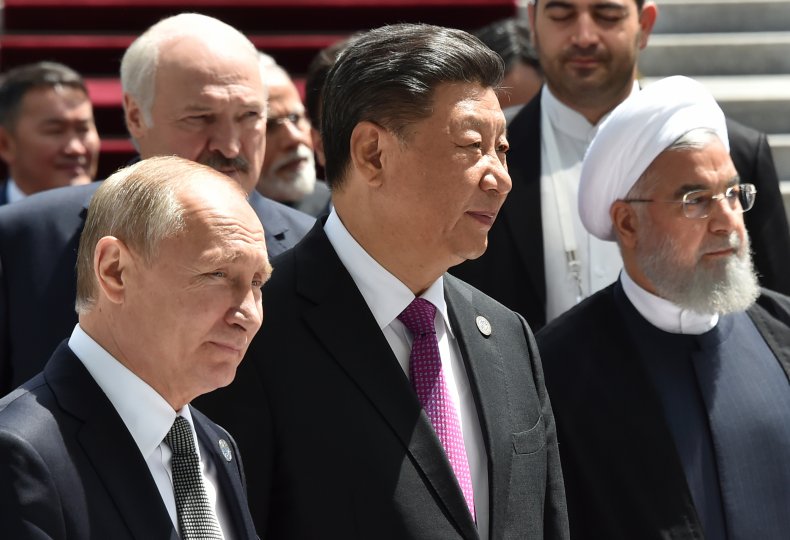 As the Pentagon released footage Friday purported to show Iran's elite Revolutionary Guards on a vessel removing an unexploded limpet mine from one of the two oil tankers apparently targeted in yet unclaimed incidents the day before, Rouhani shored up ties with two major powers seeking to expand their role in global affairs—China and Russia. Both countries continued to back the 2015 nuclear deal since abandoned last year by President Donald Trump, a move that once again set off tensions between longtime rivals Washington and Tehran.
In a readout posted by the Chinese Foreign Ministry, Xi said he viewed bilateral ties with Iran "from a strategic and long-term perspective" and "no matter how the international and regional situation changes, China is willing to work with Iran to promote the steady and steady development of the China-Iran comprehensive strategic partnership."
Xi specifically called on both sides to strengthen cooperation in tackling the "three forces" of terrorism, separatism and extremism, including the Turkistan Islamic Party, an Islamist militant group formed by a small number of China's Uighur ethnic minority. Beijing has used the threat of terrorism to justify the establishment of "re-education" camps that Washington has estimated to contain more than 1 million Uighurs, who have argued their cultural and religious identity was being repressed—though China has denied such charges.
The Turkistan Islamic Party has been active in Syria, where they formed one of numerous forces attempting to overthrow President Bashar al-Assad, an ally of Tehran and Moscow, since 2011.
The rebel and jihadi uprising against Assad has since been largely confined to a single province in Syria's northwest, where the Turkistan Islamic Party was believed to operate. During his own meeting with Rouhani on Friday, Russian President Vladimir Putin praised their countries' successes in supporting the Syrian government, which were "thanks to, in particular, the active position of Iran" and he too called for a closer strategic partnership.
Rouhani answered both leaders in kind, telling Xi "that the pressure being exerted by the U.S. administration on Iran, China and other countries is aimed at dominating the whole of Asia and the world" and letting Putin know that ties between their countries were "becoming more urgent every day" due to the "serious external influence and external sanctions being imposed" on both Moscow and Tehran.
These efforts came in direct opposition to the Trump administration's "maximum pressure" campaign designed to isolate Iran internationally. The U.S. has accused the Islamic Republic of supporting militant groups abroad and developing ballistic missiles Washington claimed were destabilizing to the regional security situation.
As European parties to the 2015 nuclear deal struggled to normalize business relations with Iran under threat of U.S. sanctions, Russia and China have refused to cut ties. Moreover, Beijing has seen in Tehran an opportunity to expand Xi's Belt and Road Initiative, a multibillion-dollar series of intercontinental infrastructure projects that Washington has viewed with deep suspicion as it has waged a war of tariffs with its top economic competitor.