In a tough meeting between Beijing and American officials, China gave the United States a list of "wrongdoings" that had to end for their relationship to move forward on a stable path.
Months after a tense meeting in Alaska, Chinese Vice Foreign Minister Xie Feng and Deputy Secretary of State Wendy Sherman met outside of Beijing on Monday in an effort to improve ties. The two sides remain far apart on many issues and China told the U.S. the future must involve removing visa restrictions for Chinese Communist Party members and their families, as well as the registering of Chinese media as foreign agents or foreign missions.
Also on the list of "wrongdoings," was the suppression of Chinese companies, "harassing" of Chinese students overseas and attacks on the Confucius Institute. Beijing also wants America to not extradite Meng Wanzhou, a Chinese business executive who served as Huawei's chief financial officer.
Newsweek reached out to the Biden administration for comment but did not receive a response in time for publication.
Meng was detained and arrested at a Canadian airport in 2018 on a U.S. extradition request alleging fraud and conspiracy to commit fraud. The Department of Justice accused Meng of conducting "millions of dollars" in transactions that violated sanctions the U.S. had against Iran.
"For years, Chinese firms have broken our export laws and undermined sanctions, often using U.S. financial systems to facilitate their illegal activities," former Secretary of Commerce Wilbur Ross said in a statement. "This will end."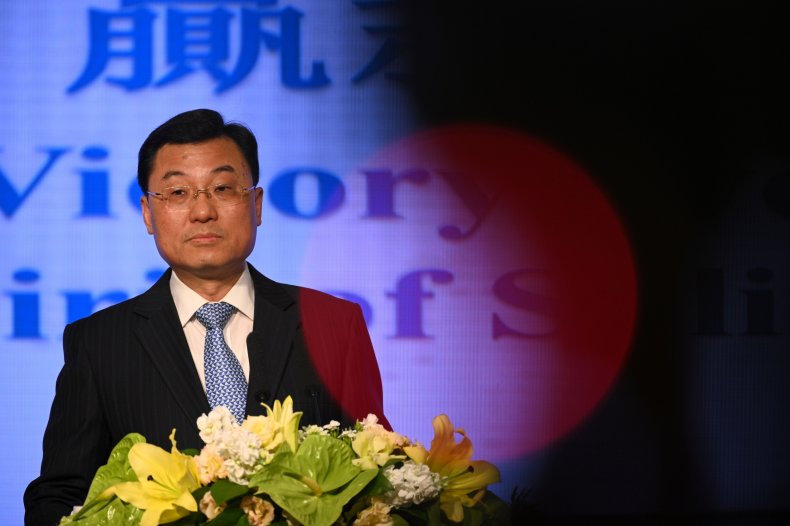 Wanzhou has been held in Canada since her arrest as she awaits extradition trial proceedings. It's expected to wrap up in August, at which point, a judge will decide if Meng should be extradited to the U.S. for trial. If extradited, tried and convicted in the U.S., she faces years in prison.
Relations between the United States and China have been deteriorating and Beijing sees much of America's behavior as an intrusion on its sovereignty and an effort to suppress China's growth. Although Monday's talks weren't as contentious as the previous meeting, Vice Foreign Minister Xie Feng made it clear that China is not pleased with America's approach to foreign policy, calling it a "misguided mindset" and "dangerous."
Xie also criticized Americans for portraying China as an "imagined enemy" and blamed the U.S. for the "stalemate" in relations.
Officials for the Biden administration described the meeting as professional and honest, albeit a "tough conversation" at times. Sherman illustrated to Xie that although America will continue to strengthen its "competitive hand" it does not see a conflict with China.
"The Chinese people look at things with eyes wide open," Xie said, according to the Foreign Ministry. "They see the competitive, collaborative and adversarial rhetoric as a thinly veiled attempt to contain and suppress China."
Rhetoric between China and the U.S. has grown increasingly hostile, raising concerns about the potential for a verbal conflict to turn into an armed one. Seen as one of America's biggest threats, the Biden administration is keeping a close eye on China's moves towards Hong Kong and Taiwan, two areas that China sees as an integral part of its territory but the world expects to continue to operate with autonomy.
Foreign Ministry spokesperson Zhao Lijian called America's interference with Hong Kong, Taiwan and in the South China Sea one of Beijing's "red lines" and warned America was "playing with fire."