China Jails Wuhan COVID Reporter for Four Years in Latest Crackdown on Dissidents
The Chinese government has sentenced an independent journalist to four years in prison for reporting on the outbreak of COVID-19 in Wuhan earlier this year.
Zhang Zhan, 37, was convicted and given the sentence on Monday at Shanghai Pudong New Area People's Court, according to the South China Morning Post. She was found guilty of "picking quarrels and provoking trouble" due to her reporting, a charge that Hong Kong-based paper describes as being "often used by police to stifle dissent."
Zhang Zhan had been on a hunger strike prior to the sentencing, causing her to physically deteriorate. "Zhang Zhan attended the trial in a wheelchair and was in poor health," Zhang Keke, one of her lawyers, told the paper. "She did not immediately say if she would appeal" against the sentence.
Zhang Zhan was one of a handful of Chinese citizen journalists to cover the lockdown in Wuhan, initiated after the virus began to surge in the city. She traveled from her home in Shanghai to report on Wuhan in early February, according to NBC News. Her often critical coverage later caught the attention of the Chinese government, which international observers have long criticized for stifling the press and seeking to silence dissidents.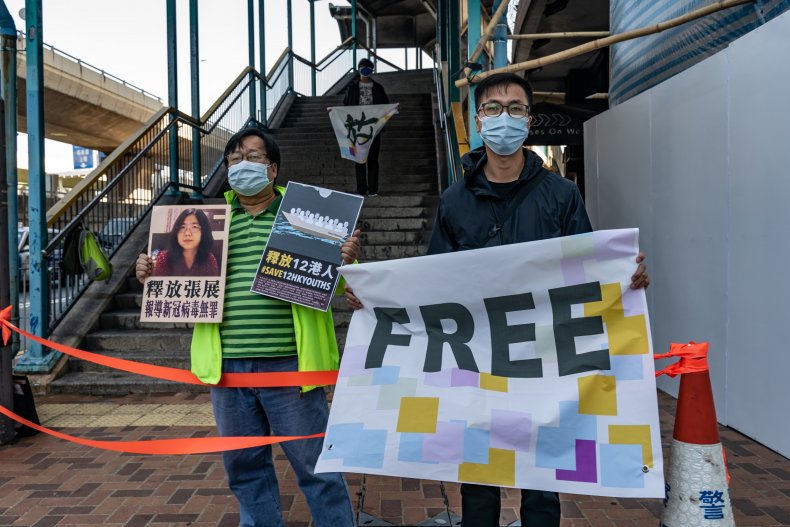 Prior to being convicted and sentenced, Zhang Zhan had been held in detention for more than six months while protesting her innocence. She was largely silent during the trial. Her lawyer reportedly took to social media to remark that the trial featured little evidence from prosecutors.
"[At trial] the prosecutor only read out the list of evidence, without showing most of it, including the core evidence," Zhang Keke wrote on social media. "Zhang Zhan said citizens' speech should not be censored. But apart from that, she basically did not speak."
Zhang Zhan is one of several citizen journalists that have been detained for reporting on the outbreak, while the government has ordered others to shut down their online reporting. In addition to handing down harsh punishment to any who dared to question the government's response to the virus, many have accused the Chinese government of taking part in a cover-up during the early stages of the initial outbreak.
Although Zhang Zhan's trail was supposedly open to the public, witnesses reported that dozens who had traveled from across China to support of her were prevented from entering the court by police. The final verdict came about three hours after a largely closed-door hearing. Human rights advocates and organizations quickly condemned the government after the sentencing was announced.
"We are deeply concerned by the 4-year prison sentence imposed on citizen journalist Zhang Zhan," the United Nations Human Rights office tweeted on Monday. "We raised her case with the authorities throughout 2020 as an example of the excessive clampdown on freedom of expression linked to #COVID19 & continue to call for her release."
Newsweek reached out the Chinese Embassy in Washington, D.C. for comment.