China's Jilin Goes Into Partial Lockdown, Vice Mayor Warns of 'Major Risk of Further Spread'
The northeast Chinese city of Jilin has gone into partial lockdown over fears of a new coronavirus outbreak after seven new cases were reported.
They have been linked to a laundry worker in the neighboring city of Shulan who tested positive for COVID-19 on May 7 in the first local case for 73 days. It is not known how she got sick, as she had not left the province or been in contact with anyone who had come back from overseas.
"The current outbreak is very serious and complex and poses a major risk of further spread," Gai Dongping, Jilin's vice mayor, told a press conference on Wednesday.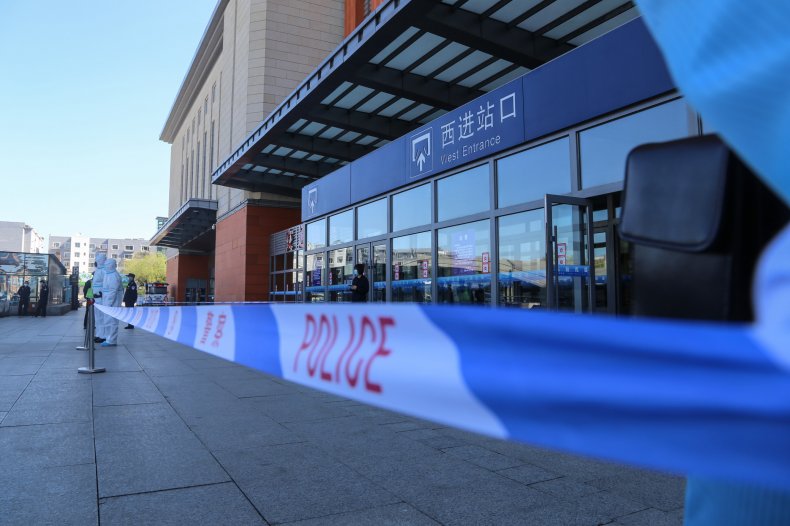 New restrictions have been imposed on the city of 4.5 million people, which is located in Jilin province, near the Russian and North Korean borders.
"In order to cut off the spread of the epidemic, we have decided to implement control measures in the urban area of Jilin," Gai added.
These include a suspension of long-distance train and bus services, the closure of indoor public venues like theatres, cinemas and bathhouses, and the banning of public gatherings. Those wanting to leave the city will have to provide evidence they have tested negative for the virus within the past 48 hours.
Gai said that three teams were working with scientists at a testing facility to analyze samples of 15 confirmed COVID-19 cases. "The national expert group is giving guidance on carrying out contact tracing and a fourth group is on its way," she added.
The infections have brought the total of community cases to 21, including two asymptomatic patients, since the first case in the cluster was reported a week ago.
The partial shutdown of Jilin comes amid warnings from Chinese health authorities that despite the peak of the epidemic having passed, new clusters of coronavirus are reemerging.
Over the last fortnight, new cases have been reported in seven provinces, including in Hubei, which was at the outbreak's original epicenter.
Only days after China downgraded the risk in regions across the country, Shulan was reclassified as high-risk on Sunday with the emergence of a cluster of cases.
Plans are being put in place to test the entire population of Wuhan, where the virus was first identified, after six new cases were recorded last weekend for the first time in over a month.
The infographic below, provided by Statista, shows the countries with the most confirmed COVID-19 cases, as of May 13.