China Kills off Apple Daily, Hong Kong's Main Newspaper | Opinion
Apple Daily, Hong Kong's main newspaper, announced it will print its final issue today, ending a 26-year run. The "pro-democracy" publication also stopped updating its website.
The paper is cash-rich, but $2.3 million of its funds have been frozen under the National Security Law, which China imposed on the territory last June 30. As a result, Apple Daily is not able to meet financial obligations as they come due.
Beijing has been steadily moving to end all public criticism in Hong Kong. The paper's closure should be viewed as the end of freedom in the territory, now part of the People's Republic of China.
As The Wall Street Journal reported on Wednesday, the closure of Apple Daily marks the end of "an era of unfettered reporting critical of Beijing in the city's mainstream print scene."
Last Thursday, about 500 police officers conducted a raid on the paper's offices, arresting Editor-in-Chief Ryan Law and three others. At the same time, the police moved against Next Digital, the paper's publisher, by detaining CEO Cheung Kim-hung. These arrests, and that of an opinion writer at the paper yesterday, were made under the National Security Law. The paper was previously the subject of another large-scale raid last August.
Apple Daily's majority owner, Jimmy Lai, is currently serving a 14-month sentence in Hong Kong for participating in a peaceful protest in 2019. He faces six additional charges, two of them made under the National Security Law. If convicted, the 73-year-old Lai could receive life sentences.
Britain "handed over" Hong Kong to the People's Republic on July 1, 1997 pursuant to the Sino-British Joint Declaration of 1984. In that treaty, Beijing promised the territory, now formally the Hong Kong Special Administrative Region, 50 years of a "high degree of autonomy." Beijing claims the "one country, two systems" formula governs its relations with the city.
In 2019, China's attempts to impose a draconian extradition law triggered mass protests—one of which, in June, attracted almost two million residents. In response, Beijing moved quickly to assert complete control over the territory of 7.5 million people. Hong Kong, now almost indistinguishable from mainland China, is no longer the freewheeling city it once was.
For Beijing, forcing Apple Daily out of business was the easy part. Figuring out what to do now with Hong Kong will be far more difficult.
The apparent goal of the Chinese Communist Party (CCP) is to keep the city prosperous so that it can show the world it can run an international financial center. Shanghai and Shenzhen, although large mainland financial hubs, mainly service China and are not truly international in scope.
Hong Kong was able to maintain its international financial services clout because it retained key advantages, the most important being the rule of law.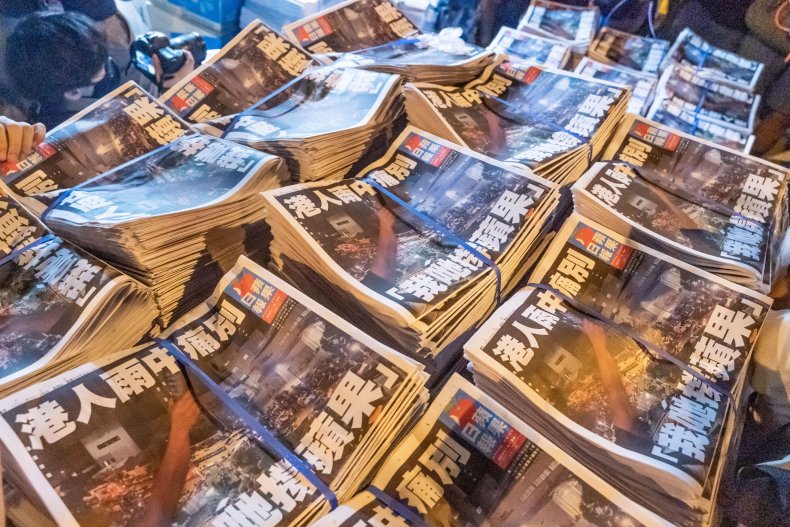 That advantage is now gone. The National Security Law effectively gives China the power to do anything it wants and has been accurately described as the end of law in Hong Kong.
Mark Simon, long-time deputy to Jimmy Lai, told Newsweek that Beijing was able to strangle cash-rich Apple Daily because it unilaterally froze the paper's accounts with a national security—in other words, not judicial—order. In the process, he says, the Hong Kong authorities "destroyed a company, destroying property rights."
Those authorities have also ended the unrestricted free flow of information, absolutely critical to any would-be financial center. The closure of Apple Daily, therefore, presents a challenge CCP leaders face for the first time. As a practical matter, they cannot censor political thoughts and resist the temptation to censor business information as well.
The Apple Daily case is the first time the Hong Kong authorities cited media articles as violating the National Security Law. "Apple Daily is apparently guilty of writing about 120 articles that have not been identified," Simon points out. "No one knows the content or the crime. So now analysts, bankers, short-sellers, traders and international journalists also have to guess what information violates national security."
As Simon notes, "The real crime of Apple Daily is it stands in the way of what Beijing really wants: 'One-country, two economies.'" The CCP is hoping it can have, in one small portion of China, Western-style financial markets but none of the underlying freedoms that make those markets possible.
China, in short, is seeking both extraordinary control and sustainable prosperity, something no state has ever achieved. Yes, China was able to generate growth during the so-called "reform era"—the period beginning in December 1978—but that was achieved by a combination of market liberalization and continual outside investment.
Some believe Chinese leader Xi Jinping can maintain prosperity in Hong Kong by allowing mainland parties to bring money to the city—a process that has already been occurring for decades—but that is not necessarily a net gain for China as a whole. Moreover, that process does nothing to help the city maintain its status as a global financial center.
Foreign businesses, responding to deteriorating conditions, are already starting to leave Hong Kong. The closure of Apple Daily will undoubtedly accelerate the exodus.
The CCP, as powerful as it is, cannot have it all.
Gordon G. Chang is the author of The Coming Collapse of China. Follow him on Twitter: @GordonGChang.
The views expressed in this article are the writer's own.