China Lambasts U.S. 'Insolence and Paranoia' Over Hong Kong Sanctions
China is criticizing the United States for its sanctions on Hong Kong, stating the penalties are "rooted in American anxiety" over China's development.
The Xinhua News Agency, the official state-run press agency of the People's Republic of China, published a column on Friday titled: "American insolence, paranoia will not alter Hong Kong's trend toward stability."
The commentary comes one day after President Joe Biden extended a national emergency declaration targeting Hong Kong. The order, originally signed by former President Donald Trump last July, will be in effect for at least one more year.
"The situation with respect to Hong Kong, including recent actions taken by the People's Republic of China to fundamentally undermine Hong Kong's autonomy, continues to pose an unusual and extraordinary threat to the national security, foreign policy, and economy of the United States," the order said.
The emergency declaration gives Biden authority to implement economic sanctions on external entities deemed significant threats to the U.S.
The Xinhua News Agency argued the declaration is a response to the U.S. feeling threatened.
"Their actions are rooted in the American anxiety that China's development will one day threaten U.S. hegemony, which has prompted some U.S. politicians to try everything possible to obstruct China's development," the column read. "In their paranoid mind, China is a strategic competitor that must be suppressed and a chaotic Hong Kong serves their interests and is in line with their China containment plan."
The column also accused the U.S. of turning a blind eye " to the human rights tragedies in their homeland," citing the condominium collapse in Florida and shootings over the Fourth of July weekend.
"How on Earth dare a country with such a bad record label itself as a human rights lecturer and teach others how to behave?" the column read.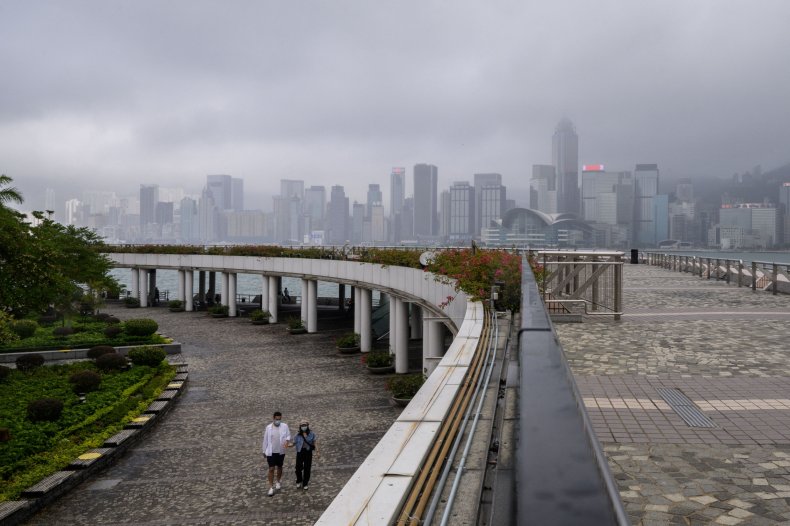 In response to the White House's action, the Hong Kong government released a statement urging the U.S. to stop interfering in the city's affairs.
A spokesman for the Hong Kong government added that the sanctions are "barbaric acts reflecting the self-proclaimed U.S. supremacy," according to a report from People's Daily Online.
The Biden administration is expected Friday to add at least 10 more Chinese companies and other entities to its economic blacklist over alleged human-rights violations, according to Reuters.
Biden signed an executive order in June adding five more companies to the blacklist, which currently numbers 59 Chinese companies that are banned from receiving American investments.
Newsweek reached out to the White House for comment but didn't receive a response before publication.