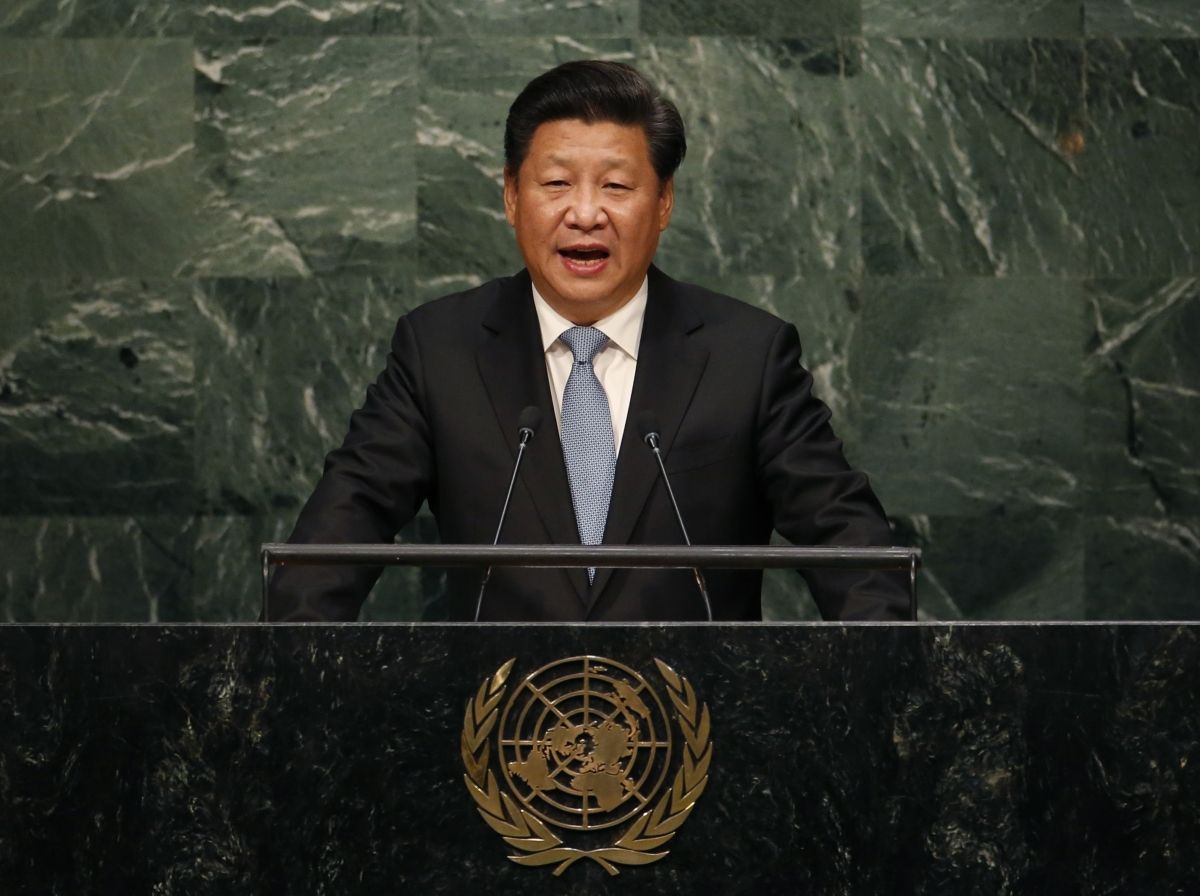 China has pledged 8,000 troops to a United Nations peacekeeping standby force, a commitment which cements its status as the biggest military contributor to peacekeeping operations among the permanent members of the U.N. Security Council's (UNSC).
Chinese President Xi Jinping made the pledge at the U.N. General Assembly in New York on Monday, Reuters reported. The Chinese troops will be part of the new 40,000-strong standby force. According to AFP, more than 50 countries are contributing to the force, including Colombia—which pledged up to 5,000 troops in a first-time offer—and Rwanda, which offered 1,600 troops as well as an all-female police unit, two attack helicopters and two field hospitals.
Xi did not make it clear whether the 8,000 troops include China's current contribution of 3,079 U.N. peacekeeping troops, or whether they are in addition to Beijing's existing deployment. In either case, the commitment pushes China further ahead of its UNSC allies.
In comparison to China, the other UNSC permanent members—France, Russia, the U.K. and the U.S.—contribute significantly smaller numbers of troops. There are less than 100 U.S. and Russian troops each on U.N. peacekeeping mission. The biggest contributor, Bangladesh, gives 9,432 troops to peacekeeping operations, thought it is not a permanent member of the UNSC.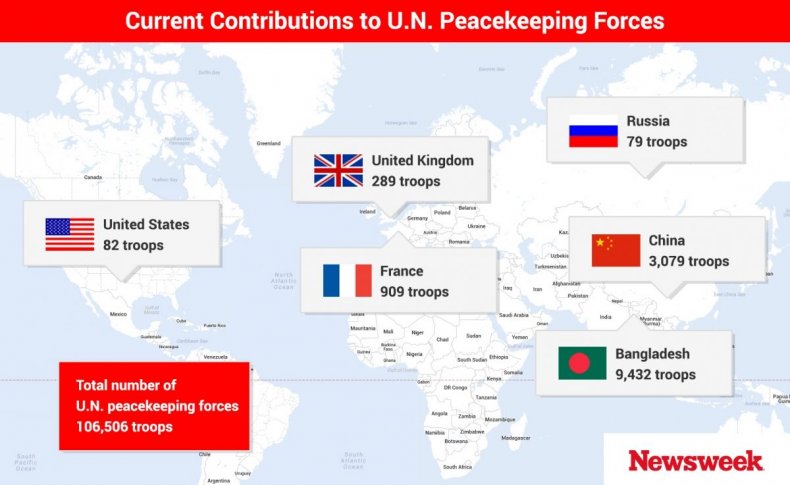 Steve Tsang, director of the China Policy Institute at the University of Nottingham, says Beijing's announcement gives it greater international prestige. "It gives them far more scope in being able to claim that they are behaving as a responsible player in the global scene," says Tsang. However, he points out that Beijing can afford to contribute more troops to peacekeeping missions. Despite Xi's recent announcement that China's military would be cut by 300,000, the country still has the largest army in the world by some way, says Tsang.
Washington is the biggest financial backer of U.N. peacekeeping operations, contributing more than 28 percent of this year's $8.2 billion budget. China is the sixth-biggestpaying 6.64 percent of the totalbehind France and the U.K. but ahead of Russia, who contributes 3.15 percent. States which contribute peacekeeping forces are reimbursed by the U.N. at the rate of just over $1,028 per soldier per month.
Tsang points out that China does not need the financial reward which might encourage poorer countries, such as Bangladesh and India, who is the third-largest personnel contributor. However, peacekeeping operations will give Chinese soldiers valuable experience in combat zones. "The last time [the Chinese military] had any combat was against the Vietnamese in the early 80s. Being deployed to a hot zone for security duties is rather useful training for its officers, if not the troops," says Tsang.
Earlier this week, the U.K. pledged 70 personnel to join a U.N. mission supporting African Union troops fighting the Islamist group Al-Shabaab in Somalia, and could also deploy a further 300 in South Sudan, according to the BBC. However, Raffaello Pantucci, director of International Security Studies at defense think-tank the Royal United Services Institute, says the other permanent members are unlikely to follow China's lead. "I'd be surprised if we see a big surge in others starting to change their policies as a result of the Chinese effort," says Pantucci, pointing out that the troops are "a recognition of the fact that [China] is increasingly becoming a global player and a very significant actor in international affairs."
In addition to the troops, Xi also offered several financial contributions. Xi said that China would give $100 million to the African Union over the next five years, to be used to set up a regional peacekeeping force, while also announcing a 10-year, $1 billion peace and development fund, which will be coordinated by Beijing and the U.N.