China Looks to Challenge U.S. Dollar with New Digital Yuan
China's new digital yuan, controlled by its central bank, could pose a threat to the U.S. dollar, the standard for intentional trade and the world's reserve currency.
The central bank digital currency (CBDC) could be used for international trade, and almost certainly won't be linked to the global financial system.
Vital commodities such as oil and copper are priced in dollars. The Bank for International Settlements says the greenback is now used to complete about 88% of international foreign exchange trades, compared with about 4% for the yuan.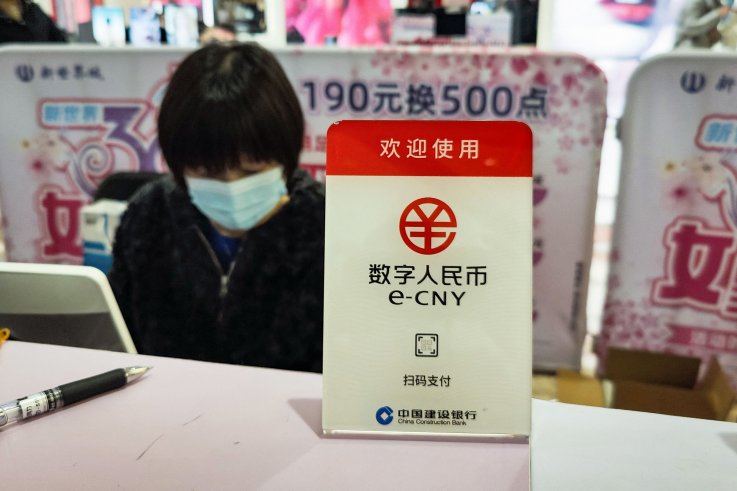 A sign for Chinas new digital currency, electronic Chinese yuan (e-CNY) is displayed at a shopping mall in Shanghai on March 8. The People's Republic is pressing ahead with an ambitious digital currency project that may serve as a conduit for bypassing a U.S.-dominated global banking system.
AFP/Getty Images
At home, the new digital yuan will allow China's authoritarian government to track financial transactions of its people in real time, creating an efficient way to enforce the "social credit" system Beijing uses to limit internal travel and other activity for those deemed undesirable.
China's new digital currency looks like its paper money. A mobile phone app developed for the People's Bank of China allows users to spend it like cash. It's being tested by about 100,000 people, and it's not clear when it will be generally available to China's 1.4 billion citizens.
Adarsh Sinha, an analyst at Bank of America, said China's move into a digital currency is likely an attempt to expand its regional influence—not an effort to undercut the dollar.
"Ultimately, this is likely to be the actual (and more realistic) objective for China than any serious attempt to displace the (U.S. dollar's) status as the global reserve currency," he said in a research report.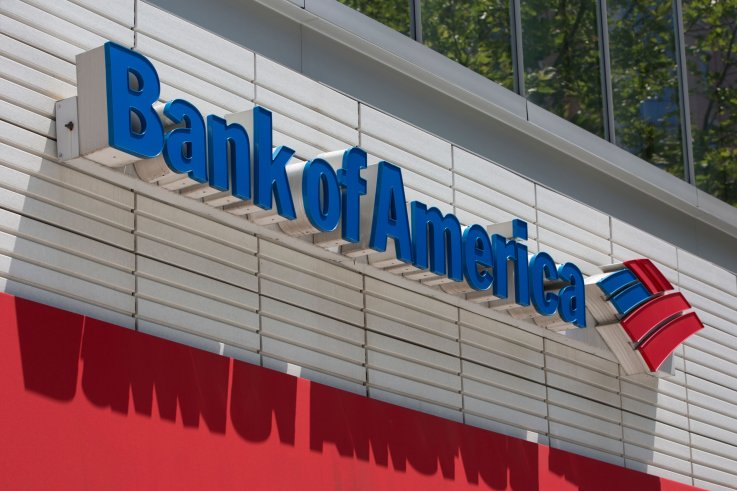 The Bank of America logo is seen outside a branch in Washington, DC, on July 9, 2019.
Alastair Pike / AFP/Getty Images
Bitcoin and other cryptocurrencies such as Ethereum, XRP, Cardano and Litecoin are not backed by a central bank. The cryptos were specifically created to avoid governmental control and to escape what proponents see as the debasement of fiat currencies through inflation caused by massive deficit spending.
Use of a debit card or Apple Pay is a digitized version of government-issued fiat currency and is therefore neither a CBDC nor a cryptocurrency.
Anonymity makes Bitcoin, launched in 2009, attractive to many proponents of the cryptocurrency. The digital yuan would intentionally destroy the individual user's anonymity.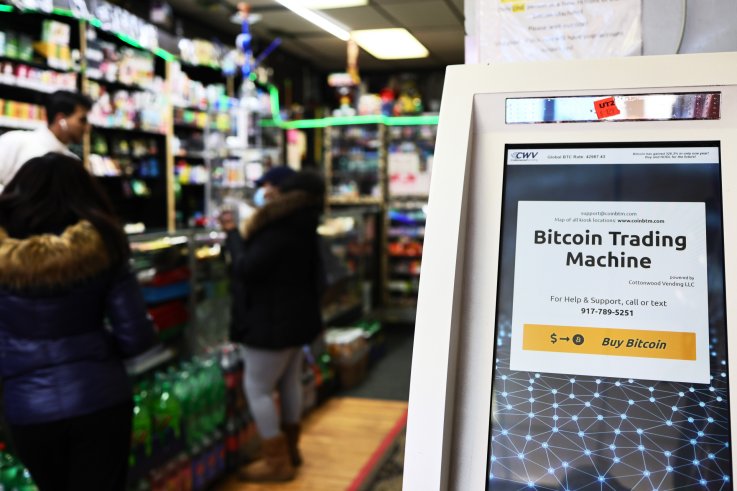 NEW YORK, NEW YORK - FEBRUARY 08: A bitcoin ATM is seen inside the Big Apple Tobacco Shop on February 08, 2021 in New York City. (Photo by Michael M. Santiago/Getty Images)
Michael M. Santiago/Getty Images
However, keeping China's new digital currency out of the world financial system could allow it to be used to avoid international sanctions like those posed on Iran and North Korea.
Russia is reportedly developing a digital version of the ruble.
In 2018, the Financial Times reported that Sergi Glazyev, one of Vladimir Putin's top advisors, said, "This instrument (crypto-ruble) suits us very well for sensitive activity on behalf of the state. We can settle accounts with our counterparties all over the world with no regard for sanctions."
The U.S., provider of dollars to banks around the world, requires information on major currency transactions. This allows Washington to freeze out rogue nations, institutions and individuals from the global financial system.
Critics decry the practice as "dollar weaponization."
The digital yuan could give nations now penalized a way to conduct financial transactions without U.S. knowledge by avoiding the Society for Worldwide Interbank Financial Telecommunications (SWIFT) system, a messaging network used in transfers between commercial banks and monitored by Washington.
SWIFT is a cooperative company under Belgian law controlled by member banks. In 2018, about 11,000 banks routed about 33.6 million transactions a day through the network.
The Bank of England was the first to propose a Central Bank Digital Currency, but China is the first to launch one. Other nations, including Canada, India, Singapore, Sweden, Thailand, Uruguay and the United States are exploring the feasibility of creating a central bank-issued digital currency.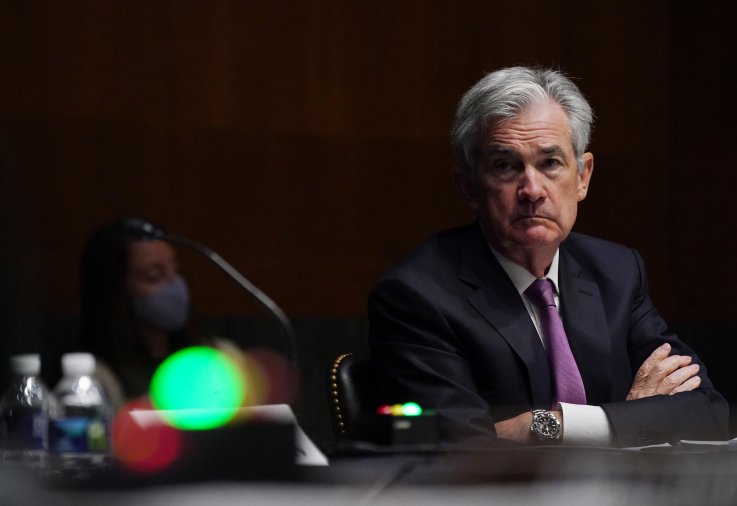 Jerome H. Powell, Chairman, Board of Governors of the Federal Reserve System during the Senate's Committee on Banking, Housing, and Urban Affairs hearing examining the quarterly CARES Act report to Congress on September 24, 2020 in Washington, DC.
Toni L. Sandys-Pool/Getty
"We have an obligation to be on the cutting edge of understanding the technological challenges, as well as the potential costs and benefits, of issuing a (central bank digital currency)," Jerome Powell, chairman of the U.S. Federal Reserve, the nation's central bank, said at a recent virtual meeting of the Bank for International Settlements.
But Powell said the U.S. is in no hurry to develop its own cryptocurrency.
"Because we're the world's principal reserve currency," he said, "we don't need to rush this project, and we don't need to be first to market."
Bloomberg reported that the Boston Federal Reserve Bank is working with researchers at the Massachusetts Institute of Technology to develop a CBDC, and a prototype could be unveiled as early as July.
But some analysts believe the Fed will move slowly and deliberately as it develops a CBDC.
In 2019, Facebook announced plans to develop a cryptocurrency. Its user base could have exceeded many national populations and disrupted traditional fiat currencies.
U.S. regulators quashed Facebook's plans, but China continued development of its digitized yuan.
In mid-day trading Friday, Bitcoin fetched $58,065.35. It's up 99.96% for the year. The all-time high is $61,712. The cryptocurrency's market cap is $1.08 trillion, CoinDesk reported.
Market Pulse
General Motors plans to halt production at several North American plants and extend shutdowns at others due to a shortage of semiconductors.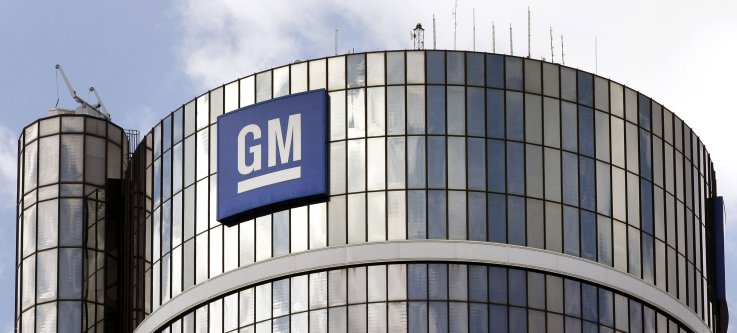 The logo for the General Motors Company is seen at the top of its World Headquarters and Renaissance Center complex o August 17, 2010 in Detroit, Michigan.
Bill Pugliano/Getty Images
Last week, Ford said it would extend production cuts, including a temporary shutdown at a factory near Dearborn, Michigan that assembles the F-l50 pickup truck, the company's top moneymaker.
Chip shortages have disrupted production at nearly every major automaker, including Honda, Toyota and Volkswagen.
Semiconductors are used in dashboard touchscreens, safety equipment such as airbags and cameras, entertainment, power train, as well as security, steering and braking systems.
The Alliance for Automotive Innovation, a Washington-based trade group, said the semiconductor shortage could reduce production by 1.3 million vehicles.
The Creating Helpful Incentives to Produce Semiconductors (CHIPS) Act is intended to "re-shore" production by providing federal money and incentives to support U.S. semiconductor research, development, manufacturing and supply chain security.
Senate co-sponsors of the CHIPS Act are John Cornyn (R-Texas), James Risch (R-Idaho), Marco Rubio (R-Fla.), Kyrsten Sinema (D-Ariz.), and Mark Warner (D-Va.). In the House, the measure was co-sponsored by Doris Matsui (D-Calif. and Michael McCaul (R-Texas).
Semiconductors were invented in the U.S. and launched California's Silicon Valley. Silicon is cheap and the key component in integrated circuits.
Factories using the most advanced semiconductor manufacturing techniques are based in Taiwan and South Korea, raising security concerns as China becomes more aggressive in the South China Sea.
The Semiconductor Industry Association, a Washington-based trade group, said the U.S. share of the world's semiconductor manufacturing capacity has fallen to 12% from 37% in 1990.
But last month, chipmaker Intel announced plans to spend $20 billion to build two new plants in Chandler, Arizona. Intel said it established a partnership with IBM to improve chip logic and packaging technologies.
The National Automobile Dealers Association (NADA) said pent-up demand, low interest rates and federal stimulus checks resulted in strong March sales.
Despite the chip shortage, NADA expects light vehicle sales to total 16.3 million in 2021, up from the original forecast of 15.5 million and 12.7% higher than 2020 when the economy shut down as part of the effort to curb spread of COVID-19.
The trade group said chip shortages may limit production into the third quarter, boosting sales and the price of used cars.