China Looks to Get U.S. Ties 'Back to Right Track' in First Meeting Under Biden
China is looking to restore a positive tone to its relationship with the United States as representatives from the world's top two powers are set to meet face-to-face for the first time since U.S. President Joe Biden took office in January.
Chinese Communist Party Central Foreign Affairs Commission Director Yang Jiechi will meet U.S. Secretary of State Antony Blinken next Thursday in Alaska. This marks the first in-person talks between Beijing and the new leadership in Washington, as well as the Biden administration's first contact with Chinese officials since the U.S. leader spoke with Chinese President Xi Jinping last month on the eve of the Lunar New Year.
The People's Republic sees a potential opportunity in this encounter to deescalate the harsh rhetoric that has carried over from the previous White House.
"We hope that through dialogue, the two sides can build on the spirit of the phone conversation of the two heads of state, focus on cooperation, manage differences and promote the sound and steady development of China-U.S. relations," Chinese Foreign Ministry spokesperson Zhao Lijian told reporters Friday.
He said the specific topics of discussion had not yet been established, but expressed hope that "the two sides can have candid talks on issues of common concern."
"China will make its position clear," Zhao added. "The two sides should accurately understand each other's policy intentions, enhance mutual understanding, manage differences and bring China-U.S. relations back to the right track."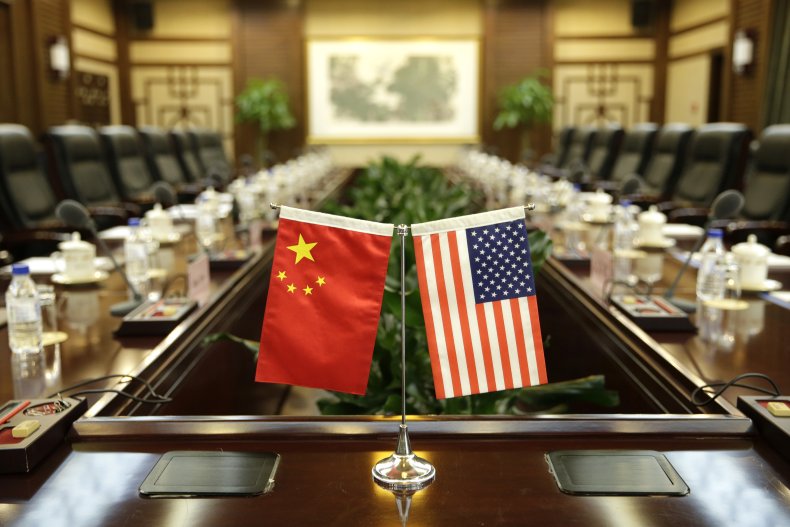 While the Biden administration has been largely critical of the policies put forth by former President Donald Trump, Blinken has endorsed the previous administration's decision to adopt a tougher stance toward China. He has accused the country of trade abuses, human rights violations and geopolitical aggression.
Blinken said Wednesday that his upcoming conversation with Yang would touch upon "a range of issues, including those where we have deep disagreements."
State Department spokesperson Ned Price expanded on Blinken's comments the following day, saying that the Biden administration expects Beijing "to demonstrate seriousness regarding its own oft-stated desire to change the tone of our bilateral relationship."
"This will be a difficult conversation," he said. "We'll be frank in explaining how Beijing's actions and behavior challenge the security, the prosperity, the values of not only the United States but also our partners and allies."
Biden officials have stated that they expected areas of cooperation and conflict in their ties with China. Cooperative areas would include climate change, global health, security arms control and nonproliferation issues. But conflict could arise over issues that China considers domestic affairs, including Hong Kong, Tibet and Xinjiang, and, perhaps the most sensitive of all, Taiwan.
The status of the self-ruling island, which has unofficial political and military ties with Washington despite being claimed by Beijing, is likely to be a sticking point in the talks.
Price said he expected both agreement and disagreement, but emphasized that U.S. interests would be put first.
"That doesn't mean that these talks have to be purely adversarial or have to be purely predicated on issues of profound disagreement," he said. "I expect there will also be opportunities to raise potential areas for cooperation, again, when that criterion is met: when it is in our national interest."
Zhao said Friday that China's position on issues such as Xinjiang and Hong Kong is "consistent and clear." He said the door to Xinjiang, where the U.S. has accused China of committing "genocide" by incarcerating more than a million members of the Muslim Uighur minority in reeducation camps, was "always open," and encouraged international experts and officials to visit so that "all the lies and disinformation cooked up by anti-China forces will collapse."
The affairs of Hong Kong, a semi-autonomous city where Beijing's rule has been increasingly enforced in what Washington considers a violation of a colonial-era treaty with the United Kingdom, "are purely China's internal affairs, and no foreign country has the right to interfere," Zhao said.
China has recently received a chorus of international support on both issues. A coalition of 64 countries led by Cuba issued a joint statement Friday backing Beijing on Xinjiang, and some 70 nations led by Belarus released a similar message last week on Hong Kong.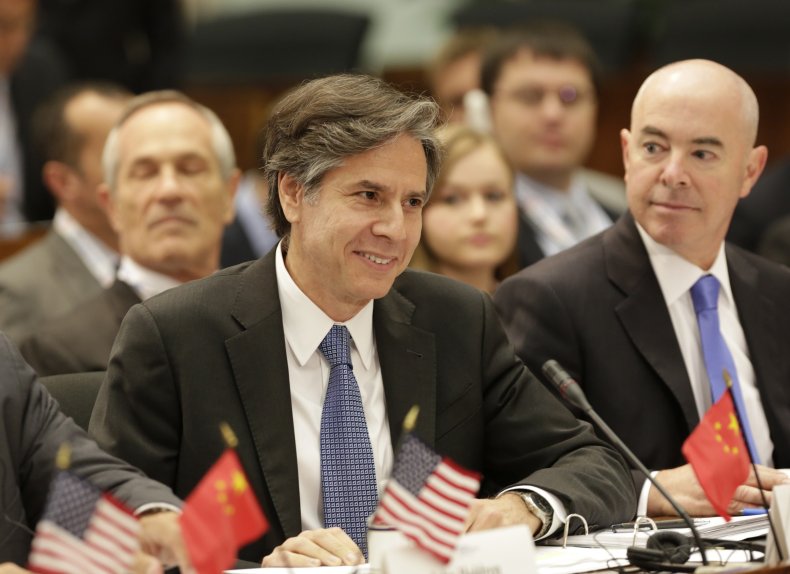 The U.S. has also looked for international backing in its efforts to counter China. Biden spoke virtually Friday with fellow heads of state of the Quadrilateral Security Dialogue, known as the Quad, comprising Australia, India, Japan and the U.S. in the first leader-level gathering of its kind.
The Quad was reinvigorated under Trump and has been an early priority of the Biden administration. The four countries, while not aligned on a number of other issues, have a common goal of enforcing a "free and open Indo-Pacific," a motto often directed at China and its wide territorial claims, including across the South China Sea.
Canberra, New Delhi, Tokyo and Washington have also issued complaints about a perceived rise in aggressive Chinese behavior in recent years. But Price told reporters the pseudo-alliance was about more than just Beijing.
"I would dissuade you from the idea that the Quad is focused, again, on any single issue, to include China. It's not," Price said. "Of course, maritime security is a key focus of the Quad, but it is a grouping that is predicated on shared interests, and we certainly have shared interests with these three other partners and allies."
These shared interests, he said, included universal values and rights, economic dealings, security policies and people-to-people ties.
Zhao told his own press briefing the following day that China viewed narrow-minded blocs as damaging, and hoped the Quad would avoid this path.
"State-to-state exchanges and cooperation should help enhance mutual understanding and trust among regional countries, instead of targeting against or undermining the interests of any third party," he said. "We hope relevant countries will follow the principles of openness, inclusiveness and win-win results, refrain from forming closed and exclusive 'cliques' and act in a way that is conducive to regional peace, stability and prosperity."