China Looks for New Ways to Help Russia in Syria as U.S. Backs Israel Against Iran
China is looking to expand its support for Russia in Syria's prolonged civil war as regional powers Israel and Iran escalate a long-running feud that threatens to further destabilize the war-ravaged country.
Chinese Special Envoy for Syria Xie Xiaoyan told Russian state media on Sunday that he saw opportunities to expand China's role in Syria, where Russia is helping Syrian President Bashar al-Assad overcome rebels and jihadis in the wake of an attempted 2011 uprising backed by the West, Turkey and Arab gulf states. While China has not played a significant military part in the seven-year conflict, it has supported Moscow and Assad diplomatically and begun to invest heavily in the reconstruction of Syria.
"The relations between China and Russia imply a sweeping strategic partnership and collaboration. We are constantly in touch and conduct consultations. Each side contributes to the Syrian problem's settlement," Xie said, adding that there was "huge space" for further cooperation, according to the state-run Tass Russian News Agency.
"I assume that both sides should continue assuming efforts in such areas as protection of the ceasefire regime, a responsible ceasefire resolution compliance, promotion of the political process, as well as regarding the issues of postwar recovery," said Xie.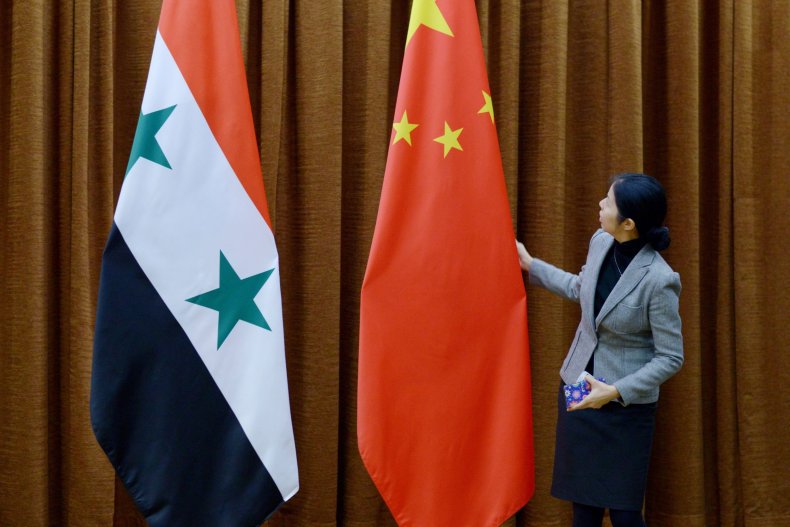 With direct support from Russia and Iran, the Syrian government has recovered much of what it lost in the early years of the war. Only a few pockets of Islamist insurgent control remain, and much of the northern part of the country is held by the U.S.-backed Syrian Democratic Forces, which have fought both alongside and against Syrian troops and the local and regional militias fighting in support of them.
As Assad roots out the last of Syria's armed opposition, his forces have been increasingly targeted by the West and Israel. The U.S. and its allies have charged Assad with using chemical weapons, and last month, the U.S., France and the U.K. conducted airstrikes against Syrian government targets suspected of being involved in the production of chemical weapons. China joined Russia and Iran in opposing the operation, demanding to first see the results of an investigation by the Organization for the Prohibition of Chemical Weapons.
Related: China May Be the Biggest Winner of All If Assad Takes Over Syria
China has also aligned itself with Russia in recent clashes that threatened to open up an entirely new and deadly front for the region. Airstrikes widely believed to be from Israel have hit suspected Iranian positions with increased frequency in past months. Israel, which feels threatened by the growing presence of Iran and its paramilitary partners, often refuses to confirm or deny its role in the attacks, but spoke out after being targeted by a series of retaliatory rocket strikes Wednesday that Israel said were an Iranian attack on its forces in the occupied Golan Heights. That triggered an unprecedented wave of Israeli airstrikes that damaged military infrastructure and killed personnel in Syria.
The U.S. has firmly backed Israel in the recent uptick in violence, which occurred shortly after President Donald Trump announced the country's withdrawal from a landmark 2015 nuclear accord with Iran. Nevertheless, Russia called for calm and attempted to mediate the conflict. Similarly, Chinese Foreign Ministry spokesman Geng Shuang urged Israel and Iran to "stay coolheaded and restrained to jointly uphold regional peace and stability" during a press conference Friday.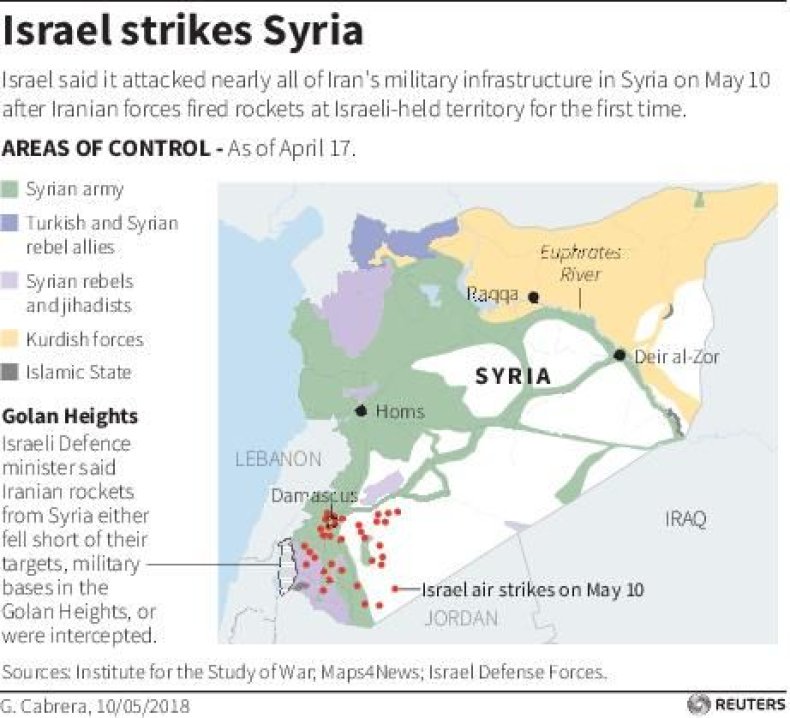 China's motive for backing supporting Assad in Syria also plays into Chinese President Xi Jinping's vision for the One Belt, One Road project. The initiative seeks to reinvigorate and revamp historic and new trade routes across Asia, Africa and Europe, in which Syria lies on the crossroads. Beijing called the Syrian government a viable partner for its future economic goals and pushed a political solution to the conflict rather than a military one.
China and Russia have also increasingly joined forces in terms of their political and military relations in recent years. Xi and President Vladimir Putin both managed to renew their terms in March and have devoted considerable resources toward modernizing their armed forces and projecting power in regions in which U.S. has also sought to assert dominance.