Manufacturing in China recorded a significantly better-than-expected performance in the last month, sounding a rare optimistic note at a time when the coronavirus pandemic continues to pound the global economy.
Beijing's National Bureau of Statistics (NBS) said China's official purchasing managers' index (PMI) for manufacturing—which measures confidence and output in the sector—rose from a historic low of 35.7 in February to 52.0 for March.
This figure was much higher than an anticipated reading of just under 45, the Financial Times reported. Readings above 50 signal expansion of the sector, while below indicates contraction.
Meanwhile, China's non-manufacturing PMI, which covers the services and construction sectors, jumped from another record low of 29.6 in February to 52.3 in March, well above a forecast of 42.0.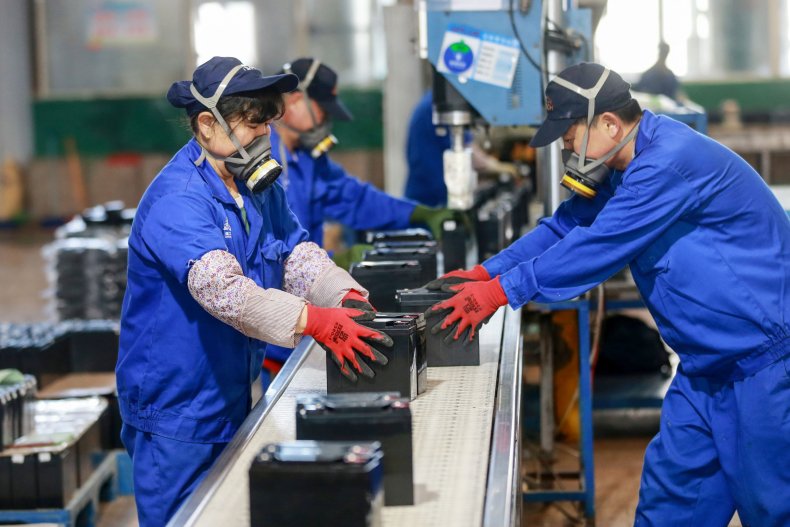 Experts said that while the figure is a sign that a number of factories have started production again, it does not yet mean that China's economy is back to normal, and the ongoing shutdowns in the U.S. and Europe will continue to test demand for Chinese products.
"We cannot say China's economy has fully returned to normal levels based on a single month. We need to continue observing changes in the following months," the NBS said, the South China Morning Post reported.
According to the Financial Times, NBS statistician Zhao Qinghe said: "The epidemic is accelerating and spreading around the world, severely impacting global economic growth and trade. There is also pressure on China's epidemic control from incoming cases, so the recovery of economic growth and supply chains face new challenges."
The consultancy Capital Economics said on March 24 that six weeks after the leadership had told firms to reopen, China was "about halfway back to normal on the daily supply-side measures."
It also said "full recovery will be held back by persistent weakness in demand," due to closed firms, lost jobs and a collapse in exports.
Iris Pang, ING's chief economist for China, said partial lockdowns in parts of the country and social distancing rules will still hurt retail and catering businesses.
"Global demand is also likely to remain very soft, which will affect export orders for China. Factories in some economies, including China, need to follow social distancing, so production capacity is unlikely to be much better in April compared to March," Pang said, per ThisIsMoney.co.uk.
Chris Beauchamp at IG Group warned against reading too much into the single month's PMI figures, but said markets "are continuing to look for the positives," according to Proactive Investors.
The map below by Statista shows the spread of coronavirus around the world as of March 31.