China's Maritime Militia Swarms Philippine-Held Island in South China Sea
The Philippines this week said it continued to track dozens of armed Chinese fishing vessels around a disputed island in the South China Sea, part of Beijing's "gray zone" efforts to assert sweeping claims in the energy-rich waters.
The now-common activity was documented over the weekend by the Philippine Coast Guard, which said 42 Chinese maritime militia vessels, accompanied by a "slowly loitering" naval and coast guard presence, were anchored neared the island of Thitu, which Manila calls Pag-asa and Beijing calls Zhongye.
Beijing asserts a "historic right" over the South China Sea and all of its associated features, but its ambitious maritime and territorial claims were dismissed in 2016 by an arbitral tribunal in The Hague for contravening the 1982 U.N. Convention on the Law of the Sea, of which China is a signatory. China's leaders have rejected the verdict ever since, leading to tensions with the U.S., which has said it is committed to freedom of the seas.
The unmarked fishing boats, which remained within the 12-nautical-mile territorial sea of the Philippine-controlled island on Monday, were conducting "a form of harassment," a Philippine official told the local press.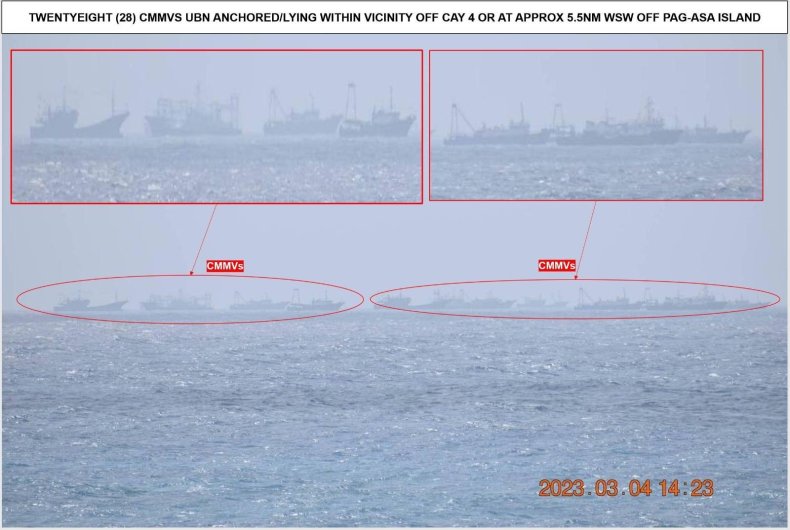 The true number of Chinese maritime militia—fishermen mercenaries who operate without clear identification—is unknown, and Beijing officially denies any affiliation with their actions, which in recent years have included confronting U.S. Navy warships in the South China Sea.
A 2021 report by the Asia Maritime Transparency Initiative (AMTI), under the Washington-based Center for Strategic and International Studies think tank, described the boats as "a force of vessels ostensibly engaged in commercial fishing but which in fact operate alongside Chinese law enforcement and military to achieve Chinese political objectives in disputed waters."
"Since the completion of China's artificial island outposts in 2016, militia boats have been deployed to the Spratlys in greater numbers and on a more constant basis than ever before," the AMTI report said.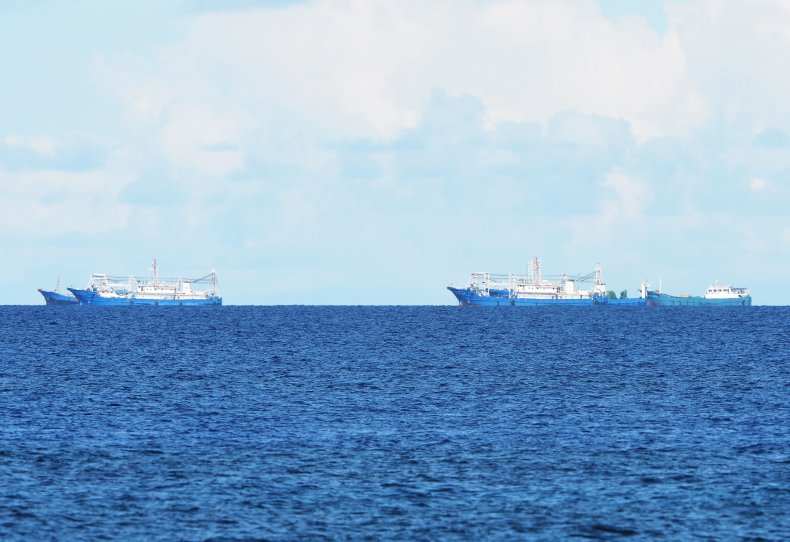 China's preference is to keep territorial disputes at a bilateral level and it has taken issue with the U.S. multilateralization of regional sticking points including the long-running maritime territory dispute and its decades-long designs on Taiwan.
Since 2019, Washington has publicly reaffirmed that its mutual defense treaty with Manila—among its oldest allies in Asia—also covers attacks on Philippine forces in the South China Sea. However, the Chinese activity typically falls below the conflict threshold, in what is sometimes called the gray zone.
This includes last month's run-in near the Manila-controlled Second Thomas Shoal, also part of the Spratlys, where a Chinese coast guard ship was filmed aiming a military-grader laser at a Philippine vessel, whose crew was said to have been temporarily blinded.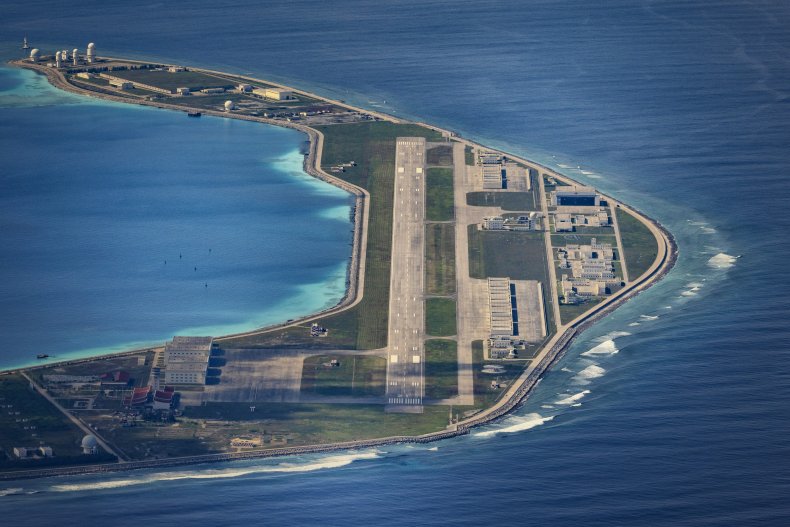 Thitu is the second largest of the naturally occurring Spratly Islands and the largest administered by the Philippines. China's claim to ownership also is nominally contested by Vietnam and Taiwan.
President Ferdinand Marcos Jr. of the Philippines summoned China's ambassador and lodged diplomatic protests over the incident, which he said wasn't enough to invoke the country's defense pact with the United States.
Earlier in February, in response to rising regional tensions, Marcos Jr.'s government announced an agreement to expand U.S. military presence in the Philippines by granting access to nine locations across the country, including additional sites close to Taiwan.
Lindsey Ford, the Pentagon's deputy assistant secretary of defense for South and Southeast Asia, told a Hudson Institute think tank event on March 2 that Washington and Manila would be holding discussions in the coming months to jointly assess the need for additional infrastructure at the sites.
Do you have a tip on a world news story that Newsweek should be covering? Do you have a question about China? Let us know via worldnews@newsweek.com.