China May Get World's Largest Gas Field Because of U.S. Sanctions Against Iran
Iran has threatened to give petroleum giant Total's stake in the South Pars gas fields to China if the French company could not secure protection from U.S. nuclear-related sanctions.
Total signed a $4.8 billion contract to develop phase 11 of the South Pars—by far the world's largest natural gas field—last July, after the 2015 nuclear deal struck between the U.S., Iran and five other world powers saw a rolling back of sanctions against the revolutionary Shiite Muslim nation in exchange for it cutting nuclear production. Trump's May 8 withdrawal from the nuclear accord, however, has put this investment at risk and Iranian Petroleum Minister Bijan Zanganeh said the state-owned China National Petroleum Corporation (CNPC), which already claims 30 percent of the project, could take the French supercompany's 50.1 percent stake.
"Total has 60 days to negotiate with the U.S. administration while the French government can also use these 60 days to negotiate with the U.S. administration so that Total can stay in Iran," Zanganeh said in a statement, according to The Financial Times.
"If the U.S. administration does not agree with Total staying in Iran, China will replace this company," he added.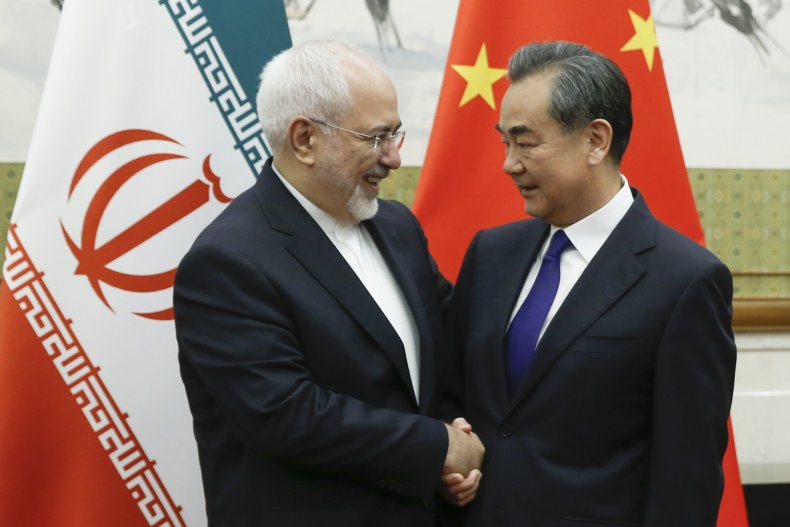 In a statement obtained by Reuters, a Total spokesman said Wednesday that "On May 16, we said that in accordance with our contractual commitments vis a vis the Iranian authorities, Total was engaging with the French and U.S. authorities to examine the possibility of a project waiver."
He added: "It is the process and timing that was agreed upon in the SP 11 contract in case there would be sanctions. We activated the process planned in the contract."
Timothy O'Toole, a sanctions lawyer at Miller and Chevalier, told The Financial Times earlier this month that Chinese companies such as CNPC did not fear sanctions because "they will likely view the risk of U.S. enforcement as low" and had "less connection with the U.S. generally [than European groups and] less connection with the U.S. financial system in particular."
Related: U.S. Is Trying to Kill Major Gas Deal Between Russia and Germany
France was one of six signatories to the Iran nuclear agreement, officially known as the Joint Comprehensive Plant of Action (JCPOA). Besides the U.S. and Iran, France was joined by fellow European Union nations Germany and the U.K., as well as China and Russia. These countries pleaded with Trump to stay a party to an agreement he has called "the worst deal ever" to no avail.
Trump was an early opponent of the JCPOA, which he and his conservatives allies argued was too soft on Iran. The U.S. has accused Iran of destabilizing the Middle East through its funding of militant groups abroad and development of ballistic missiles. Iran has also accused the U.S. of funding militant groups and of violating the sovereignty of countries in the region.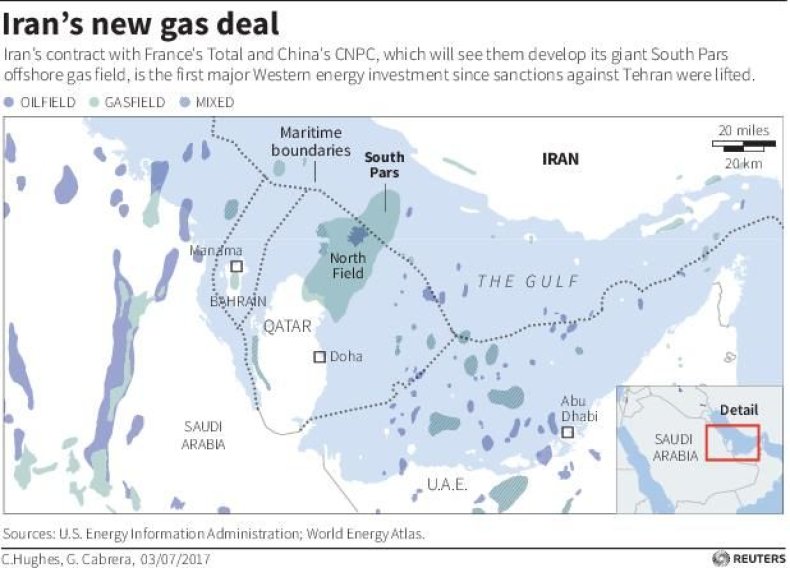 The Chinese Foreign Ministry announced Monday that Chinese President Xi Jinping has invited Iranian leader Hassan Rouhani to participate in the Shanghai Cooperation Organization's Qingdao Summit next month. Diplomats from the two countries have already met in recent weeks as nations attempt to salvage the nuclear deal without the U.S.
China has become increasingly eager to invest in Iran as it looks for natural energy to fuel its rapid growth. China has also developed closer economic and energy ties to Russia, which possesses the world's largest proven natural gas reserves, followed by Iran.