China's reported order warning its military not to fire first against U.S. forces in the South China Sea has raised speculation over who has the upper hand between Washington and Beijing, with the superpowers stepping up their operations in the disputed waters.
Sources told the South China Morning Post this week that Chinese pilots and naval officers were under orders to exercise restraint in stand-offs with U.S. planes and warships so as not to give hawks in the White House an excuse to escalate.
Last month, two American aircraft battle groups, the USS Nimitz and USS Ronald Reagan carried out drills in the South China Sea, as well as nighttime aerial reconnaissance missions near Guangdong and Fujian provinces.
While China has also conducted naval drills and flyovers around Taiwan, a Chinese military source told the SCMP that its personnel have been told "not to fire the first shot" and said if there is a repeat of 2001's Hainan incident—when a U.S. intelligence aircraft collided with a People's Liberation Army (PLA) fighter jet—there would far more serious consequences today.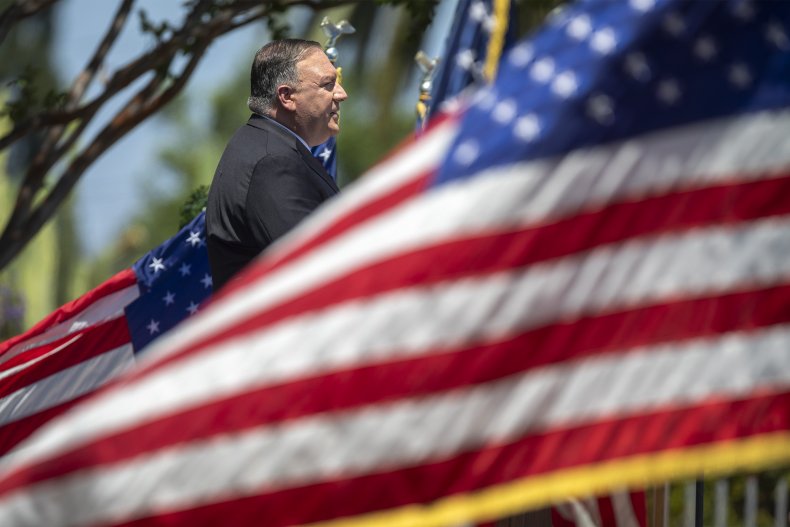 "Today, the PLA has developed many countermeasures. The Americans won't be able to return in one piece if such an accident ever happens again," the source said, adding, "we are very clear that we will respond with force only as the last resort, when everything else has failed."
Secretary of State Mike Pompeo gave a fiery speech against China last month, which was met with a stern response from Beijing. Talks last week between U.S. Secretary of Defense Mark Esper and his Chinese counterpart Wei Fenghe were aimed at easing tensions stoked by the rhetoric of President Donald Trump.
But is the tough talk a factor in China's reluctance to fire first?
"I suspect this order to the PLA was issued at or before the talks between the two defense ministers, but was deliberately revealed to the press now to add credibility to the recent call by Chinese diplomats to dial down tensions and reopen talks," said Yinan He, associate professor of international relations at Pennsylvania's Lehigh University.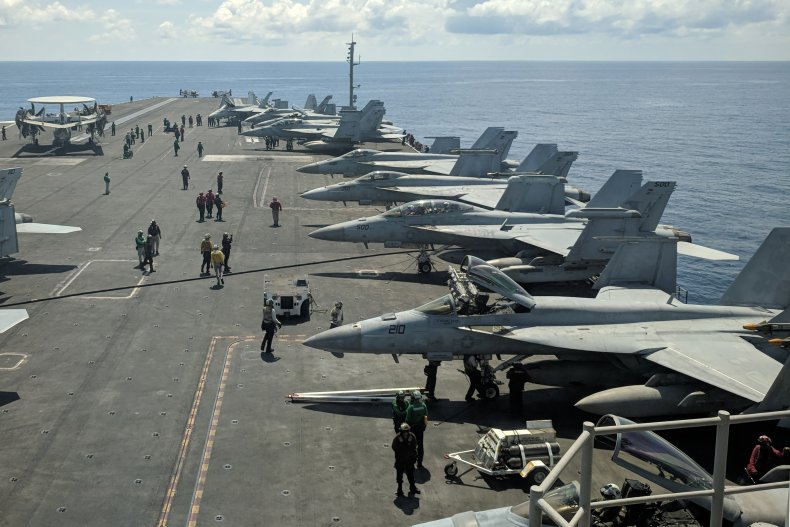 "China initially turned its back to Esper's request for a talk. Having realized how precarious the situation was turning, Beijing took a multi-pronged action to mitigate the risk of an inadvertent military clash with the U.S." she told Newsweek.
The prospect of conflict in the region was ramped up when the U.S. defended its military moves near Taiwan, after China sent in personnel to defend claims of sovereignty over the island. However last week, China's Foreign Minister Wang Yi struck a conciliatory tone in an interview with Xinhua, calling for dialogue with the U.S.
Zhiqun Zhu, author of A Critical Decade: China's Foreign Policy 2008-2018, said that Beijing does want to deescalate and Wang's comment that the South China Sea was a "common home for countries in the region" was a departure from China's long-standing sweeping claims in the waters.
He said it was "a sort of concession and friendly gesture, which apparently has not been picked up by the Trump administration."
"Trump and Pompeo seem to be trying to stare down the PLA. They apparently have no interest to deescalate. It's their daily routine to punch China. Most ironic is Pompeo, the top U.S. diplomat, who is supposed to use diplomacy to resolve differences, is the fiercest fighter now," Zhu told Newsweek.
The White House's tough stance on China is expected to continue in the run-up to the U.S. election in November. Pompeo said in July that the U.S. backs a 2016 International Court of Justice decision stating China has no historic title over the South China Sea.
This direct denial of Beijing's territorial claims, shared by other countries in the region, comes amid White House concern that China's fast-growing presence in the South China Sea might be irreversible if no action is taken quickly.
However, Yinan He said President Xi Jinping is unlikely to make any concessions in the region soon.
"Xi is placing the hope on Joe Biden to revert to an Obama-era engagement policy, or on a second-term Trump who may allow more patience for talks. But either way Xi wants to buy time to build up his naval fleet and solidify advantage in the South China Sea, before he can take on the U.S. with confidence," He said.
Beijing's motive to de-escalate is clear. If hostilities break out in the South China Sea or at the Taiwan Strait, China will suffer more casualties and damages than the U.S. since the conflict sites are so close to China's coastal areas. However things are likely to remain tense, for the next few months at least.
"It takes two to tango. If only one side wants to de-escalate, it will not work. So the situation in the South China Sea and Taiwan Strait will remain unstable and dangerous at least through the November election," Zhu told Newsweek.