China's Military Buildup Is 'Most Ambitious' Since WWII, Australia Warns
A military buildup by China is the "largest and most ambitious" since World War II and could lead to an arms race in the Indo-Pacific region, Australia's defense minister said on Saturday.
Richard Marles, who is also deputy prime minister in the recently elected Labor government, warned that an arms race in the region could be caused by feelings of "insecurity" prompted by China's actions.
"China's military buildup is now the largest and most ambitious we have seen by any country since the end of the second world war," Marles said.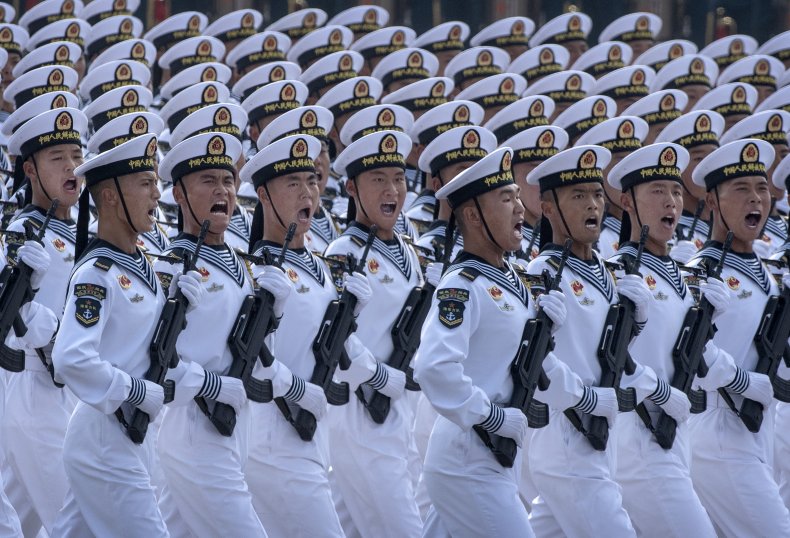 "So it is critical that China's neighbors do not see this buildup as a risk to them. Because without that reassurance, it is inevitable that countries will seek to upgrade their own military capabilities in response. Insecurity is what drives an arms race," the defense minister said.
Marles was speaking at the Shangri-La Dialogue event in Singapore, which is considered to be Asia's premier conference on defense.
"China is not going anywhere and we all need to live together and hopefully prosper together," Marles went on. "China's economic success is connected to that of our own and the region."
His comments come after Chinese Defense Minister Wei Fenghe reportedly told U.S. Secretary of Defense Lloyd Austin that China would "not hesitate to start a war no matter the cost" if Taiwan declares its independence. All three defense ministers have been attending the Shangri-La Dialogue.
The U.S., like most other nations, doesn't formally recognize democratic Taiwan as an independent country. China claims Taiwan as part of its territory, but successive U.S. administrations have provided key support to the island, including supplying arms.
Speaking in Singapore on Saturday, Secretary Austin accused China of a "steady increase in provocative and destabilizing military activity near Taiwan."
"That includes PLA [People's Liberation Army] aircraft flying near Taiwan in record numbers in recent months - and on a nearly daily basis," Austin said. However, he made clear the U.S. does "not support Taiwan independence."
The PLA is the official term for the Chinese military.
Earlier in his speech, Austin offered other criticisms of China's recent actions, referring to country as the PRC (People's Republic of China.)
"In the East China Sea, the PRC's expanding fishing fleet is sparking tensions with its neighbors. In the South China Sea, the PRC is using outposts on man-made islands bristling with advanced weaponry to advance its illegal maritime claims," he said.
"We're seeing PRC vessels plunder the region's provisions, operating illegally within the territorial waters of other Indo-Pacific countries. And further to the west, we see Beijing continue to harden its position along the border that it shares with India," Austin went on.
The secretary of defense said the U.S. did not want a war in the region.
"We do not seek confrontation or conflict. And we do not seek a new Cold War, an Asian NATO, or a region split into hostile blocs," he said.
Lt. Gen. Zhang Zhenzhong, deputy chief of the Joint Staff Department of China's Central Military Commission, criticized Austin's speech in comments to reporters on Saturday.
"There were many unfounded accusations against China, and we expressed our strong dissatisfaction and firm opposition to these false accusations," he said, accusing the U.S. of not keeping its promise not to support independence for Taiwan.
Zhang said the U.S. is "obviously inconsistent in its words and deeds."