China's Military Challenges U.S. by Expanding Island Bases, Report Finds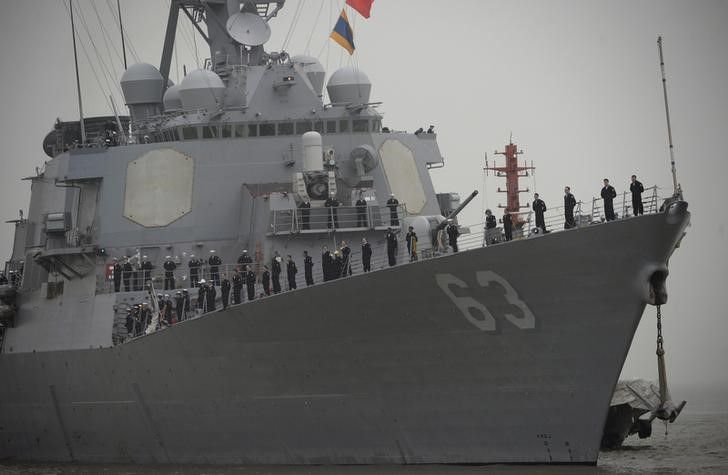 China has been building new military facilities on artificial islands established in the contested waters of the South China Sea, a direct challenge to U.S. foreign policy, according to the latest report by a Washington think tank.
The U.S. has long accused China of creating man-made islands in the South China Sea to enforce Beijing's vast territorial claims, which are disputed by a number of surrounding countries. Further suspicions that China is using the new land masses to bolster its military in the region were apparently validated by a report released Thursday by the Asia Maritime Transparency Initiative (AMTI), a branch of the nonpartisan Center for Strategic and International Studies. The report, "China's Big Three Near Completion," uses satellite imagery to detail new military and dual-use installations on three of the internationally contested Spratly Islands.
Related: China is still protecting North Korea from Donald Trump
"New missile shelters, radar/communications facilities and other infrastructure are going in on Fiery Cross, Mischief and Subi Reefs, suggesting that while the region is engaged in peaceful discussion, China remains committed to developing its power projection capabilities," the report said.
Fiery Cross Reef houses the most advanced Chinese military installations, according to the report. Since an earlier assessment in February, AMTI said that China had built an additional four shelters, bringing the total number of retractable-roof shelters to 12. Both Mischief and Subi Reefs reportedly continue to host eight shelters each. Last month, China installed Norinco CS/AR-1 55mm anti-frogman rocket launcher defense systems on Fiery Cross Reef, according to state-run local media cited by Reuters. The apparatus is designed to locate and eliminate enemy divers. A large dome likely shielding extensive radar equipment also appeared to have been constructed on the island's southern end, and a second is under construction in the north.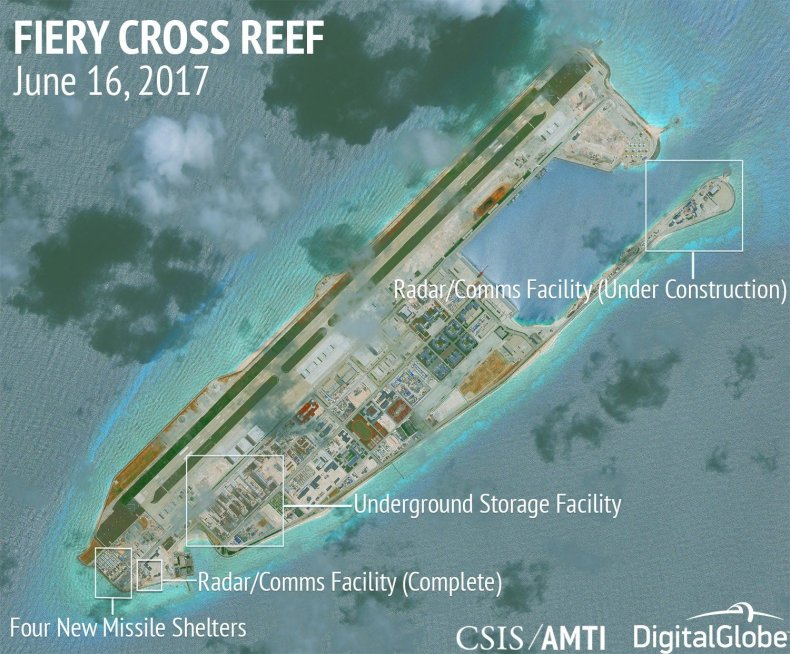 On Mischief Reef, AMTI also observed the installation of two smaller radomes, which the report said may be connected to missile systems. A massive antennae system has also reportedly appeared, suggesting a significant expansion of the location's radar and communications capabilities. Researchers noted the proximity of the island to the Philippines, which has also staked a claim to the region. They said such military-grade communications systems may be able to pick up transmissions from certain parts of the Philippine archipelago.
"Beijing can now deploy military assets, including combat aircraft and mobile missile launchers, to the Spratly Islands at any time," AMTI said in its February assessment of the sites.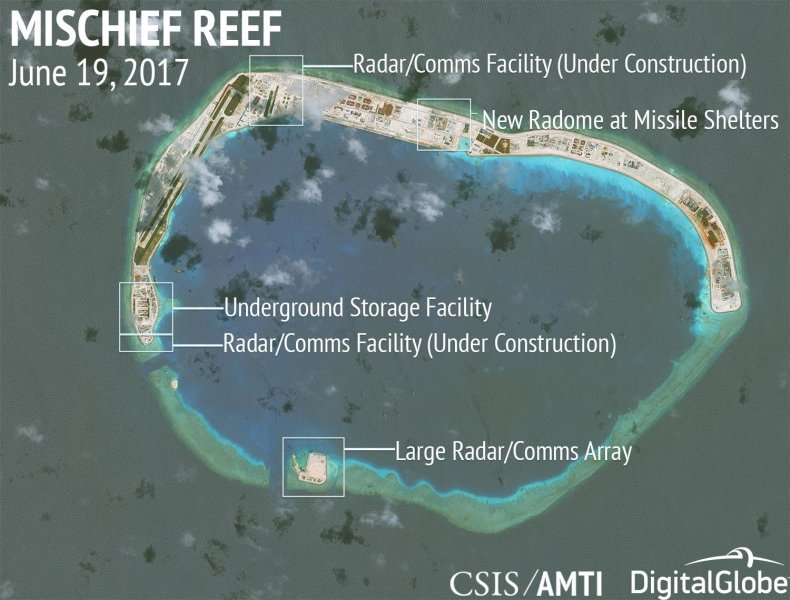 The Spratly Islands, which are in territory also claimed by Brunei, Malaysia, the Philippines, Taiwan and Vietnam, were the site of one of the earliest political showdowns of President Donald Trump's administration, days before it even began. Rex Tillerson, then the nominee for secretary of state, suggested during his state confirmation hearing in front of the Senate Armed Forces Committee, that the U.S. should use military force to restrict China's access to the islands. The Global Times, the nationalist outlet of China's ruling Communist Party, blasted what it called "the most radical statement from the U.S. so far," and said the U.S. would need to "wage large-scale war" to dislodge China from the contested territories.
In recent months, Trump has approached a traditional foe, Chinese President Xi Jinping, to assist in U.S.-led efforts to disarm North Korea's nuclear weapons arsenal. While Trump acknowledged that China tried to do so, he concluded that the country's efforts had not worked out. On Thursday, he made two foreign policy decisions that angered Beijing: the introduction of new sanctions on Chinese institutions and individuals suspected of having business ties to blacklisted North Korean entities, and the announcement of a $1.4 billion arms deal with the government of Taiwan, a Beijing rival.