China's Military Enters Japan and Taiwan Air Zones, Says 'Get Used to It'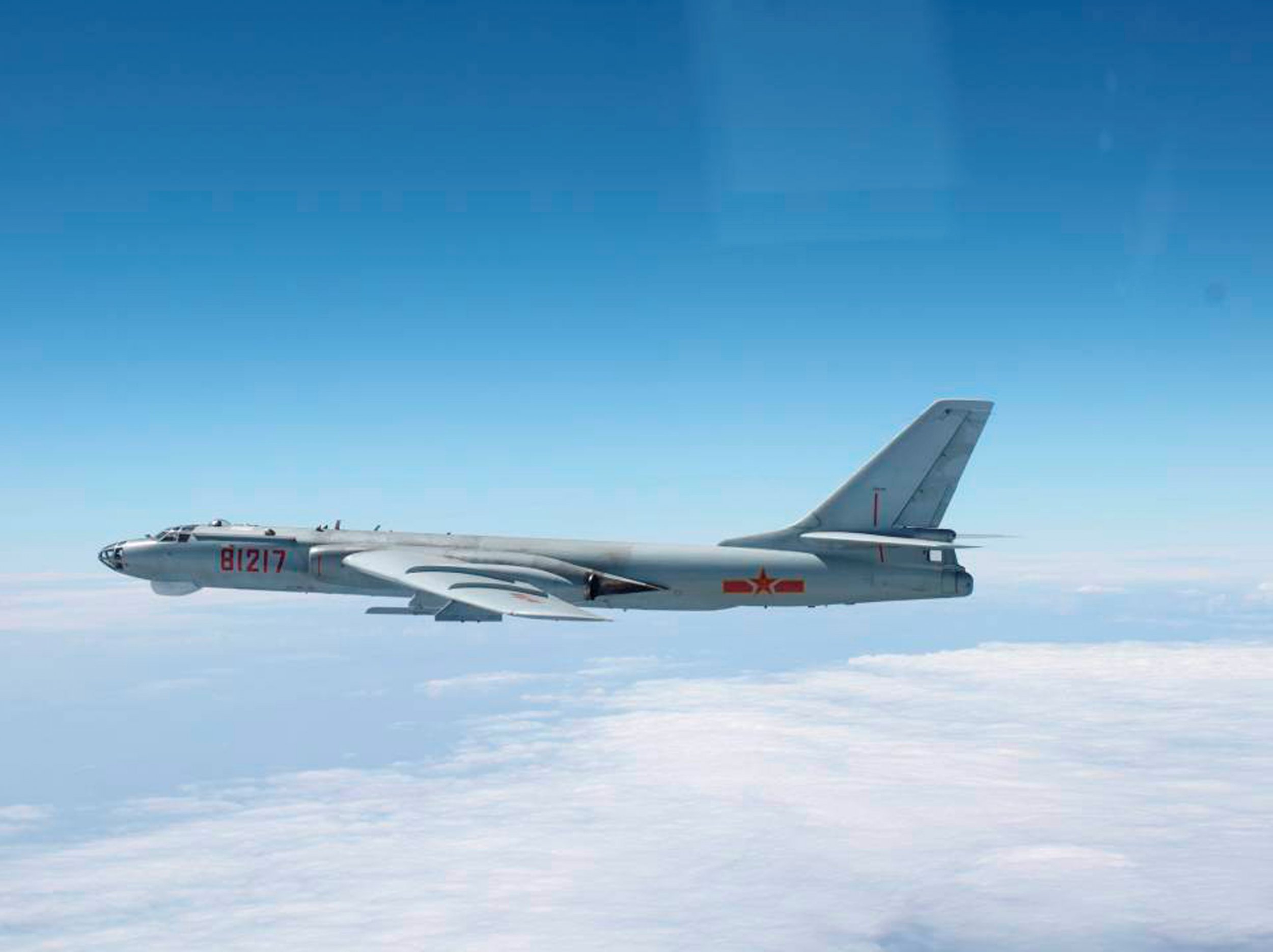 Beijing fired back Friday against Japanese complaints regarding Chinese warplanes flying between two of its islands in the Asia Pacific, telling Tokyo that such aircraft may become a common sight.
A fleet of six Chinese Xian-H6 twin-engine bombers flew Thursday between Japan's Miyako Island and Okinawa Island in the Miyako Strait, sparking a response from the Japanese Defense Ministry, which called the incident "unusual." While the ministry noted there was no breach of Japan's sovereign air space, the proximity of the bombers prompted Japan to scramble its own fighters. The Chinese Defense Ministry dismissed the concerns of its Japanese counterpart, calling the actions of its aircraft "legal and legitimate," and suggested that further maneuvers were in store, according to Japanese daily Sankei Shimbun,
Related: Russia points missile at China while holding military exercises with Beijing in Europe
"The relevant side should not make a fuss about nothing or over-interpret, it will be fine once they get used to it," China's defense ministry said in a statement translated by Reuters.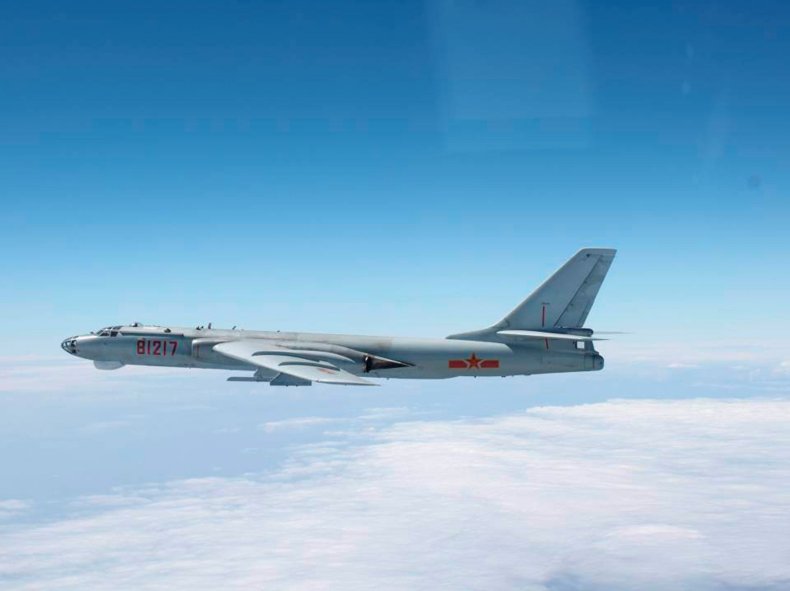 Fellow countries in the Western Pacific are often frustrated by China's vast territorial claims and its willingness to project its military superiority throughout the region. The Miyako Strait, where Thursday's incident took place, is the largest strait among Japan's Ryukyu Islands and allows China strategic access to the Pacific Ocean from the East China Sea. The waterway is located just northeast of Beijing's nationalist rival government in Taiwan, which continues to consider itself the sole successor of imperial China after being exiled from the mainland by partisans of the ruling Communist Party in 1949.
Taiwan also reported China's air activity Thursday. The Taiwanese Defense Ministry said that the bombers flew just outside its air defense identification zone, but emphasized that it had "closely followed" them as they passed. Only a day prior, Taiwan said that China's aircraft carrier Liaoning had entered its air identification zone along with several other vessels, according to the Financial Times, which cited Taiwan's official Military News Agency as saying there were "no unusual developments." The state-run outlet also told citizens to feel "at ease."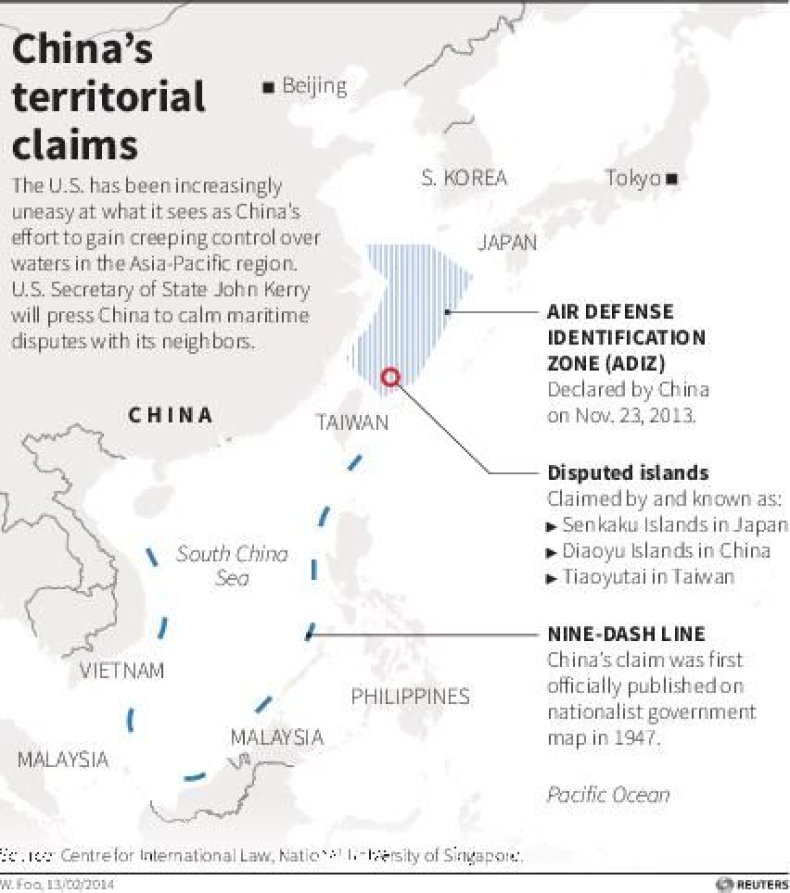 The complex, sometimes overlapping territorial claims of China, Japan, South Korea and Taiwan in the East China Sea have led to a number of political confrontations over the years. China also is engaged in territorial disputes with Brunei, Indonesia, Malaysia, the Philippines, Taiwan and Vietnam in the South China Sea, where the U.S. and its regional allies accuse China of building artificial, militarized islands to expand the reach of its armed forces and assert its proclaimed maritime borders.
China wasn't the only country taking steps to push its regional agenda, however. Indonesia unilaterally changed the name of the waters off of its northern shores, traditionally considered a stretch of the South China Sea, to the North Natuna Sea, Reuters reported Friday. The sea is partially claimed by China as part of Beijing's so-called Nine-Dash Line that conflicts with what a number of Southeast Asian nations consider their sovereign territory.