China Sends Military Aid to Help Fight Coronavirus Outbreak
The Chinese armed forces have been mobilized to support the country's efforts to contain the spread of a new virus strain that has sickened thousands of people and killed dozens.
The official Chinese Military Online website reported Monday that the first batch of emergency medical supplies provided by People's Liberation Army facilities in Liaoning and Shandong provinces arrived Sunday at the Hankou railway station in Wuhan city, Hubei Province, the epicenter of the novel coronavirus epidemic plaguing the world's most populous nation. Among the aid was "10000 sets of class-C protective clothing and 3760 bottles of ethyl alcohol," officials reported on the site.
The delivery comes after three teams of military medical staff composed of 450 army, navy and air force personnel flew to the closed-off city Friday by transport planes to assist in frontline disease control efforts at Jinyintan Hospital, Hankou Hospital and Wuchang Hospital.
On Saturday, Chinese President Xi Jinping chaired a meeting of the Standing Committee of the ruling Chinese Communist Party's Central Committee Political Bureau in Beijing to discuss the outbreak.
"Life is of paramount importance. When an epidemic breaks out, a command is issued. It is our responsibility to prevent and control it," Xi said, ordering officials to prioritize efforts to battle coronavirus nationwide, according to the state-run Xinhua News Agency. On Monday, he called on officials to ensure that the Chinese Communist Party flag will "fly high at the frontline of the battleground."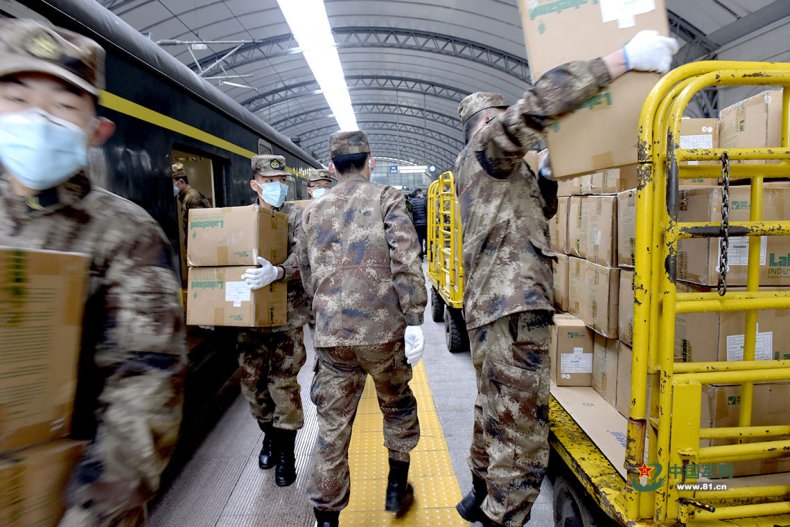 China's National Health Commission reports that, as of Sunday, it has received confirmation of a total of 2,744 cases of coronavirus throughout the country, 461 of which were considered severe and 80 of which have resulted in deaths. There are 5,794 suspected cases altogether, along with several confirmed cases abroad, including seven in Thailand, four in Australia, four in Singapore, three in Japan, three in Malaysia, three in South Korea, three in the United States, two in Vietnam and one in Nepal.
In the United States the Centers for Disease Control and Prevention raised the number of domestic coronavirus cases to five, with individuals from the states of Washington, Illinois, California and Arizona among those discovered with the disease. Each person diagnosed had recently visited Wuhan and authorities maintain that the risk of infection in the U.S. remains low.
U.S. Forces Korea issued a warning Monday urging U.S. citizens in South Korea to take precautionary measures after a 55-year-old South Korean man was diagnosed with coronavirus. The individual had also recently visited Wuhan and lived in Pyeongtaek, near U.S. Army Garrison Humphreys and Osan Air Base in South Korea.
President Donald Trump tweeted Monday that the U.S. and China were "in very close communication" regarding the spread of novel coronavirus. He said he "offered China and President Xi any help that is necessary."
Chinese Health Minister Ma Xiaowei told a press conference Sunday that "the outbreak has entered a more severe and complicated stage" at which its "infectivity appeared to be increasing." Still, he vowed that the government was implementing nationwide measures such as mass transportation halts and the large-scale import of protective clothing to meet Wuhan's growing demand. Chinese officials have also extended the weeklong Lunar New Year holiday by three days to Thursday.
Ma said the government would apply the experience it gained during the last major outbreak of coronavirus, known as severe acute respiratory syndrome or SARS, between 2002 and 2003. That outbreak began in Guangdong province, which borders Hong Kong, and went on to kill up to 775 people, mostly in China, but also affected more than a dozen other nations.
Like SARS, this coronavirus strain, known officially as 2019-nCov, usually causes respiratory illness. Human-to-human transmission has been confirmed and the main symptoms so far appear to be "fever, difficulty in breathing, and chest radiographs showing bilateral lung infiltrates," according to the World Health Organization, which notes that not enough is known about this coronavirus "to draw definitive conclusions about the full clinical features of disease, the intensity of the human-to-human transmission, and the original source of the outbreak."