China Military Holds Hong Kong Air, Land, Sea Drills As Security Law Passed
Chinese troops stationed in the semi-autonomous city of Hong Kong have posted a video of them conducting combined air, land and sea drills just as news broke of a new national security law targeting dissidents being signed into effect.
The People's Liberation Army Hong Kong Garrison shared the nearly two-and-a-half-minute clip on social media site Sina Weibo, showcasing a joint air and sea patrol that also involved other exercises such as small arms fire and arrest and inspection. The training involved the garrison's air force, ground force and navy and was said to have comprehensively tested their defense capabilities.
Dramatic scenes showed Chinese forces performing mock rescues and also practice chasing and detaining suspects. Chinese soldiers could be seen descending from a helicopter, firing assault rifles and snipers and securing Hong Kong's Victoria Harbor.
The video came amid major changes in Hong Kong, where opposition calls for greater independence from the central government in Beijing have been met with a legal crackdown on separatist political activities. Chinese President Xi Jinping's signing of a new national security law broadening intelligence powers in Hong Kong has already seen scores of activists that once flooded the streets now deleting their social media presence and distancing themselves from organized groups.
Hong Kong Chief Executive Carrie Lam welcomed the move, saying in a statement that "the social unrest which has troubled Hong Kong people for nearly a year will be eased and stability will be restored, thereby enabling Hong Kong to start anew, focus on economic development and improve people's livelihood."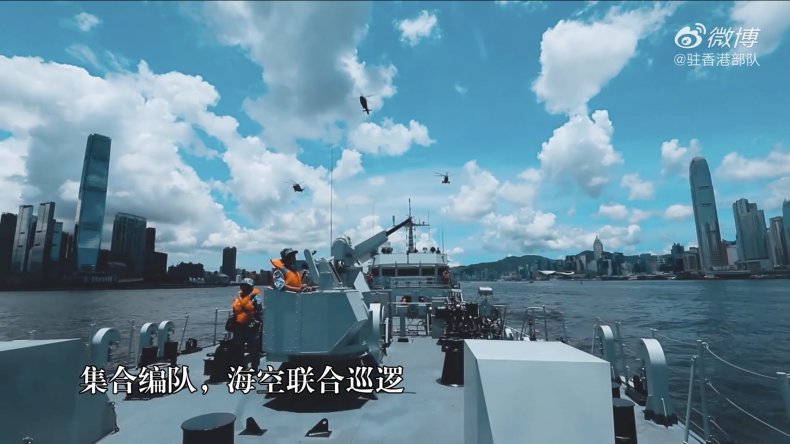 In Beijing, China's Hong Kong Liason Office also issued a message of support, vowing that "after the storm, the foundation of 'one country' will be more consolidated, the benefits of 'two systems' will be more prominent, and the prospects for Hong Kong's development will be broader."
The concept of "one country, two systems" has been applied to Hong Kong since the former United Kingdom colony was returned to mainland rule in 1997. Since then, however, critics at home and abroad accuse the ruling Chinese Communist Party of attempting to consolidate full power over the special administrative region, resulting in sometimes violent protests that have shaken the city.
President Donald Trump's administration announced late last month that Washington would no longer consider Hong Kong as autonomous from China and would begin to roll back trade, travel and security privileges afforded to the territory under U.S. law in response to Chinese lawmakers moving forward with the legislation. On Monday, the State Department and Pentagon announced the end of controlled U.S.-origin defense equipment and sensitive controlled dual-use technologies exports to Hong Kong.
"If Beijing now treats Hong Kong as 'One Country, One System,' so must we," Secretary of State Mike Pompeo tweeted.
Pompeo had announced Friday new visa restrictions for Chinese Communist Party officials "who are believed to be responsible for, or complicit in, undermining Hong Kong's high degree of autonomy, as guaranteed in the 1984 Sino-British Joint Declaration, or undermining human rights and fundamental freedoms in Hong Kong."
Chinese officials view these moves as part of a concerted, foreign effort to amplify subversion in Hong Kong and have vowed to fight back. Chinese Foreign Ministry spokesperson Zhao Lijian announced on Monday retaliatory visa restrictions for U.S. citizens engaging in "egregious conduct relating to Hong Kong."
Zhao told reporters Tuesday that the issue of the new national security law "is China's internal affair and no foreign country has any right to interfere."
"The Chinese government is determined in safeguarding national sovereignty, security and development interests, in implementing the 'one country, two systems' policy, and in opposing external forces' interference in Hong Kong affairs," he added. "Intimidation does not work on China. The U.S. wants to wield the so-called sanctions to obstruct China's legislation process to safeguard national security in Hong Kong. Such attempts will never succeed."
He also warned of "necessary retaliatory measures to resolutely safeguard its national interests" in response to further U.S. sanctions viewed as harmful to China.
In remarks sent to Newsweek by Beijing's embassy in Washington, the Chinese Foreign Ministry said the law "will only target very few criminals"—those engaged in activities related to secession, subversion of central authority, terrorist activities and collusion with foreign or external forces to endanger national security—"but protect the vast majority of Hong Kong people."
"Its implementation will strengthen Hong Kong's legal framework, ensure social order, improve business environment, and benefit Hong Kong citizens and international investors," the statement added. "We have every confidence in the bright prospects of Hong Kong."