China Military Holds 'Record-Breaking' Drill in Tibet Amid Heightened Tensions
The Chinese military recently held "record-breaking" drills in Tibet amid heightened regional tensions with India, as the South Asian nation begins conducting military drills with the U.S.
China's and India's militaries have had a series of skirmishes and confrontations since mid-2020 over their shared border—including in disputed areas of the Tibet Autonomous Region. The recent Chinese drills in Tibet included simulated battle operations that involved coordination between different types of military troops, India's Hindustan Times reported on Thursday. China's Ministry of Defense said more than 100 military tactical exercises have been conducted this year, with substantially higher levels of ammunition than previous maneuvers.
The drills were reportedly held at high altitudes, exceeding 12,000 feet above sea level. Col. Ren Guoqiang, a spokesperson for China's Defense Ministry said the drills—dubbed the "Peak of the Snowy Region 202"—were record-breaking in their scope. They included combat training, as well as training troops to use science and technology and high-altitude fighting.
"A composite brigade of the Tibet military region joined hands with the Army Aviation Force to launch a three-dimensional assault, starting a normalized joint exercise and training," the China's People's Liberation Army Daily said in a report about the drills.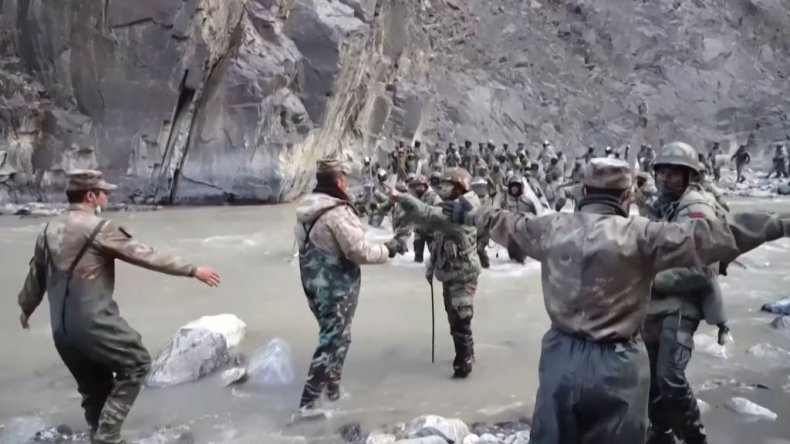 Meanwhile, as tensions remain heightened with China, India is conducting military drills with the U.S. The Indian Air Force and the Indian Navy are participating in joint exercises with the U.S. Seventh Fleet in the Indian Ocean, India's The Tribune reported on Thursday. The U.S.-India drills involve a nuclear-powered aircraft carrier, maritime surveillance aircraft, a variety of fighter jets, destroyers and frigates.
Last June, the Chinese and Indian militaries had a high profile confrontation far up in the Himalayas, which became the deadliest border clash between the two Asian nations in several decades. China has acknowledged losing four soldiers in the clash, while India lost 20 soldiers. Both sides blamed each other in the wake of the battle, alleging the other had encroached on the Line of Actual Control dividing the border in that region.
The Chinese Foreign Ministry said on Wednesday it was deploying additional troops to the border area along the Line of Actual Control. It blamed India for its decision, alleging that the South Asian nation's policies were responsible for heightened tensions.
"For quite some time the Indian side has been increasing its military along the border and encroaching upon the Chinese territory. This is the root cause of the tense situation along the borders," China's Foreign Ministry spokesperson Zhao Lijian said. "We advocate that we should address the boundary issue through peaceful negotiations, and we don't think that the border issue should be linked up to our bilateral ties."
Newsweek reached out to the Chinese Ministry of Defense for further comment but did not immediately receive a response.