Pakistan Cares About the Rights of All Muslims—Except Those Oppressed by its Ally, China | Opinion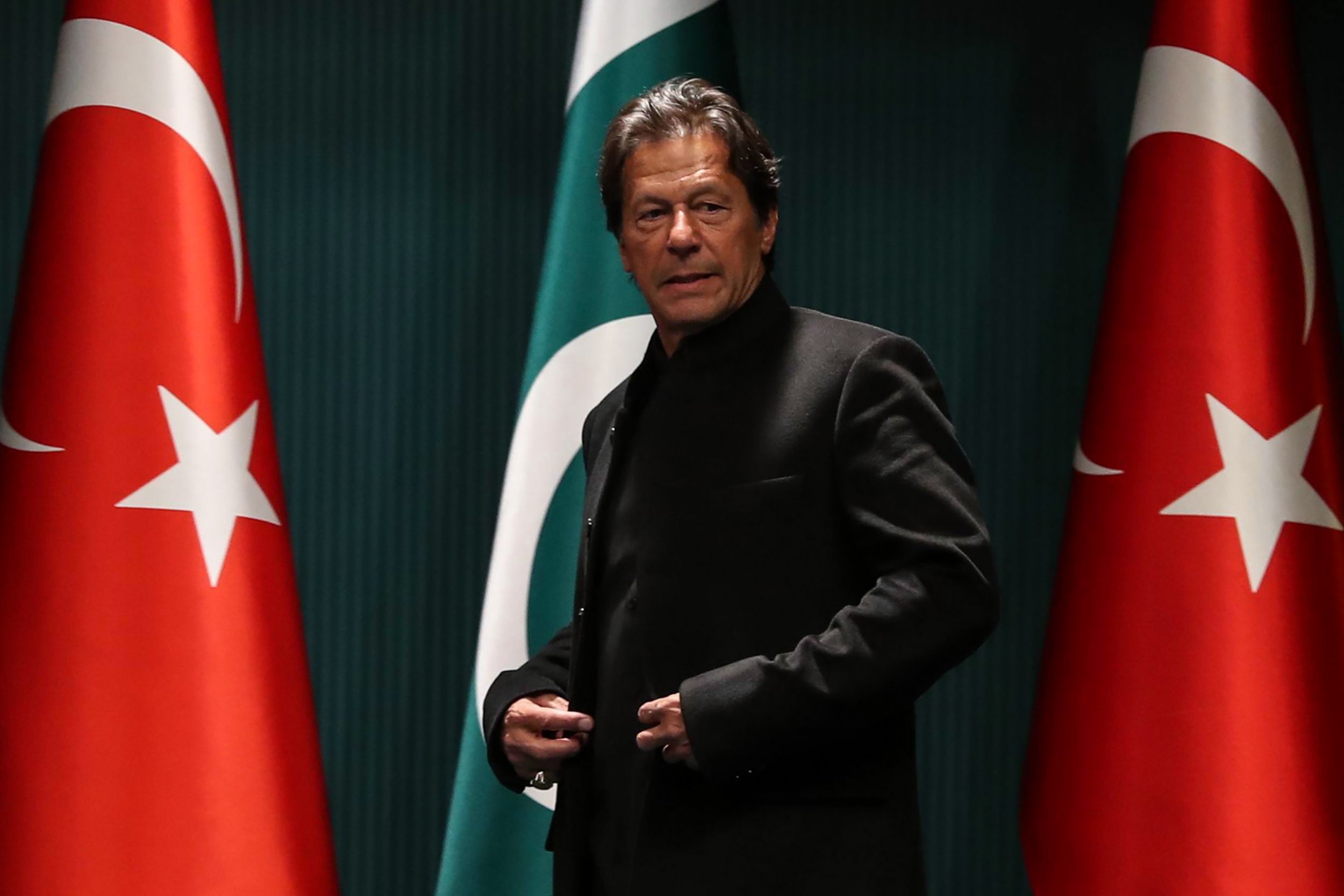 Pakistan's prime minister, Imran Khan, has repeatedly spoken out for the rights of Muslims. Following the Christchurch attack in New Zealand, he said on Twitter that he blamed "these increasing terror attacks on the current Islamophobia post-9/11 where Islam & 1.3 bn Muslims have collectively been blamed for any act of terror by a Muslim." He said his government would grant citizenship rights to Afghan refugees.
While still in the political opposition in 2017, he wrote to the United Nations secretary-general condemning the "hypocrisy" of the international community in failing to protect the rights of Rohingya Muslims in Myanmar. He has repeatedly criticized human rights violations by Indian security forces against Kashmiris and committed Pakistan's support on their behalf.
Which is why it was so extraordinary that when asked about the Chinese government's abusive treatment of the Muslim Uyghurs in Xinjiang in northwest China, Imran Khan stumbled and said, "Frankly, I don't know much about that," explaining that the issue was "not so much in the papers."
Perhaps he demurred from criticizing China because for Pakistan, on the brink of an economic crisis, Beijing's support "has been a breath of fresh air," as he himself put it to Turkish broadcaster TRT earlier this year. Perhaps he had not read it in the papers because, as US academic Muhammad Hamid Zaman discovered, articles on this issue are rejected by Pakistan media.
Or perhaps he really doesn't know. If Khan or his advisers read any number of reports about Xinjiang from international media and human rights groups in the past year, they would learn that Chinese authorities have enforced longstanding restrictions on peaceful religious practice in Xinjiang, where Muslims are forbidden long beards, veils, or anything deemed "extremist" attire. Since late 2016, the Uyghurs and other Turkic Muslim minorities have been required to attend political indoctrination meetings, their movement has been restricted, and neighbors have been encouraged to spy on each other.
Chinese authorities in Xinjiang engage in mass surveillance and gather personal data—including their DNA—for social control, confiscate prayer mats and copies of the Quran, and ban even mundane expressions of ethnicity and religion such as the greeting, "As-salaam alaikum." The authorities have stepped up mass arbitrary detention, indefinitely detaining without charge an estimated one million people in "political education" camps.
The Chinese government says it must eliminate terrorist threats by "eradicating ideological viruses" of some "incorrect" Islamic beliefs and non-Chinese identities. Here, again, is an example of that same practice Imran Khan had flagged after Christchurch: the collective punishment of an entire Muslim community.
Pakistan is a key part of China's ambitious One Belt, One Road Initiative. It has relied on Chinese support when India seeks action against militant groups based in Pakistan. China has used pressure and warnings against governments that criticize its poor human rights record, including by curtailing bilateral relationships, to stifle international criticism.
Thus it's not hard to understand why Imran Khan claimed ignorance when asked about the Uyghurs. Or the fact that even as the United Nations high commissioner for human rights, Michelle Bachelet, called for "full access to carry out an independent assessment" in Xinjiang, Pakistan praised China at the UN Human Rights Council for "providing care to its Muslim citizens."
It was equally problematic that during the council's high-level segment, Pakistan's human rights minister, Shireen Mazari, expressed concern at "the plight of human rights of Muslims in Europe," noting that Pakistan is "concerned about the rights of Muslims to practice their religion freely," while not even mentioning China's sweeping repression of Muslims.
Choosing to be selective when speaking out on rights makes all criticism look political, rather than principled. Imran Khan is right to speak out against the oppression of Kashmiris, Rohingyas, and other Muslims. But then he should not abandon those principles and ignore the abuses against Xinjiang's Muslims by China.
Maya Wang is a senior China researcher at Human Rights Watch.
The views expressed in this article are the author's own.​​​​​