China Names 3 Most 'Dangerous Trends' of Taiwan Tensions With U.S.
China's top diplomat has identified what he believed to be the three biggest risk factors in the severe uptick in tensions that has emerged across the Taiwan Strait in the wake of U.S. House Speaker Nancy Pelosi's visit last week to the disputed island of Taiwan.
The Chinese Foreign Ministry published a report Wednesday outlining "three dangerous trends" regarding the Taiwan issue as cited by Foreign Minister Wang Yi during his recent contacts with counterparts in Mongolia, Nepal and South Korea.
"The first is to be alert to the fact that the United States is unwilling to fail," Wang said, "and has gathered some partners to add fuel to the fire, increase regional military deployment, promote the further escalation of the situation, and attempt to create new and greater crises.
"The second," according to Wang, "is to be alert to the misjudgment of the situation by the 'Taiwan independence' forces, to continue to intensify internal and external collusion, and to go further and further along the road of splitting the country and the nation."
And "the third" trend Wang pointed out "is to be wary of politicians in some countries who ignore right and wrong, follow the trend and hype, and even try to take the opportunity to follow suit, perform political performances, and seek political self-interest.
"This will seriously undermine the political foundation for engagement with China," he warned, "and severely impact the UN Charter and the post-World War II international system."
A week after Pelosi left Taiwan, the shockwaves of her controversial trip, the first for a House leader in 25 years, were still rippling throughout the region.
People's Liberation Army Eastern Theater Command spokesperson Senior Colonel Shi Yi announced Wednesday that the series of Chinese live-fire exercises surrounding Taiwan in response to Pelosi's trip had "successfully completed various tasks.
"The theater troops will keep an eye on changes in the situation in the Taiwan Strait, continue to conduct military training and preparations, regularly organize combat readiness patrols in the Taiwan Strait, and resolutely defend national sovereignty and territorial integrity," Shi said.
Hours earlier, China's Taiwan Affairs Office and State Council released a new "white paper" detailing Beijing's policy toward Taiwan, a self-ruling island backed by the U.S. but claimed by China. "The Taiwan Question and China's Reunification in the New Era" marked the first new strategy of its kind in 22 years and the first under President Xi Jinping, who rose to power in 2013.
The document reiterated China's commitment to "work with the greatest sincerity and exert our utmost efforts to achieve peaceful reunification" but also asserted that China will not renounce the use of force," even if this "would be the last resort taken under compelling circumstances."
The report echoed past Chinese allegations that Taiwan's ruling Democratic Progress Party was to blame for having instigated "cross-strait tensions, endangered peace and stability in the Taiwan Strait, and undermined the prospects and squeezed the space for peaceful reunification."
And despite the report also restating accusations that the U.S. was "using Taiwan to contain China and obstruct China's reunification" by expanding political contacts and military aid to the island, the paper concluded that reunification was closer than ever.
"Never before have we been so close to, confident in and capable of achieving the goal of national rejuvenation. The same is true when it comes to our goal of complete national reunification," said the document, which once more links Taiwan to China's vision of national glory.
Taiwan's Defense Ministry, which held its own series of live-fire exercises in response to China's, said Wednesday it "will adjust how we deploy our forces considering multiple factors including troop morale and threats, without letting our guard down" in response to the People's Liberation Army ending its show of force.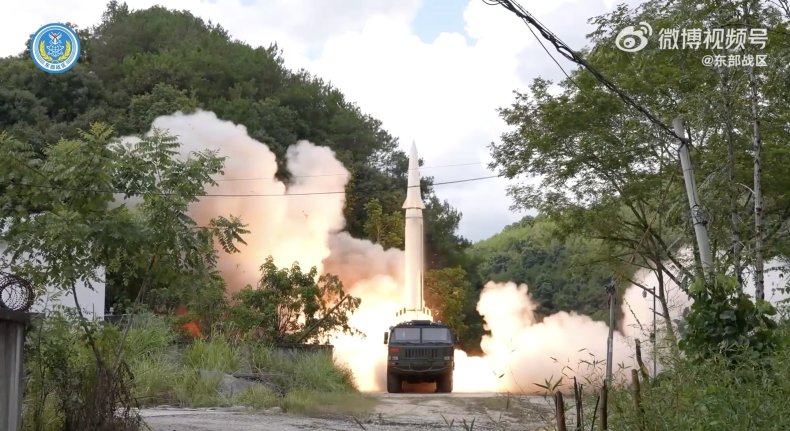 Washington, meanwhile, remained wary of the ongoing tensions. The White House did not endorse Pelosi's travel but has stood by the House leader, defending her visit as routine and no deviation from the long-standing "One China policy" adopted by the U.S. when it severed formal relations with Taiwan, which calls itself the Republic of China (ROC), in favor of establishing diplomatic ties with the Communist-led People's Republic of China (PRC) in 1979.
"It was her right to go," White House Press Secretary Karine Jean-Pierre told reporters Tuesday. "There was precedence for this. As we know, Newt Gingrich, when he was speaker, went a generation ago. And again, it does not change our policy, our One China policy. It does not change any of that."
Under Secretary of Defense for Policy Colin Kahl offered a similar assessment the previous day, and he maintained that Washington would pursue escalatory steps in response to Beijing's actions.
"Clearly the PRC is trying to coerce Taiwan, clearly they're trying to coerce the international community, and all I'll say is we're not going to take the bait and it's not going to work," Kahl said. "So it's a manufactured crisis. That doesn't mean we have to play into that. I think it would only play to Beijing's advantage."