China Censors Own National Anthem As COVID Lockdown Grievances Continue
Internet censors in China are working overtime to clamp down on signs of social unrest over Beijing's policy of stringent lockdowns, culminating in censorship of the Chinese national anthem this week.
"Arise, ye who refuse to be slaves," the famous first words of "March of the Volunteers," trended briefly over the weekend as residents of Shanghai and other major cities used it to protest the poor implementation of the country's public health measures.
Shanghai, home to 25 million, is in its fourth week of lockdown as part of the central government's unrelenting "zero-COVID" policy to rid society of virus transmission. Residents have been confined to their apartments, leaving only to receive regular PCR tests. Those who return positive results are hauled off to centralized quarantine, regardless of whether they're displaying any symptoms.
But locking down China's financial hub and the world's busiest shipping port has come with enormous social and economic costs. Residents have complained of a shortage of basic supplies; others have clashed with health workers over the city's inflexible testing and isolation regime.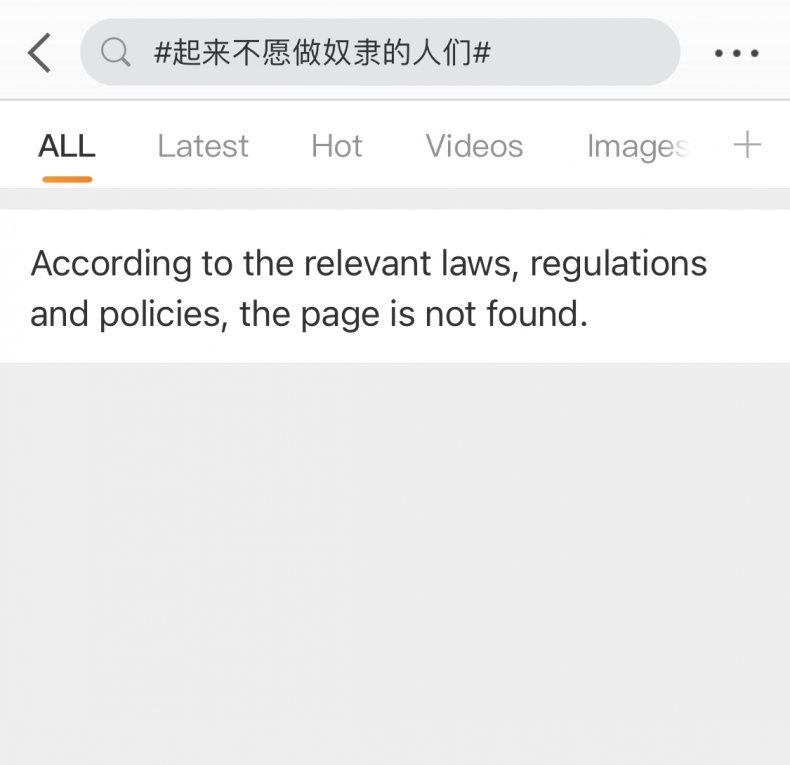 When citizens piggybacked the Chinese national anthem for an otherwise benign and ironic online demonstration on Weibo, the country's Twitter-like social media website, regulators intervened to shut it down, disabling a hashtag containing the opening line.
A search for the words still returned the following system message at the time of publication: "According to the relevant laws, regulations and policies, the page is not found."
When searching without enclosed hashtags, Weibo returned posts belonging to verified government and state-affiliated media accounts, the content unrelated to the current COVID outbreak in Shanghai. The lack of a working hashtag means the website's more than 570 million active monthly users are unable to effectively mobilize debate around a single topic.
Users of other platforms, including the Reddit-like, content review-focused service Douban, also had posts deleted when they included the first line of the Chinese national anthem, which was last banned during the decade-long Cultural Revolution, led by the late Chinese Communist Party leader Mao Zedong.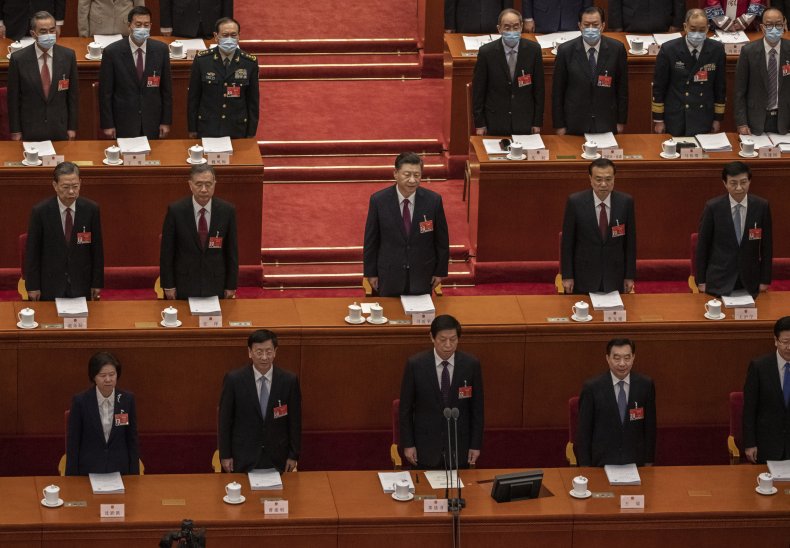 Internet censorship in the form of hashtag manipulation is hardly new; it's been an effective tool for narrative control for years, shaping how the Chinese public discusses topics favorable—and unfavorable—to the state. Throughout Russia's invasion of Ukraine, China's media has only been allowed to use officially sanctioned, often pro-Russia, hashtags when joining trends to boost posts.
As a result, Chinese netizens have always had to be creative when discussing taboo subjects, from the personal life of its leaders to the Tiananmen Square massacre. Now, as Weibo suppresses dissent about Shanghai and lockdowns, new posts are being deleted by the hour.
These included one that read: "How does the first line of the national anthem go again?" It received tens of thousands of likes before it was removed.
Other scrubbed content related to commenters who used past hashtags created to ridicule the United States. These former trending topics—once employed liberally by the Foreign Ministry—were repurposed for ironic criticism of the Chinese government instead.
Shanghai's citywide lockdown is among Beijing's toughest tests this year, but it intends to see it through to the end, a senior health official revealed this week. But frustrations and social grievances continue as more than 300,000 accumulated cases in the past month resulted in only 10 officially reported deaths and 21 people requiring hospital care.
Partial lockdowns have since restarted in the city of Xi'an, while similar measures have been brought to the industrial city of Tangshan, and the coastal provinces of Jiangsu and Guangzhou.
On Monday, Shanghai Daily reported local residents risk fines and even imprisonment if they refuse to take part in regular COVID testing during lockdown. According to social media accounts, some have refused to leave their apartments, believing that it increases their chance of contracting the virus and therefore the probability of forced quarantine at a government facility.
In another case, a picture of a written notice circulated on social media dissuaded Shanghai residents from posting about their lockdown experiences, lest they infringe laws against misinformation and rumors.