Will China Be NATO's Next Challenge? Alliance Eyes Beijing's Rise While Mired in Infighting
While President Donald Trump was busy brawling with allies at the NATO leaders meeting in London earlier this month, the alliance quietly took a historic step.
For the first time ever, NATO recognized China in its end-of-meeting declaration, describing the rising power as a "challenge" and acknowledging the need for a unified approach to it. The vague statement did not garner as much attention as the president's squabbles, but represents a significant symbolic step towards what could be a sea change in the Cold War-era alliance's purview.
While containing Russia still dominates NATO discussions and strategic decisions, the bloc's scope has broadened over its 70 years of existence. Its 29 member states work together to combat global terrorism, support ongoing security operations in countries like Afghanistan and Iraq, consider responses to the looming climate emergency, and pivot to face new state threats.
There has been much talk as to whether NATO is still fit for purpose. President Donald Trump has called the alliance "obsolete" and questioned its founding principle of collective defense, while French President Emmanuel Macron said diverging internal priorities have left NATO in a state of "brain death."
The rise of China
Many of the discussions at this month's NATO events in London were casting around for a clear raison d'être, a cause around which the alliance could regroup and navigate an increasingly multipolar world.
China looms increasingly large for Western leaders. Beijing is striking out on its own, using its economic clout to legitimize and spread its authoritarian political model. The Belt and Road initiative—coupled with so-called "debt diplomacy"—have established Chinese firms all over the world, securing footholds in key strategic locations and ownership of vital infrastructure.
In Europe, China has already arrived. Beijing-backed companies have financed the expansion of the port of Piraeus in Greece near the capital Athens and is pushing ahead with a plan for a liquid natural gas terminal in Cyprus. Beijing is also investing in road and railway connections across the Balkans, including in North Macedonia, Serbia, Montenegro and Bosnia-Herzegovina.
Ivo Daalder—a former U.S. permanent representative to NATO—explained to Newsweek, "The issue isn't whether NATO should go to East Asia—the issue is that China is in Europe."
Russia still poses a challenge—anyone suggesting otherwise need only look Moscow's invasion of Georgia and Ukraine, the murder of dissidents in London, or the Kremlin's meddling in the 2016 U.S. elections and across Europe.
Julianne Smith, a former national security adviser to Vice President Joe Biden, told Newsweek it is premature to talk about a post-Russia NATO. "This is not an alliance looking for more to do," she explained. "It still has to focus on its core mission of enhanced deterrence in central and eastern Europe."
But for all its saber rattling and efforts to destabilize its rivals, Russia is no Soviet Union. Though a significant power, it is not able to challenge U.S. hegemony on the global stage.
China is a different matter. Russia is a declining—if still militarily potent—force, supported by a mineral-reliant economy of about the same size of South Korea's. But China is a superpower in waiting, on the up and striving to realize the promise of the so-called "Chinese century."
Capitalism and the internet has not pushed China into the arms of the so-called liberal international order. Rather, the Communist Party in Beijing adopted economic practices that made it rich and technological advances that made its authoritarian rule more fearsome.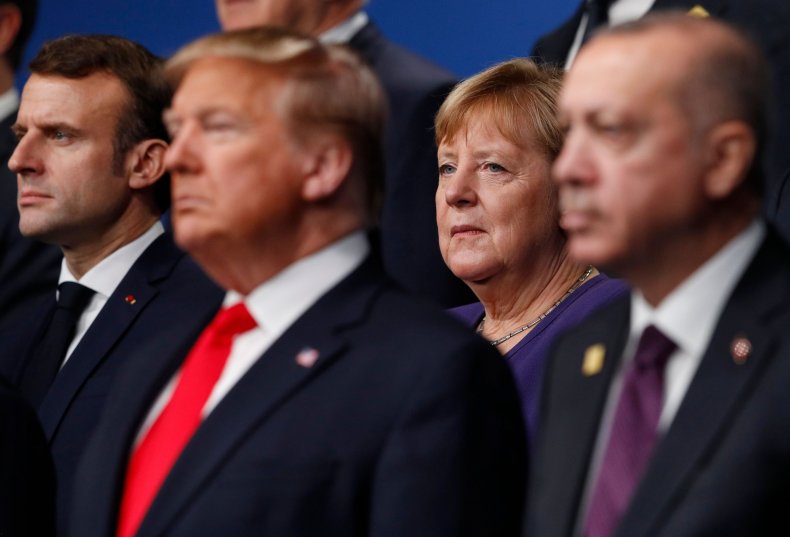 The most populous nation in the world is protected by the second largest military budget on the planet, one that has been growing steadily in recent decades. But it is China's commercial power and technological prowess rather than its military might that is causing disquiet across NATO.
"For the first time, we addressed the rise of China, both the challenges and the opportunities it poses and the implications for our security," NATO Secretary-General Jens Stoltenberg told reporters after alliance leaders met in London.
Multiple former diplomats told Newsweek that the London declaration is merely a starting point for NATO's China strategy, with the alliance still split on how, where and when to respond to Beijing's growing influence.
China's engagement in Europe "inevitably raises questions for the alliance," Daalder said.
He noted that the Chinese challenge is very different to the Russian. Beijing is expanding its control of vital infrastructure and communications networks across Europe, with the permission of governments keen on the financial boon Beijing can offer, especially in smaller and poorer nations.
NATO is arguably a little late to the party. Three of the four former diplomats interviewed for this article said NATO has been characteristically slow to meet the China challenge, the complexity of which makes it difficult to agree a unified approach.
Only in recent years have European nations come to see China as more than an economic entity, Daalder suggested. Some nations, especially in central and eastern Europe, still see China "as a source of finance, not as a large significant geopolitical factor," he explained.
NATO may have recognized the challenge, but it remains a long way from a unified response.
"There are growing differences that the alliance will have to confront" on China, Daalder said. The U.S. might be taking a more hawkish line, but countries on the eastern and southern edges of Europe—including major western powers like Spain and Italy—still see Beijing primarily as a lucrative economic partner.
America's hardening attitude
Chinese influence has forced a NATO debate over the development of 5G networks, for example. The U.S. saw Chinese control of such vital infrastructure as an unacceptable security threat, and tried—with mixed success—to strongarm its European allies to stand against it, displaying more disunity.
American threats to suspend intelligence sharing with allies that allowed China to establish their 5G networks were "not very helpful," said Fabrice Pothier, a former NATO director of policy planning. Nonetheless, he said the push has forced NATO to take the issue seriously—even if the U.S. has since softened its approach.
Pothier also suggested NATO's recent acknowledgment of the Chinese challenge might in fact be an effort to placate Trump's America, which is pushing a tougher line on Beijing than many of his allies. He described the memo as "a bit of red meat" for the White House as NATO tries to maintain unity.
The infographic below, provided by Statista, shows the estimated military spending of NATo countries in 2019.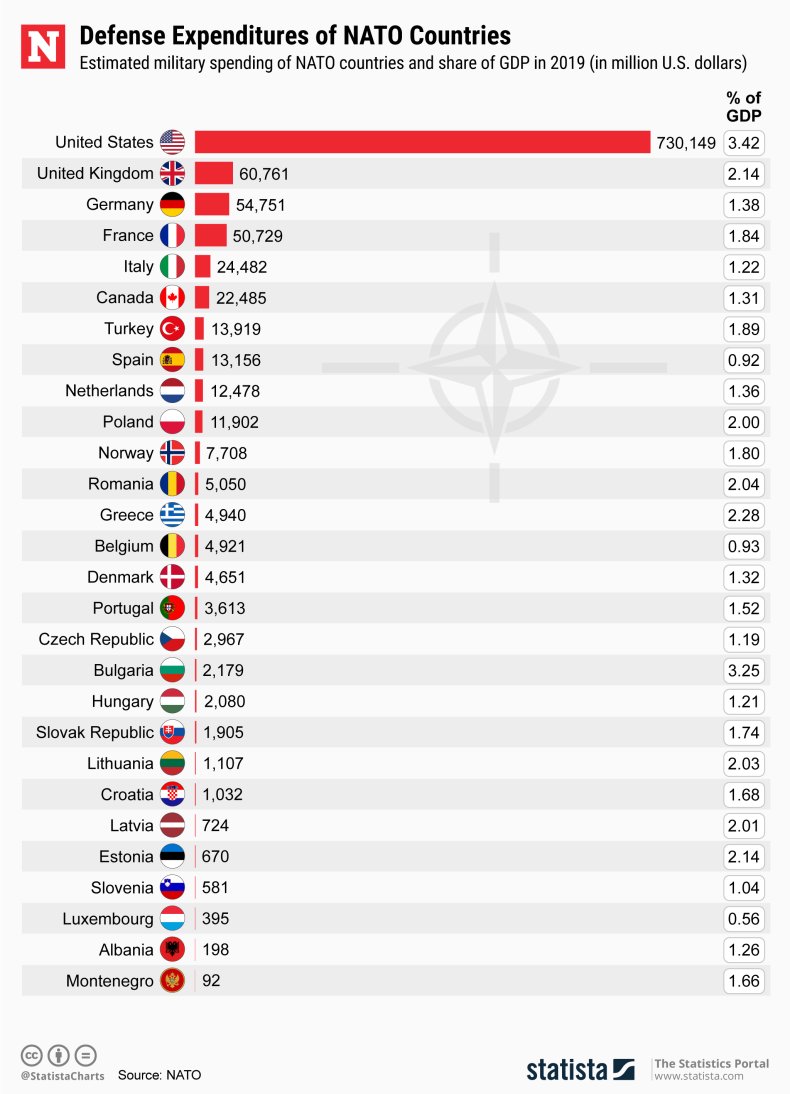 Trump has overseen America's hardening attitude towards China, but the challenge posed by Beijing existed before his presidency and could grow more prominent after he has left office. U.S. lawmakers and their NATO partners will be forced to face up to an energized China, regardless of how distasteful or ineffective they considered Trump's Beijing strategy.
China's technological sway is a particularly potent piece of the puzzle. Beijing's communications technology is already presenting a challenge, but Daalder suggested its work in artificial intelligence, quantum computing and robotics will all have "huge implications" for NATO defense. "The Chinese are players in a way that they never were, five, 10, 15, 20 years ago," he explained.
The alliance isn't united on China, Smith said, "which is why it's important for NATO to start talking about the challenge. Portugal and Greece look at China much more favorably than say, Germany and France. We have to close this divide and help countries understand what China is doing."
Whichever way allies fall on China, with investment comes political influence. Americans became acutely aware of this during the corporate free speech debate over protests in Hong Kong, which engulfed the NBA and several other U.S. companies.
Ultimately, Chinese investment and subsequent control of physical and communication infrastructure makes it harder for NATO to maintain its unified defensive shield.
Smith warned Chinese investment could "weaken Europe's unity and resolve in the face of a crisis" and erode the liberal democratic values that form the cornerstone of NATO. The alliance "needs to at least begin a conversation about China," she added.
And at a practical level, Daalder asked, "How do you fight a war in the Mediterranean when the ports that you might want to visit are not only built by but owned by Chinese?"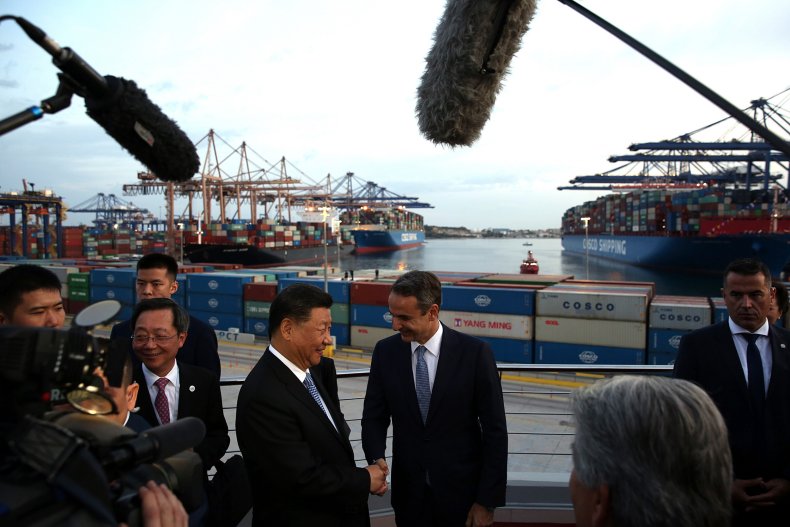 Former U.S. Ambassador to China Max Baucus explained to Newsweek that China, like Russia, "will exploit vulnerabilities," making it vital for the NATO nations to stand together. A unified NATO increases the likelihood of unifying "commercially, with respect to China," Baucus added.
Any suggestion that NATO will begin paying closer attention to China will not be welcome in Beijing, Baucus added, noting former premier Deng Xiaoping's preference to "divide and hide" on the world stage.
Until President Xi Jinping came to power, the Communist Party was content to stay relatively quiet on the world stage. But even now, "China likes to keep a low profile in everything it does," Baucus said. "President Xi doesn't send out tweets."
A different approach?
NATO leaders have made no secret of the alliance's need to evolve. Russia, terrorism, climate change, the Arctic and China will all be part of the bloc's future strategy, as NATO pivots to face modern challenges, some of which its founders could never have imagined.
But NATO and China need not become adversaries. Stoltenberg told reporters in London that the "rise of China provides great economic opportunities," while Macron said the alliance's goal is not to designate nations like China enemies.
Pothier said the alliance does not have to "treat China as a threat." Both Daalder and Baucus said they feared that China and the West would "decouple" technologically, economically and politically, brewing a new Cold War.
This, Maryland Senator Chris Van Hollen told Newsweek, would be "a big mistake." Van Hollen has been involved in efforts to establish greater oversight of Chinese companies operating in the U.S. and fortify restrictions on Huawei.
"We need to recognise that China's global economic and security strategy does clash in many places with NATO's interests and Western values of freedom, and democracy, and free markets," Van Hollen added. "I do think it's very important that NATO really begin that discussion."
While Europe may be the initial focus, NATO could move closer to Asian democracies keen to see China restrained regionally, including Japan, South Korea, India and Australia. Pothier said a "quality step forward" would be to engage more with such nations, going beyond the "superficial" annual bilateral meetings NATO officials currently attend.
"You need to talk and to engage on a more systematic basis with those were really on the forefront" of the China challenge, Pothier explained.
China is not the Soviet Union—the challenge is far more nuanced. "We are far more militarily integrated, we live in a far more globalized and interdependent world," Daalder noted. "Their challenge is not primarily militarily though it is that too."
"As a result, we have to compete and deal with it in a very different way," he added. NATO nations will now have to consider whether to approach the Chinese challenge with a common strategy or in a more piecemeal fashion, Daalder said.
"You can take the declaration as one indication that at least rhetorically, the answer is. 'Let's try to figure this out together."
From the American perspective, "We can't address many of the challenges associated with China's rise on our own," Smith said. "This isn't just a bilateral issue. We need friends and allies to counter what China is doing."