China's Xi Jinping Will Reportedly Give Kim Jong Un 100,000 Tons of Food to Feed Hungry North Koreans
Chinese President Xi Jinping may be offering up to 100,000 tons of food in humanitarian aid to North Korean supreme leader Kim Jong Un ahead of a historic visit later this week.
Both Chinese and North Korea state-run media announced Xi's state visit—the first of its kind since their predecessors met in Pyongyang in 2005—on Monday. As speculation mounted about what may come out of the fourth meeting between the two men, South Korea's Yonhap News Agency wrote Tuesday that news reports have suggested the 100,000 tons figure as a gesture to shore up relations.
The move would also come as North Korea faced a drought brought on by what ruling Korean Workers' Party Central Committee official newspaper Rodong Sinmun described last month as the country's lowest rainfall in a century. On Friday, the official Korean Central News Agency reported that "Drought has been persisting in some areas" of the country.
North Korea has long been subject to strict international sanctions, especially from the U.S., largely due to its nuclear weapons program, but China has been viewed as an economic lifeline for the reclusive, militarized state. At a time when both Xi and Kim faced tough talks with the U.S., China may be looking to secure closer ties with its neighbor.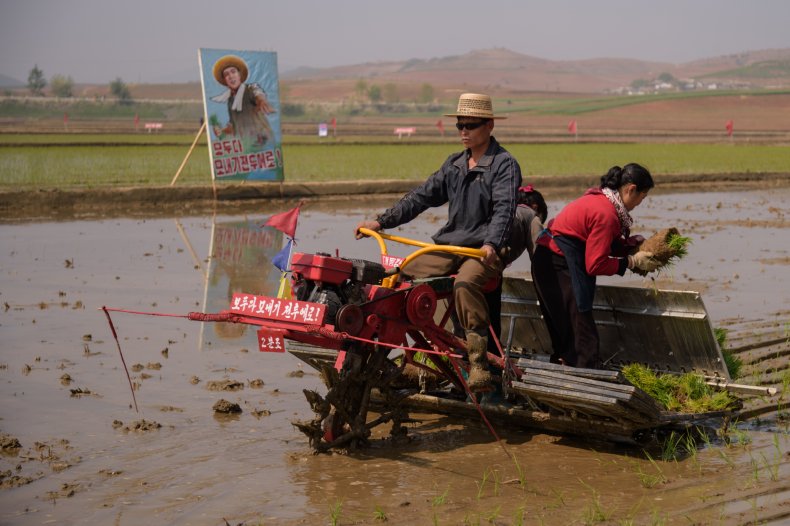 A joint assessment last month by the United Nations' World Food Programme and Food and Agriculture Organization found that "around 10 million North Koreans are suffering food shortages after [the] worst harvest in a decade." A U.N. news report added: "Crop failures due to dry spells, heatwaves and flooding during the growing season, mean that those affected do not have enough food to see them through to the next harvest."
Non-resident fellow Benjamin Katzeff Silberstein wrote for the Stimson Center's 38 North project that "There should be little doubt that North Korea's food situation is bad, but it does not appear to be catastrophic"—noting difficulties in ascertaining accurate food production numbers in the country. Still, South Korea has already pledged up to $8 million in food aid to its northern neighbor and Russia was reportedly considering sending up to 50,000 tons of wheat across the border.
These international offers came at a time when Kim was engaged in one of his country's most intense diplomatic campaigns in years. After his first meeting with Xi early last year in Beijing, the North Korean ruler went on to meet the Chinese president three more times and had an additional three meetings with South Korean President Moon Jae-in. Kim also became the first in his position to meet a sitting U.S. leader when he sat down with President Donald Trump last year in Singapore. A second round of top-level talks followed February in Vietnam.
While the two men have continued to praise one another's efforts to secure a landmark denuclearization-for-peace deal, they have so far been unable to produce any formal agreements. Kim's latest state visit was to Moscow, where he held his first meeting with Russian President Vladimir Putin, who has joined Xi in calling for a "double freeze" framework by which North Korea would pause nuclear and missile tests in exchange for a suspension of U.S.-South Korean drills.
While Xi and Putin were united in opposition to Kim Jong Un's nuclear activities, they have also called on Trump to lessen sanctions on North Korea in order to advance talks. The Trump administration did pause some joint military exercises last year, but has publicly refused any concessions short of Pyongyang's "complete, verifiable and irreversible denuclearization."
Beijing and Moscow themselves have been targeted by the Trump administration's economic policies, which have laid out tariffs on billions of dollars worth of Chinese goods and blacklisted a number of Russian state and business entities. As China and Russia continued to boost their own bilateral relations, they too have found it increasingly difficult to find common ground in establishing dialogues with the U.S.