China Would Join Forces With North Korea if U.S. Launches Pre-Emptive Strike
China will remain neutral if North Korea fires missiles at United States territory first, but should the U.S. launch a pre-emptive strike, as it has suggested it might, North Korea's chief ally would come to the North's aide. While not direct government policy, that verdict of how the country should react amid the unfolding nuclear threats from the U.S. and North Korea is contained in an editorial in the influential Communist Party–run Global Times newspaper Friday.
Related: Trump is still not backing down from nuclear threats against North Korea
"China should also make clear that if North Korea launches missiles that threaten U.S. soil first and the U.S. retaliates, China will stay neutral," read the editorial. "If the U.S. and South Korea carry out strikes and try to overthrow the North Korean regime and change the political pattern of the Korean Peninsula, China will prevent them from doing so."
It went on: "China opposes both nuclear proliferation and war in the Korean Peninsula. It will not encourage any side to stir up military conflict, and will firmly resist any side which wants to change the status quo of the areas where China's interests are concerned."
The piece stated that the government was "not able to persuade Washington or Pyongyang to back down at this time."
President Donald Trump has repeatedly called for China to do more to rein in North Korea, which last month conducted two tests of intercontinental ballistic missiles that it said could strike the U.S. Tensions escalated further this week when Trump threatened to unleash "fire and fury" on North Korea.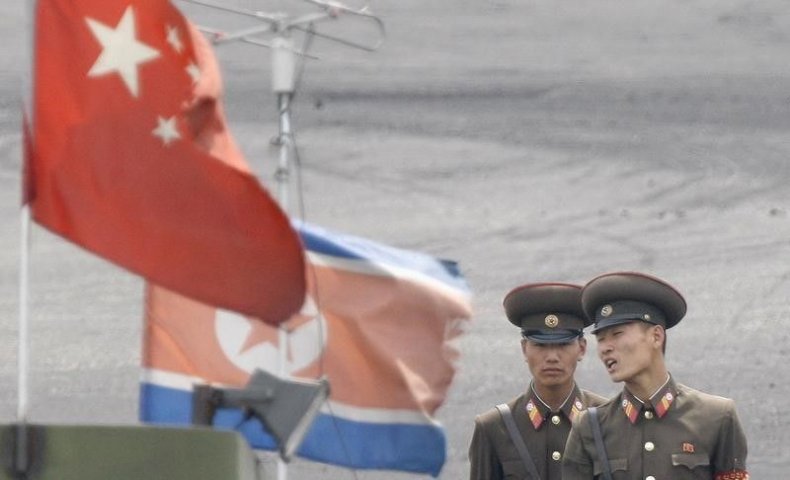 Despite those comments being met with criticism as inflaming an already fraught situation, he has since doubled down, stating from his vacation at a golf club in Bedminster, New Jersey, Thursday that "maybe it wasn't tough enough."
He continued his heated tone Friday morning on his Twitter feed.
"Military solutions are now fully in place, locked and loaded, should North Korea act unwisely. Hopefully Kim Jong Un will find another path!" he wrote.
North Korea has responded to those threats with some of its own. On Thursday, state media said that a plan to fire four missiles near the U.S. Pacific territory of Guam would be ready within days.
The relationship between China and North Korea has become strained in recent years, but there remains plenty to tie them together. For one, China has a strong interest in preventing Kim Jong Un's regime being overthrown and losing a key buffer to U.S. interests on its border. There is also the matter of a mutual defense pact signed in 1961, which means that, in the event of North Korea being attacked, China would be legally obliged to "immediately render military and other assistance by all means at its disposal."