China's 'One Country, Two Systems' Strategy Has Been Proven 'a Flat-out Lie,' Taiwanese Diplomat Says
Taiwan's elections rounded off a turbulent year for the Chinese Communist Party. China's growing influence in the world has brought with it more scrutiny, whether on malign trade practices, human rights abuses in the territories it controls, or its slowing economic growth.
Beijing's authoritarian system has galvanized pro-democracy forces in Hong Kong and Taiwan. While Hong Kong is already under Chinese control as part of its "one country, two systems" approach, Taipei remains independent—much to Beijing's frustration.
Chinese officials maintain that Taiwan—left independent after communist forces took control of the mainland in the country's civil war—is a wayward province that will be returned to the fold under the Communist Party's rule, whether by diplomatic or military means.
Taiwan—officially called the Republic of China—held its presidential election earlier this month, with voters delivering a clear rejection of closer ties with Beijing. President Tsai Ing-wen—the leader of the anti-reunification Democratic Progressive Party—was re-elected with around 57 percent of the vote. The Kuomintang party, in favor of eventual reunification with Beijing, took 38 percent.
In her first post-election interview, Tsai told the BBC that Taiwan is already "an independent country" and need not declare itself separate from China—a step that would provoke fury in Beijing.
"We have a separate identity and we're a country of our own," Tsai said. "We deserve respect from China."
Chinese Foreign Minister Wang Yi offered a scathing appraisal of the vote, warning, "Those who split the country will be doomed to leave a stink for 10,000 years," a phrase used in China meaning to "become infamous," Reuters reported.
Wang said Beijing's "One China" policy "won't alter a bit because of a local election on Taiwan, and will not be shaken because of the wrong words and actions of certain Western politicians," referring to U.S. Secretary of State Mike Pompeo who had congratulated Tsai.
Days after the election, Newsweek spoke with diplomat Stanley Kao—head of the Taipei Economic and Cultural Representative Office in Washington, D.C. and Taiwan's top representative in the U.S.
He echoed Tsai's remarks and said the Taiwanese people have rejected the idea of Chinese reunification. Kao also called on the U.S. to maintain its historic support for Washington's independence in the face of an increasingly assertive Chinese regime.
What should Beijing take from the presidential election result?
On January 11 2020, Taiwanese citizens once again exercised their political rights. With the support of a record 8.17 million voters, Dr. Tsai Ing-wen was re-elected as president for the next four years, and the Democratic Progressive Party remains the majority in the parliament.
Through the elections, Taiwan has proudly demonstrated to the world its strong commitment to universal values and that the island republic has been and will always be a beacon of democracy in the Asia-Pacific and beyond.
China should engage in serious reflection about the Taiwan people's expectations as expressed by the election results. Through these elections, the Taiwanese citizens, who dislike being threatened or undermined all the time, are sending a loud and clear message. With a successful democratic system and a decent economy, we deserve respect from China.
As President Tsai pronounced in her acceptance speech, "peace, parity, democracy, and dialogue are the key to positive cross-Strait interactions and long-term stable development." We sincerely hope that the Beijing authorities face the reality and choose the right path for peaceful and constructive cross-Strait relations.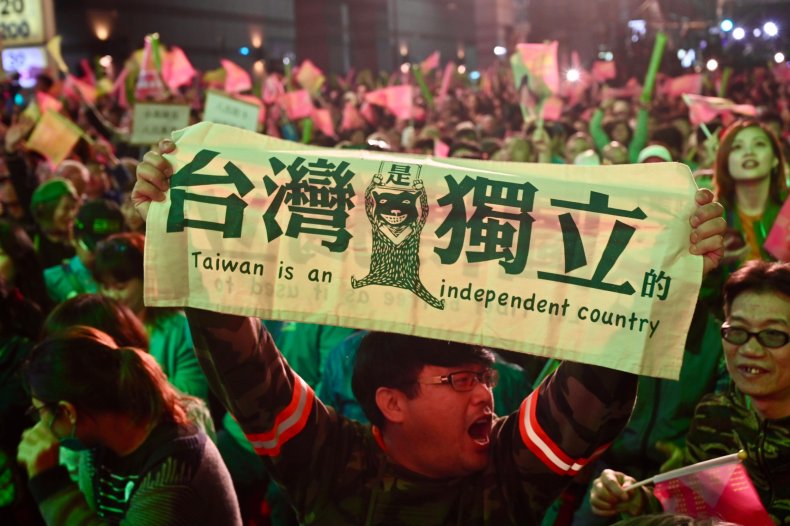 Is Taiwan drifting further from China's goal of reunification?
Over the past three and half years, our government has been firm on our bottom line regarding Taiwan's sovereignty and security, but we have also been willing to maintain healthy exchanges with China.
Beijing's proposal of a "One Country, Two Systems" model for Taiwan is utterly unacceptable. In the face of China's unmasked intention and creeping behavior to unilaterally change the cross-Strait status quo, Taiwan has had no choice but to continue consolidating our mechanisms for democracy and establishing sufficient defense capabilities.
Despite China's constant diplomatic pressure and military muscle-flexing, we stay undaunted, vigilant and at the same time have maintained a non-provocative, non-adventurist attitude to prevent serious conflict from breaking out in the Taiwan Strait.
What is your reaction to the reports of Chinese meddling in the election?
Taiwan's vibrant democratic practices are a stark contrast to Beijing's ruthless one-party rule and oppression. This explains why the Chinese Communist Party (CCP) has been intensifying its efforts to meddle in Taiwan's political process through diplomatic suppression, disinformation, infiltration and economic coercion. Taiwan learned a lesson from the 2018 local elections, in which fake news and malicious rumors influenced the perception of voters in Taiwan.
In order to strengthen our mechanisms for democracy, we not only established a system to boost our ability to clarify disinformation, but also amended a number of laws to hold those accountable if they are distributing fake news or manufacturing fake news. Moreover, in order to increase transparency in our political process, we recently enacted the Anti-Infiltration Act in January 2020.
Also, Taiwan's democratic achievement puts a different kind of pressure on China. It is an obvious challenge to the CCP leadership and a beacon of hope for the oppressed people in Hong Kong and Xinjiang, as well as millions of underground Christians under Beijing's brutal, autocratic control.
How much of an impact do you think Chinese policy in Hong Kong and Xinjiang made in this election?
Hong Kong's experience under the "One Country, Two Systems" model has shown the world that authoritarianism and democracy cannot coexist. The so-called "One Country, Two Systems," the allegedly magic formula promised and practiced in Hong Kong, has been proven wrong, a total failure, and a flat-out lie. It will never be an option for Taiwan.
We are very concerned about the erosion of freedom and democracy in Hong Kong. The massive street protests in Hong Kong have not only made the Taiwanese cherish their existing democratic system and way of life even more, but also have made it clear to them that the "One Country, Two Systems" model is not viable.
At this moment, it is even more significant for a "Beacon Taiwan" and a "Vision Taiwan" to keep staying its course, walking tall, and upholding our sovereignty, security and dignity.
The January 11 elections showed that, when facing and pushing back the authoritarian Orwellian nonsense and bullying from Beijing on the frontline, the 23 million hardworking men and women on this island stand strong as an unmistakable and impeccable democratic partner in the Indo-Pacific region.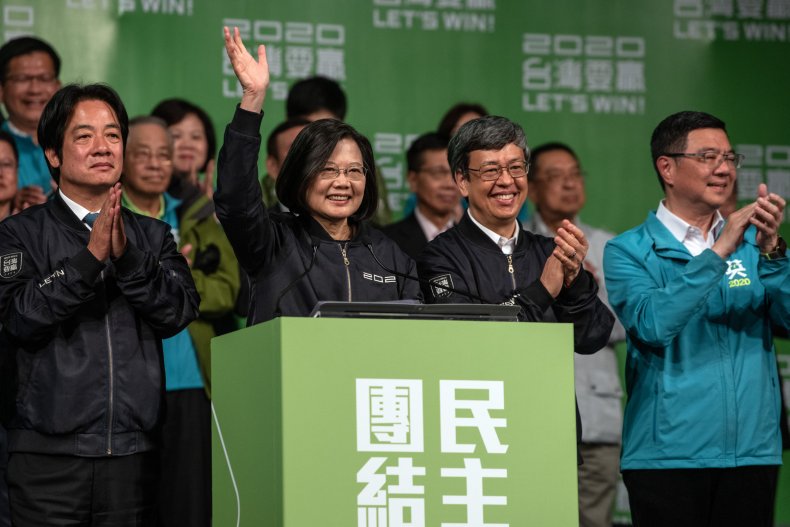 China has been pressuring nations to drop official recognition of Taiwan—how can Taipei fight this?
Just as President Tsai pointed out in the interview with the BBC on January 14, "this is the time for us to think about this situation—the people's expectations, the changes in international politics, and also the potential regional tensions. So "cross-Strait" is no longer cross-Strait relations per se. It's part of the regional situation. So it's a much more complicated situation now."
Over the past few years, China has blatantly used financial and political pressure to squeeze Taiwan's international space. We have responded with the sternest condemnation as not only a threat to Taiwan, but also a brazen challenge and detriment to the international order. For decades, Taiwan's attitude towards its diplomatic allies has been one of genuine friendship. We spare no effort and engage our allies with respect and sincerity.
However, Taiwan will not engage in dollar diplomacy or "debt trap" diplomacy for official recognition. Instead, we will continue to actively collaborate with both diplomatic allies and like-minded partners based on shared values and mutual interests.
Taiwan should be given a fair opportunity to meaningfully participate in international affairs and punch above its weight to contribute in one way or another. Rest assured that Taiwan can help.
Is the U.S. doing enough to support Taiwan?
It is by the overwhelmingly bi-partisan support and unwavering commitment of the American people, Congress and the U.S. government that Taiwan can be the democracy as it is today and remains as a vital partner of the U.S. in addressing common challenges and threats.
Like-minded partners, including the U.S., should not shy away from expressing their support for our flourishing democracy and economic prosperity. One concrete sign of American resolve would be the attendance of a cabinet-level official at the inauguration of Taiwan's freely elected leaders this year.
An equally important step would be to boost strategic and economic cooperation through the early negotiation of a bilateral trade agreement. A strong and enduring U.S.-Taiwan partnership will be a concrete assurance of a free and open Indo-Pacific.
Do you expect this election result to prompt more Chinese military activity in the Taiwan Strait?
We urge China to respect the election results and the will and determination of the Taiwanese citizens.
It is our firm belief that only under the principle of "peace, parity, democracy, and dialogue" can the cross-Strait relations be improved, much like President Tsai stated in the BBC interview that "You cannot exclude the possibility of a war at any time. But the thing is you have to get yourself prepared and develop the ability to defend yourself."
Therefore, we are not going to be provocative whatsoever in our relationship with China, but we have to equip ourselves with sufficient defense capabilities to deter any sort of aggression or hostile military actions. That is our priority.
Taiwan is an indispensable member and key stakeholder of the international community. As Vice President Mike Pence noted in his speech at the Wilson Center last October, "The international community must never forget that its engagement with Taiwan does not threaten the peace; it protects the peace on Taiwan and throughout the region."
Secretary of State Mike Pompeo tweeted his congratulatory message to President Tsai, reaffirming Taiwan's robust democratic system and developing a strong U.S.-Taiwan partnership. We could not agree with them more!