Chinese Prisoners Are Still Being Killed for Their Organs, Tribunal Finds
Prisoners in China are still being killed for their organs, an independent tribunal concluded Monday.
Detained members of the Falun Gong spiritual movement are "probably [the] principal source of organs for forced organ harvesting," Sir Geoffrey Nice, who chaired the China Tribunal, told reporters in London Monday, according to The Guardian.
The country has long been accused of donating prisoners' organs without consent. China announced it would stop taking organs from executed prisoners in 2014, as The Guardian noted.
But Nice, a British barrister, said there was "no evidence" the practice had come to an end.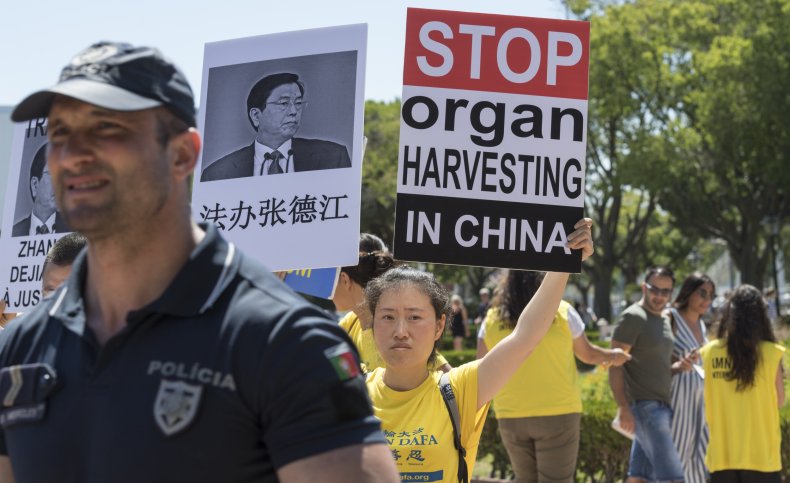 Apparently booming rates of organ transplantation—including for transplant tourism—suggest the country is using "a larger supply of organs than could be sourced from executed criminals alone," the tribunal website previously noted.
"Based on multiple sources of information, it has been alleged that prisoners of conscience have been killed 'to order' for the purposes of extracting and using their organs for profitable transplantation surgery," it continued.
The tribunal, which held hearings in December 2018 and April of this year, examined evidence from medical experts, investigative journalists, Falun Gong experts and human rights activists, according to its website. It aimed to assess "criminal liability" for the alleged practice.
Members of the Falun Gong spiritual movement have been imprisoned since 1999, The Guardian noted. Branded a "heretical organization" by the ruling Communist Party, members of the group have been detained, allegedly tortured and, in some cases, imprisoned in psychiatric hospitals, according to a 2000 Amnesty International report.
Previously imprisoned Falun Gong activist Jennifer Zeng told The Guardian she was subjected to several extensive "physical check-ups" during her year at a labor camp, including X-rays and blood tests.
She told the tribunal she now suspects this testing may have been part of a selection process. She said: "When anyone disappeared from the camp, I would assume that she was released and had gone home."
She continued: "But in reality that cannot be confirmed, as I had no way to trace others after my release and I now fear they might have been taken to a hospital and had their organs removed without consent and thus killed in the process."
Imprisoned members of other groups, such as Tibetans, some Christian sects and Uighur Muslims, are suspected of having their organs removed by force, as The Wall Street Journal previously noted.
But the tribunal found there is less evidence about their treatment than that of Falun Gong members, according to The Guardian.
A 2016 report by former Canadian lawmaker David Kilgour, human rights lawyer David Matas and journalist Ethan Gutmann estimated between 60,000 and 100,000 transplants were taking place annually in Chinese hospitals. This is far higher than the figures reported by the Chinese officials. Kilgour, Matas and Gutmann gave evidence for the China Tribunal in April.
The tribunal estimated up to 90,000 transplantations may be taking place each year, The Guardian reported.
In 2016, state newspaper China Daily reported the country had become the "number one" Asian nation for voluntary organ donations. It cited 2,766 voluntary donations in 2015, with some 7,758 large organs acquired that year. "Citizen donation," it added, was "the only legitimate" supply channel.
Nice told said Monday: "The [tribunal] conclusion shows that very many people have died indescribably hideous deaths for no reason, that more may suffer in similar ways and that all of us live on a planet where extreme wickedness may be found in the power of those, for the time being, running a country with one of the oldest civilizations known to modern man."