Vice President Pence Threatens to Hold China 'Accountable' for Reported Concealment of COVID-19 Information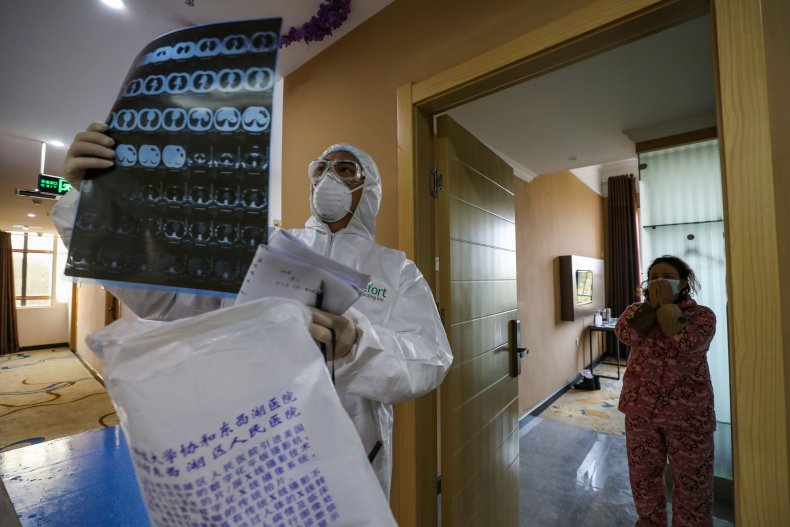 In a satellite radio interview on Saturday, Vice President Mike Pence issued a threat to China over its handling of the coronavirus, saying the country "will be held accountable" for reported attempts to conceal information about the COVID-19 outbreak.
"China let the world down," Pence told the conservative channel Breitbart News Saturday, which is hosted on the SiriusXM network. "I mean, it's remarkable to think China didn't even let American CDC personnel in on the ground until mid-February to find out what was going on."
The vice president further accused the World Health Organization of being China's "willing partner" in its reported concealment of COVID-19 information.
In a statement to Newsweek about Pence's accusation, the WHO responded: "WHO works with 194 member states to promote health, China and the U.S. among them, to keep the world safe and serve the vulnerable. WHO's work with China is identical to its work with any other member state. Moreover, its work with governments across the globe is science-based, with the aim of tackling disease outbreaks. WHO coordinates the international COVID-19 response in a transparent way and publishes on its website guidance, recommendations, reports and any other information that can help countries and individuals."
The organization further added: "WHO will initiate an independent evaluation at the earliest appropriate moment to review experience gained and lessons learned, and to make recommendations to improve national and global pandemic preparedness and response. We call on all nations to invest in strengthening and implementing the many tools at our disposal – especially the International Health Regulations. To be successful, we must all commit to mutual ownership and accountability. WHO is committed to constantly refining its actions. WHO undertakes internal operational reviews during emergencies, to course correct during the response, and after-action reviews to capture and build on lessons learnt during emergency responses."
The Chinese Embassy in Washington did not return Newsweek's requests for comment before publication.
Newsweek has previously reported on a Central Intelligence Agency assessment finding that earlier this year China threatened to cut off WHO's access to the country for its coronavirus investigation if the organization declared a global health emergency.
Saturday's comments are the latest in a string of retaliatory measures either proposed or threatened by U.S. officials.
Republican Senator Josh Hawley introduced legislation in April that would strip China of much of the civil immunity it receives under the Foreign Sovereign Immunities Act, which protects foreign governments from most U.S. lawsuits, such as those seeking accountability for the COVID-19 pandemic.
In justifying the legislation, Hawley said at the time "there is overwhelming evidence that the Chinese Communist Party's lies, deceit, and incompetence caused COVID-19 to transform from a local disease outbreak into a global pandemic."
Other prominent lawmakers have spoken out against China's handling of the crisis, such as Republican Senator Marco Rubio, now the chairman of the Intelligence Committee, who said China's "failure" to be transparent "has cost the lives of people around the world."
Bipartisan legislation has been introduced to reduce reliance on Chinese supply chains for critical goods, such as pharmaceuticals, amid the confluence of COVID-19 with a host of other longstanding economic concerns.
In recent weeks, President Donald Trump's evident frustrations with China have appeared to boil over. In mid-May, the president threatened to "cut off the whole relationship" with China, complaining about the nature of global supply chains amid a worldwide pandemic.
How the administration intends on pursuing its multi-lateral grievances—trade, human rights, public health—with China in a unified manner remains unclear. But it is continuing to make discrete moves that have served to antagonize the country.
Over the past two weeks, the Department of Commerce has moved to block access to U.S. goods and services for Chinese entities, including the telecommunications giant Huawei, a key element of China's foreign business portfolio.
On Friday, the department added 24 Chinese firms to its Entity List, forbidding U.S. exporters from doing business with the companies in the absence of special authorization. China has, in its own right, threatened to retaliate against prominent U.S. corporations, such as Apple, in response to the administration's restrictions.
Updated May 24, 2020, 8:47 a.m. ET, to include a statement from the World Health Organization.