Mike Pence Speech About U.S. Ties With Beijing Was Delayed Due To White House 'Chaos' Says Chinese Government Paper
A state-run newspaper in China has delivered a damning critique of the White House administration's approach to Beijing and questioned the point of an upcoming speech about ties between the countries due to be delivered by Vice President Mike Pence.
The Chinese government-controlled Global Times also accused the administration of President Donald Trump of not respecting Beijing's "One China" policy and Washington of demonstrating "chaotic politics" towards China, Europe and the Middle East.
Pence is due to give the speech for the Wilson Center at the Conrad Hotel in Washington on Thursday, in his second major foreign policy address about China which had initially been scheduled for June, according to Reuters.
Headlined, "Pence's delayed speech reflects White House chaos," the opinion piece said that the rescheduled speech "reflects the internal disorder of the Trump administration."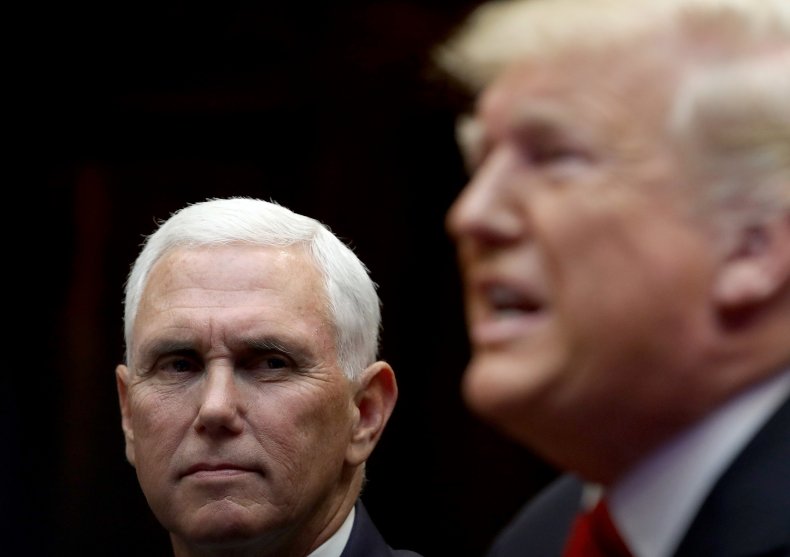 "To deliver the speech, or not, that is the question for Pence and, essentially, for Trump's administration. In recent days, and even recent months, Pence might have been thinking about what he should say," the op-ed said.
"Even though Pence doesn't want to sell old wine in a new bottle, the Trump administration is not able to produce new wine for him to peddle."
The piece then questioned the point of making such a speech, concluding that one aim would be to "distract public opinion" on the decision to withdraw troops from northern Syria, which has allowed incursions by Turkish forces.
"Since U.S. President Donald Trump took office, his administration has been challenging the consensus reached between China and the U.S., for instance, violated one-China principle to pass the so-called Taipei Act on September 25.
"Trump doesn't have a stable policy toward China as his so-called stance against China is in service of his political purpose, which is re-election now. Due to the chaotic politics of the U.S., the Trump administration's policies on China, on Europe and on the Middle East are all disordered," the piece said.
Earlier in October, Trump announced a partial trade deal in which he said would ease a trade war with Beijing.
Under the terms he announced, China would agree to purchase between $40 billion and $50 billion worth of agricultural products, in exchange for the U.S. not increasing tariffs of $250 billion worth of Chinese goods.
Critics say it is light on detail and does not specify a time frame.
The economist, Tim Kane, who once served on the U.S. Congress' Joint Economic Committee and is a fellow at the Washington D.C.-based Hoover Institution, told Newsweek that Trump's trade war with China could be a weakness for his re-election bid in 2020.
"I think more than any presidential re-election campaign in modern times, Trump has put all of his chips on a strong economy and if the economy weakens, his trade stance will be to blame," Kane said.
"The experts will say it, it will be true. The Democrats will say it, so he's very vulnerable on the issue and it is the one issue where he has done things wrong.
"His regulatory policies and tax are defensible in terms of stimulation but not his trade (policy)."
Kane added that the president in fact never had a "game plan" on China, saying, "Peter Navarro [Trump's trade advisor] said China would buckle immediately, there wouldn't be a real trade war."
"He was wrong. Now it's a test of wills and Trump doesn't back down from those," he told Newsweek.