Experts watching China's rapid shipbuilding endeavors may have caught the first glimpse of the country's new nuclear-powered submarine with the help of satellite images.
AllSource Analysis, a Colorado-based imagery intelligence company, said the superstructure of the as-yet unidentified vessel was visible for several days between the end of April and early May at Huludao Port in Liaoning, a province in northeast China.
Geospatial analysis of what the firm assesses was "a probable nuclear-powered fleet submarine" was under construction at a dry dock, according to a May 5 brief by analyst Chris Tomlinson, who used examined images from commercial satellite company Planet.
The submarine measures approximately 360 feet long and 32 feet across, Tomlinson found in his report. "A pair of forward control fins mounted on the vessel's sail are observed. There was little evidence of large hatches along the smooth hull casing, except for two possible escape hatches."
"At the vessel's stern there was a cruciform rudder and aft control fin arrangement, with a possibly shrouded propulsion system," he said, assessing the boat as possibly a new type of nuclear submarine.
In its annual China Military Power Report released last November, the Pentagon estimated China's People's Liberation Army Navy would likely build the Type 093B guided-missile nuclear attack submarine.
This new Shang-class variant would "enhance the PLAN's anti-surface warfare capability and could provide a clandestine land-attack option if equipped with land-attack cruise missiles," the report said.
Clear images of submarines in dry dock are seldom seen in commercial satellite imagery, but it was unclear whether the boat in question was indeed a new model or "an upgrade of an existing vessel," a Reuters report said on Tuesday.
Like Tomlinson, its report noted that parts of the submarine were shrouded by covers, making it difficult to confirm the existence of possible new vertical missile launch tubes and a new propulsion system.
Collin Koh, a maritime security analyst with the S. Rajaratnam School of International Studies in Singapore, told Reuters it was "very hard to be sure" whether the images actually showed a new class of PLAN submarine, given the limited data available.
However, Koh noted "a great deal of interest" in the new type of "hunter-killer" submarine like the Type 093B predicted by the Defense Department, the report said. The researcher suggested the new Chinese submarines could use a quieter propulsion system, too.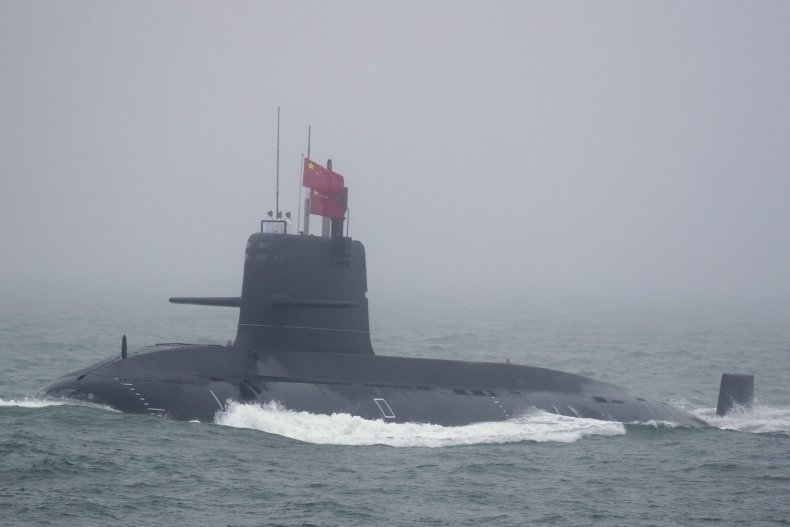 The Pentagon's report on PLA capabilities said China already had the largest navy in the world by pure numbers, fielding "an overall battle force of approximately 355 ships and submarines, including approximately more than 145 major surface combatants."
"The PLAN has placed a high priority on modernizing its submarine force, but its force structure continues to grow modestly as it works to mature its force, integrate new technologies, and expand its shipyards," the Pentagon said.
The Defense Department said China currently operates six nuclear-powered ballistic missile submarines, six nuclear-powered attack submarines and 46 diesel-powered attack submarines. "The PLAN will likely maintain between 65 and 70 submarines through the 2020s, replacing older units with more capable units on a near one-to-one basis," it said.
"New attack submarines and modern surface combatants with anti-air capabilities and fourth-generation naval aircraft entering the force are designed to achieve maritime superiority within the First Island Chain as well as to deter and counter any potential third-party intervention in a Taiwan conflict," the Pentagon concluded.