Chinese President Xi Jinping has pledged an additional $2 billion to battle the novel coronavirus over the next two years while the United States doubled down on its criticism of the World Health Organization at its annual gathering Monday.
"China will provide $2 billion over two years to help with COVID-19 response and with economic and social development in affected countries, especially developing countries," Xi said at a virtual session for the 73rd World Health Assembly.
He also said he supported a "comprehensive review" of the world's handling of the coronavirus "after it is brought under control."
Health and Human Services Secretary Alex Azar represented the U.S. in place of President Donald Trump and condemned the WHO's handling of the coronavirus outbreak.
"There was a failure by this organization to obtain the information that the world needed, and that failure cost many lives," he said.
"We saw that WHO failed at its core mission of information sharing and transparency when member states do not act in good faith," Azar added, referring to China.
Last month, the U.S. suspended funding to the United Nations agency over accusations that it was too "China-centric" in its handling of the new coronavirus. He has since continued to threaten to withhold WHO funds entirely pending a review of its performance.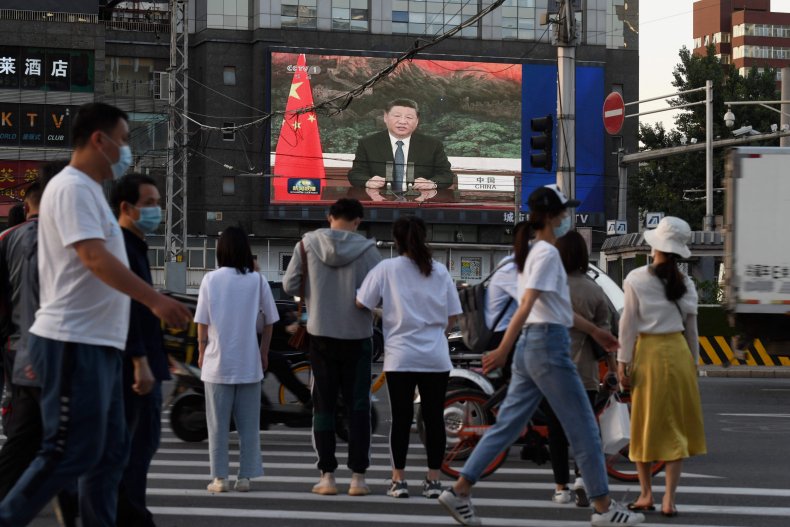 On Monday, Trump told reporters at the White House the WHO has "done a very sad job" in leading the global fight against the novel coronavirus. "They're a puppet of China," he added. "I'm not happy with the World Health Organization."
White House national security council spokesperson John Ullyot also echoed the president's sentiment, and called Xi's new pledge "a token to distract from calls from a growing number of nations demanding accountability for the Chinese government's failure to meet its obligations under International Health Regulations to tell the truth and warn the world of what was coming."
Shortly after Trump initially halted funds last month, Chinese Foreign Ministry spokesperson Hua Chunying said China had already paid $20 million in March and would contribute an additional $30 million to battle the novel coronavirus. In a statement sent to Newsweek Monday, WHO spokesperson Paul Garwood confirmed these payments but said they were "unrelated to offsetting the halt on U.S. funding."
Newsweek reported Tuesday that the Central Intelligence Agency believes China attempted to pressure the WHO against announcing a public health emergency in January, citing a report corroborated by two senior U.S. intelligence officials. WHO spokesperson Christian Lindmeier declined to discuss specific discussions with member states but said "the WHO has acted in accordance with its mandate as an evidence-based technical organization focusing on protecting all people, everywhere."
He denied any direct contacts between Xi and WHO Director-General Tedros Adhanom Ghebreyesus on January 21 as alleged in an earlier report by German newspaper Der Spiegel, citing a German intelligence report.
France and Germany, whose leaders also participated in Monday's video conference, have expressed disappointment over the U.S. decision to suspend funding for the WHO. The two countries announced on Monday a $542 billion fund to support European countries impacted by COVID-19.
The new coronavirus was first observed late last year in China's central city of Wuhan but it quickly spread across the globe. The United States has so far been the worst-hit country in the world.