China Holds Florida Woman Hostage to Target Husband
Police in China are forbidding a Florida resident from reuniting with her husband and three children in the United States, unless her spouse returns to face a probe for subversion, according to her appeal to Chinese authorities this month.
Xie Fang, 51, who has been prevented from leaving Shanghai for six months, suggested she had been taken hostage by the state because of suspicions against her husband, former bookseller Yu Miao, 50.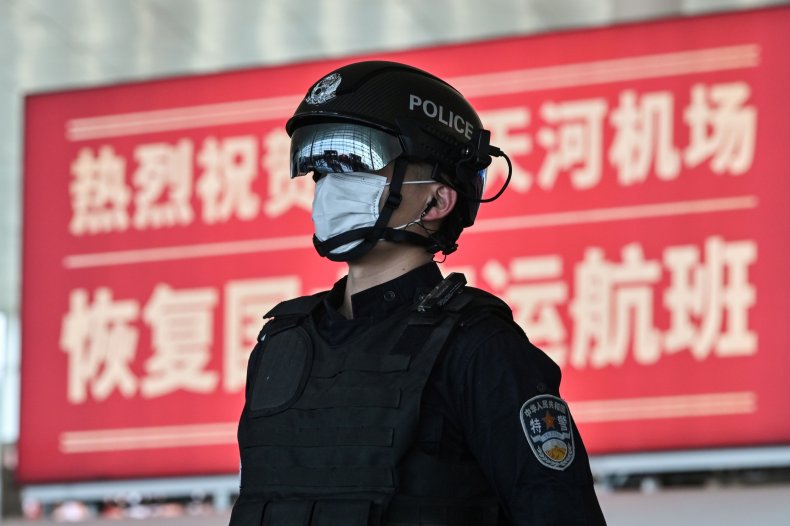 Yu was the last operator of Shanghai's independent Jifeng Bookstore, which stocked political texts and hosted lectures by liberal scholars, whose room for expression has been squeezed under the autocratic rule of Chinese leader Xi Jinping. Yu was forced to shutter the business in 2018 after local authorities refused to extend his lease.
The following year, Yu moved his family to Florida, where he now studies journalism in Orlando. He and his wife are U.S. visa holders and remain Chinese citizens, a status that complicates the Biden administration's efforts to advocate for Xie's release.
Xie is but one of innumerable American citizens or residents subject to a so-called "exit ban" in China without cause. This has become Beijing's tried-and-tested method for clamping down on suspected political dissent. Even from afar, Chinese authorities have also been known to pressure individuals through U.S.-based proxies.
In a recent letter to China's public security ministry, made public by Yu on the Chinese social-media app WeChat, Xie said she faces no charges and has cooperated with attempts by authorities to engineer her husband's return.
However, the couple have no guarantees that their 18-year-old twin daughters and 22-year-old son won't be left on their own if Yu complies and one or both parents are barred from flying back to America.
"You clearly told me: I am innocent. As long as my husband returns to China for investigation, I will be free to leave in exchange," she wrote. "Collective punishment or hostage-taking is frowned upon in modern societies."
Yu told the Associated Press that he's in daily contact with his wife on WeChat, but that the separation has been hard on their children. His decision to publish the letter has further complicated the case, his wife was told.
Newsweek was unable to reach Shanghai police for comment, while China's foreign ministry spokesperson Mao Ning told a regular news briefing in Beijing on Monday that she wasn't aware of Xie's case.
The letter, which was removed from WeChat hours after going online on January 18, gained traction among Chinese-speaking users on Twitter. A version was also retained by China Digital Times, a U.S.-based archive of items censored in China.
Xie said she traveled to Shanghai one year ago to care for her sick mother, and was later confined to the city during its weeks-long COVID-19 lockdown in spring 2022. Xie was scheduled to return to the U.S. on August 1 but was informed of her exit ban two days before the flight.
She attempted to leave anyway and was stopped by airport police, who told her she had violated a certain immigration law and "endangered national security," her letter read.
Her appeal to China's public security ministry included a request to see relevant legal documents to learn the legal basis for her de facto detention, "so I have the evidence to appeal through legal and other means."
According to Yu, Chinese police suspected his involvement in three politically sensitive online articles, which were written under pseudonym and allegedly traced to an IP address associated with him. Yu denies writing the texts and says he hasn't been politically active since leaving China.
Yu said he went to the press in the hope of highlighting his wife's predicament ahead of U.S. Secretary of State Antony Blinken's visit to Beijing in early February. America's top diplomat is expected to advocate for the release of a number of U.S. citizens or permanent residents who have been arbitrarily detained in the country.
The U.S. State Department's travel advisory for China warns of "wrongful detentions" and exit bans meant to compel individuals to comply with Chinese government investigations by pressuring family members. Beijing also seeks to "gain bargaining leverage over foreign governments" through the travel restrictions.
"In most cases, U.S. citizens only become aware of an exit ban when they attempt to depart [China], and there is no reliable mechanism or legal process to find out how long the ban might continue or to contest it in a court of law," the department said.
U.S. citizens of Chinese descent and Chinese-Americans of dual nationality, a status China doesn't recognize, "may be subject to additional scrutiny and harassment," the advisory read.
Do you have a tip on a world news story that Newsweek should be covering? Do you have a question about China? Let us know via worldnews@newsweek.com.