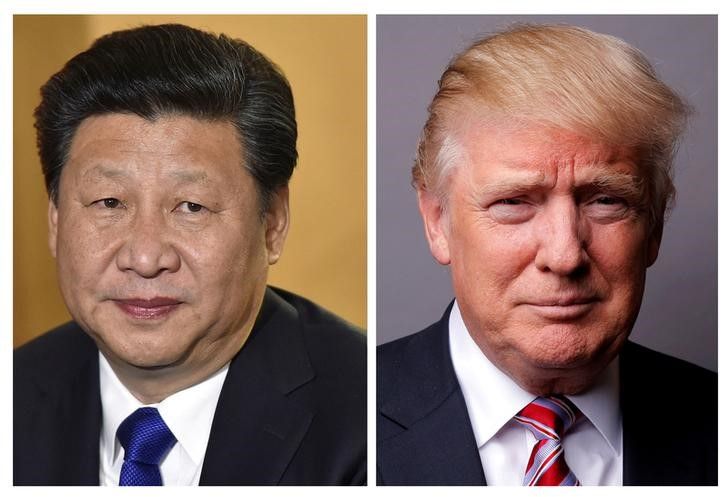 Ahead of Chinese President Xi Jinping's first face-to-face meeting with President Donald Trump, the view of China among Americans has improved substantially, a new survey has indicated. Indeed, China is now more popular than Trump in the United States.
Trump and Xi will sit down at the Republican's Mar-a-Lago resort in Florida Thursday for a meeting of the leaders of the world's two largest economies. After Trump repeatedly rallied against what he claimed were China's abuses on foreign trade during his campaign, it promises to be a somewhat frosty introduction. And the pair won't even be able to calm the tension over a round of golf, since Xi doesn't share Trump's boundless enthusiasm for the game.
But among Americans as a whole, the frosty feelings toward China would appear to be thawing. Forty-four percent of Americans now have a favorable opinion of China, up from 37 percent a year ago, a Pew Research Center survey has found. By way of comparison, Trump's approval ratings have dipped below 40 percent, with one poll putting it as low as 34 percent in recent days.
The Pew survey was conducted among 1,505 respondents in the U.S. from Feb. 16 to March 15, 2017; the margin of error was not reported.
Similarly, a smaller percentage of Americans have an unfavorable opinion of China compared to Trump. While 47 percent view China unfavorably, a poll from Investor's Business Daily/TechnoMetrica Market Intelligence (IBD/TIPP) indicated that 56 percent disapproved of the U.S. president's performance.
Much of the softening of Americans' feelings toward China would appear to be due to a reduction in concerns about trade. Forty-four percent said in the latest Pew survey that the trade deficit with China, which at $310 billion last year is by far its largest, was a very serious problem, down from 61 percent five years ago.
The Pew report theorizes that the growing relaxation on the issue may be linked to the fact that the percentage of Americans who view the U.S. economic situation as either very or somewhat good has jumped from 44 percent last year to 58 percent in 2017.
Unsurprisingly, there is a sizable split on the China issue between Democrats and Republicans. Among Democrats, 49 percent have a favorable view of China, compared to 41 percent with an unfavorable opinion. For Republicans, just 39 percent view China favorably, while 56 percent have an unfavorable reaction.
But while Trump may be losing the popularity battle with China, the Chinese leader himself isn't viewed favorably. Just 31 percent of Americans surveyed have at least some confidence in Xi to do the right thing in world affairs, compared with 60 percent who have little or no confidence.