China Praises Russia for Preventing Humanitarian Crisis in Ukraine
Chinese Foreign Minister Wang Yi praised Russia for its efforts to "prevent a large-scale humanitarian crisis" in Ukraine, saying that the relationship between China and Russia "maintained the right direction of progress" amid the war in Eastern Europe.
Wang met with Russian Foreign Minister Sergey Lavrov in Anhui province on Wednesday during Lavrov's first visit to the country since the invasion of Ukraine began last month.
In the meeting, Wang expressed to Lavrov that Moscow had Beijing's backing in its efforts to continue peace talks with Ukraine, saying the country "supports efforts made by Russia and other relevant parties to prevent a large-scale humanitarian crisis."
The relations between China and Russia have come under international scrutiny in recent weeks as China emerged as an ally at a time when the rest of the world banded together in condemning Russian President Vladimir Putin and sanctioning the Russian economy.
On Wednesday, Wang said that "China-Russia relations have withstood the new test of changing international dynamics, maintained the right direction of progress, and demonstrated a tenacious momentum for development," according to state media CGTN.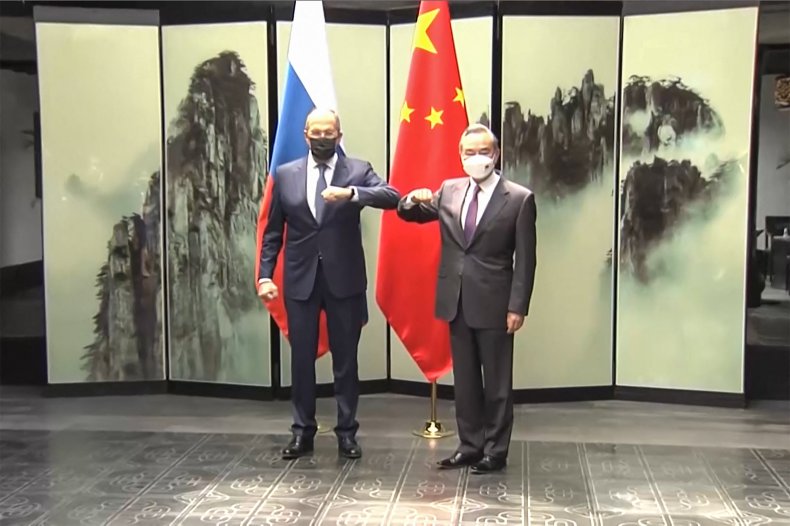 "In the long term, we should learn a lesson from the Ukraine crisis, respect all legitimate concerns in accordance with the principle of indivisible security and mutual respect, and seek long-term stability in Europe by building a balanced, effective and sustainable European security mechanism," Wang told Lavrov.
CGTN reported that Lavrov informed his Chinese counterpart that "Russia is dedicated to de-escalating the tension and will continue to hold peace talks with Ukraine and keep communication with the international community."
Although Russia has vowed to "reduce" its military operations in Ukraine, Ukrainian and American officials have cast doubt over the reality of whether Russian troops will move away from cities like Ukraine's capital of Kyiv.
Following the meeting, Russia's foreign ministry released a statement confirming that Wang and Lavrov spoke about Ukraine, as well as Afghanistan—the country which China is hosting the two days of meetings on.
Representatives from the Taliban, Pakistan, Iran, Tajikistan, Turkmenistan and Uzbekistan are also expected to attend the meeting in China.
The U.S. has cautioned China about helping Russia evade sanctions that have been imposed by NATO countries.
"We are communicating directly, privately to Beijing, that there will absolutely be consequences for large-scale sanctions evasion efforts or support to Russia to backfill them," White House national security adviser Jake Sullivan told CNN earlier this month. "We will not allow that to go forward and allow there to be a lifeline to Russia from these economic sanctions from any country, anywhere in the world."
Taiwan officials have said that China is committed to protecting Russia over fears that losing the war in Ukraine could result in the country's collapse, with Russia effectively abandoning China in its effort to present a strong front against Western countries.