China Prepares to Build Bigger Warships as First Home-Built Aircraft Carrier Begins Sea Trials
Beijing has the capability to build even larger warships, the chairman of the China Shipbuilding Industry Corporation said, as Beijing's first home-built aircraft carrier commenced sea trials.
At 6.45 a.m. (local time) on Sunday, the new 65,000 ton warship—which is yet to be named—sailed from a shipyard in northeastern Dalian amid heavy fog to launch the first test of its power and propulsion systems.
The Type 001A is said to be an upgrade to the Liaoning, Beijing's only operational carrier which went into service in 2012.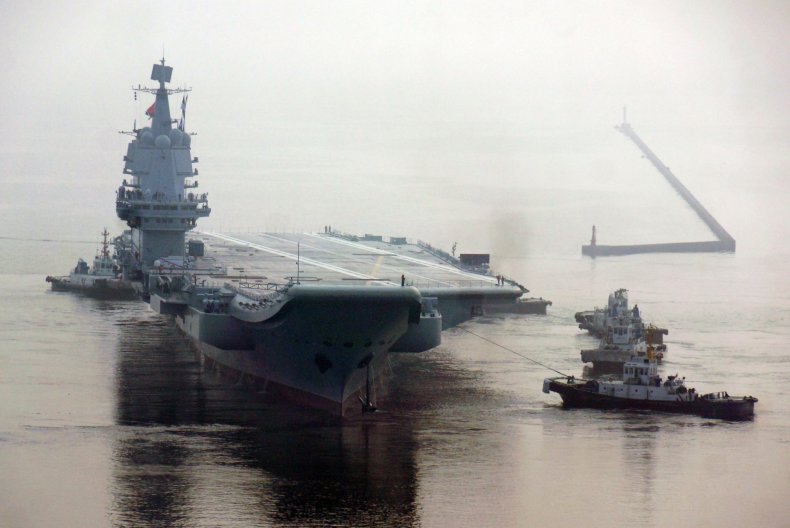 Hu Wenming, chairman of the China Shipbuilding Industry Corporation, told state-owned CCTV that the new warship was a collaboration between the defence industry and hundreds of civilian contractors and researchers. He said that the team now has the expertise to build an even larger warship.
"We have already developed a team of experts in the research, design and construction [of aircraft carriers], and their average age is just 36," he said. "In the future, if the country wants to develop any type of aircraft carrier, we have the capability to do it."
Li Jie, a Beijing-based naval expert, told South China Morning Post that he believed Beijing will construct even larger carriers in the future.
"Even though there's a gap now between the new aircraft carrier and the most advanced one in the world, China will speed up on shipbuilding and narrow the gap… we will build a large carrier in the future," Li said.
Li said that the sea trials would have likely tested the ship's basic functions, such as propulsion power, but several more tests will be carried out before military trials can commence.
According to the South China Morning Post, maritime authorities have restricted a large area of water in the Yellow Sea from between Sunday to Friday. It is believed to be where the warship is being trialled.
Although experts have claimed the new carrier will increase the mainland's military might in Asia, its technology is still relatively outdated in comparison to that brandished by the U.S.
"This is, in and of itself, not designed to be some frontal challenge to U.S. power in the Asia Pacific, because it simply isn't in the class of America's aircraft carriers," said Sam Roggeveen, senior fellow at Sydney Lowy Institute.