China Pressures U.S. to 'Take a Just Stance' Amid Calls for Israel to 'Exercise Restraint'
As the head of the United Nations Security Council, China's pressuring the United States to get on board with official calls for a cease-fire between Israel and Gaza, as it urged Israel to put an end to the violence.
The death toll in Israel and Gaza continues to rise as both sides of the escalating conflict refuse to back down. A Sunday meeting between United Nation members raised concerns that the violence could erupt into an all-out war and sparked debate about Israel's right to defend itself.
China pushed for the Security Council to call for immediate de-escalation in one unified statement. While other members were on board, the United States objected to the effort, adding tension to an already strained relationship between the U.S. and China.
"We urge the U.S. to shoulder its fair share of responsibilities, take a just stance, and work with the majority of the international community to support the Security Council in playing its due role in easing the situation, rebuilding trust and advancing political settlement," foreign ministry spokesperson Zhao Lijian said on Monday.
Newsweek reached out to the White House for comment but did not receive a response in time for publication.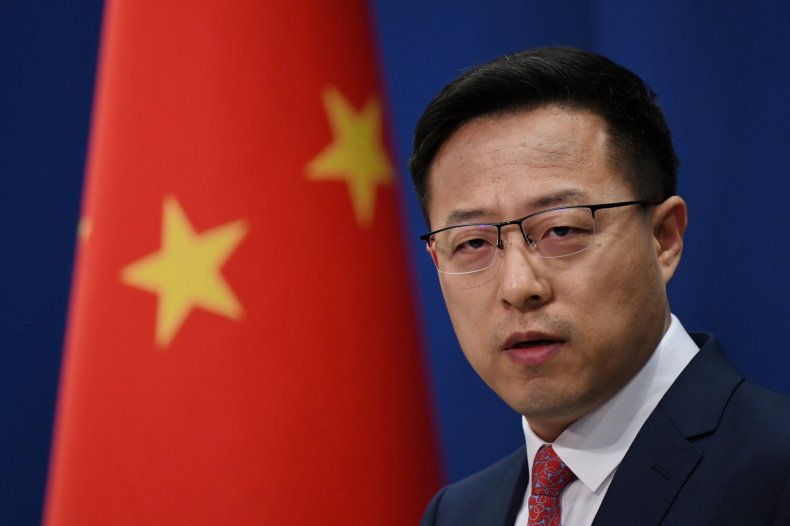 Ambassador to the United Nations Linda Thomas-Greenfield called the rising death doll "devastating" and said on Sunday the Biden administration supported a cease-fire "should the parties" seek one. President Joe Biden spoke with Israeli Prime Minister Benjamin Netanyahu and Palestinian President Mahmoud Abbas and the U.S. has sent a representative to the area to "work toward a lasting peace," according to White House press secretary Jen Psaki.
Netanyahu told John Dickerson on CBS News' Face the Nation on Sunday that countries have a "natural right of self-defense" and Israel will do "whatever it takes to restore order." Israel's targeting of a building that housed the Associated Press and Al Jazeera came under harsh criticism, but Netanyahu told Dickerson they had intelligence that Hamas had an office in the building.
At Sunday's Security Council meeting, representatives from member states acknowledged Israel's right to defend itself. However, they also argued that the power dynamic between Israel and Gaza means Israel's response needs to be proportionate.
Zhao urged Israel to "exercise restraint and stop hostilities immediately" and called for additional humanitarian aid to Gaza, sparing "no effort to avoid a humanitarian disaster."
The death toll in Gaza is higher than that in Israel, which Israel says is in part because of the Iron Dome's protection and in part because Hamas is "hiding behind civilians." This, Netanyahu said on Sunday, makes it impossible to completely avoid civilian casualties.
However, the cost the conflict has had on civilian life sparked criticism of Israel's response and Secretary of State Tony Blinken said Israel has an "extra burden" in trying to do "everything it possibly can" to prevent the deaths of civilians.
China also criticized Israel for its settlement expansion and called for it to "put an end to the violence, threats and provocations against Muslims, and maintain and respect the historical status quo of the holy sites in Jerusalem."
Netanyahu's denied Israel bears the blame and said in a televised address that those who are guilty for the conflict are those who are "attacking us."