China Pushes Back Against U.S. Blacklisting of Tech Companies, Raising Tensions Before Trade Talks
China pushed back against the U.S. government's decision to add new companies to a technology blacklist, saying that the U.S. should "stop interfering in China's internal affairs."
On Tuesday, the Commerce Department added 28 Chinese companies, government offices and security bureaus to a list that restricts named entities from conducting business with American firms. The U.S. said that the groups, which include eight businesses specializing in surveillance, artificial intelligence and facial recognition, have been linked to abuses conducted against the ethnic Uighurs.
The entities listed "have been implicated in human rights violations and abuses in the implementation of China's campaign of repression, mass arbitrary detention, and high-technology surveillance," the government said.
Washington's move raises tensions between Washington and Beijing just days before China's Vice Premier Liu He and U.S. Trade Representative Robert Lighthizer are supposed to meet in an effort to resolve the long-running trade dispute between the world's two largest economies.
"We urge the United States to immediately correct its wrong practices, withdraw the relevant decisions and stop interfering in China's internal affairs," foreign ministry spokesperson Geng Shuang said Tuesday. "China will continue to take firm and strong measures to resolutely safeguard the country's sovereignty, security and development interests."
The companies named on the list also criticized the move from the U.S.
"We believe our inclusion on the list reflects a misunderstanding of our company," Megvii, a firm that designs facial recognition software, said in a statement.
"Hikvision, as the security industry's global leader, respects human rights and takes our responsibility to protect people in the U.S. and the world seriously," the video surveillance manufacturer said. "Hikvision has been engaging with Administration officials over the past 12 months to clarify misunderstandings about the company and address their concerns."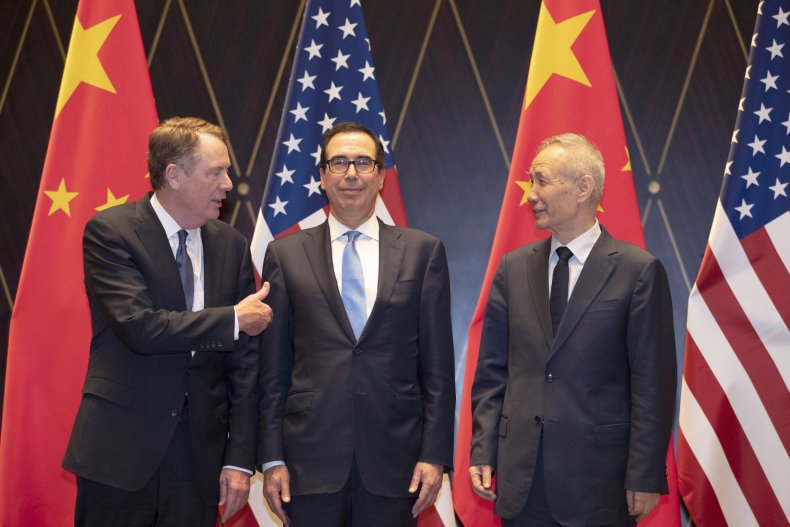 Disagreements between the U.S. and China, though perhaps most visible in the trade dispute, involve broader ideological approaches to policy. President Donald Trump has focused his ire on relationships between Chinese businesses and the government, including technology sharing that he says amounts to intellectual property theft.
The U.S. has spoken out against China's detention of ethnic Uighurs in Xinjiang province. The United Nations says that at least 1 million Uighurs and other Muslims are being held in detention centers, and Human Rights Watch has said that the country is committing violations of a "scope and scale not seen in China since the 1966-1976 Cultural Revolution."
In addition, U.S. lawmakers have voiced support for demonstrators in Hong Kong. China has accused the U.S. of fomenting the protests there.