China Pushes for Nuclear Weapons Buildup After U.S. Claims it Will Surpass Russia's Arsenal
The Global Times, a China state-run media outlet, denied its nuclear arsenal will surpass Russia's nuclear capabilities anytime soon, but advocated for continuing to develop the weapons to deter a conflict with the United States.
A top adversary of the United States, China's buildup of its nuclear arsenal raised concerns among U.S. officials. U.S. Air Force Lieutenant General Thomas Bussiere, who oversees America's arsenal, warned that China's rapid development was no longer aligned with public comments that Beijing's goal was a minimum nuclear deterrent and said in a few years, the nuclear threat presented by China could exceed that of Russia's.
Hu Xijin, editor-in-chief of the Global Times, accused Bussiere of seeking to "sow discord" between Russia and China by implying Russia should be concerned about China's nuclear capabilities. Xijin also denied China was rapidly building up its arsenal to the point that it could overtake Russia's, writing in the op-ed that it's "incredible" to consider the country capable of doing that in the "foreseeable future."
In early July, the State Department called China's nuclear buildup concerning. Congressman Mark Turner saw it as a signal that the country was "deploying nuclear weapons to threaten the United States and our allies" and Representative Mike Rogers said it highlights America's need to modernize its nuclear deterrent.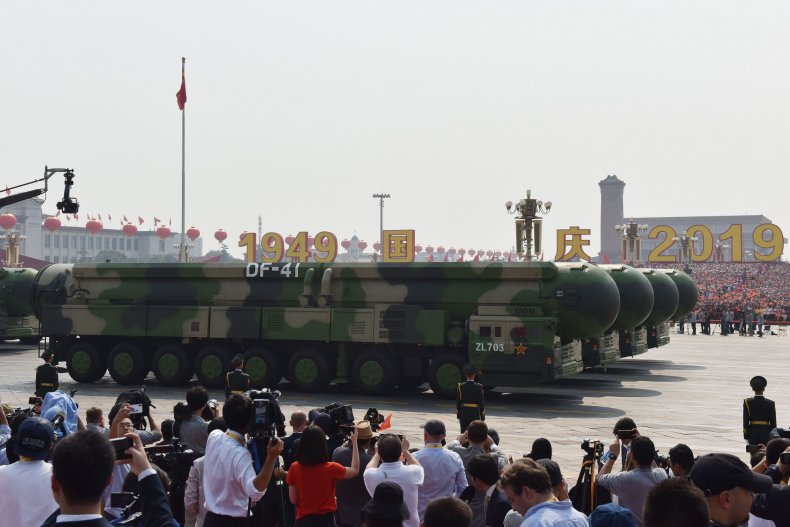 The Pentagon has estimated that China's nuclear warhead stockpile could double in size, which could bring it to more than 400 warheads, at least. Beijing's pushed back on concerns that China poses a nuclear threat, noting its arsenal is well below that of the United States and Russia, the two largest nuclear powers.
Along with increasing nuclear capabilities, Bussiere noted that the U.S. and China don't have a mechanism for nuclear dialogues or treaties, as America has with Russia. Although the U.S. has pushed China to join a nuclear arms treaty it has with Russia, Beijing has bucked the request, saying it has no intention of participating in it.
The relationship between China and the U.S. has been consistently deteriorating and Beijing sees the bulk of America's actions as being a means of keeping China from advancing. The same is true for the issue of nuclear weapons and Hu said attempts to bring China into treaties and dialogue mechanisms were a means of restraining "China's nuclear arsenal development" that would continue the disparity in nuclear weapons.
Although Hu denied China was engaged in anything other than minimal nuclear deterrence, he advocated for China to continue developing its nuclear arsenal. He called for Beijing to have a "firm attitude" on the subject and not to be "dissuaded and impacted by the tricks played by U.S. officials and generals."
A core part of China's national security, according to Hu, it's not the first time he's advocated for China to build up its arsenal. In June, Hu penned an op-ed that called for the country to be prepared for an "intense showdown between China and the U.S.," that required the rapid increase of nuclear warheads and missiles.
"The number of China's nuclear warheads must reach the quantity that makes U.S. elites shiver should they entertain the idea of engaging in a military confrontation with China," Hu wrote.